"Covid-19 has increased importance of Healthcare Management," says Devasheesh Mathur of GIM, Goa
The PGDM-HCM (Healthcare Management) programme at Goa Institute of Management has become one of the most popular and sought after courses in the healthcare industry across the country. GIM, Goa,which is accredited by NBA and AICTE, has been ranked at #47 among the other management colleges in India. The institute provides excellent education and focuses on preparing professionals who can take on the challenges in the business of complex healthcare functions. Goa Institute of Management launched Post Graduate Diploma in Healthcare Management in 2013 and since then has maintained a 100% placement record with the highest package being offered at 25 lacs per annum in previous year. The list of top recruiters include Bosch, Infosys, Tech Mahindra, Cadila, etc. Mr. Devasheesh Mathur, Assistant Professor( Healthcare Management), GIM, in an exclusive interview with Careers360, throws a light on career opportunities for students in the healthcare management industry after PGDM(HCM).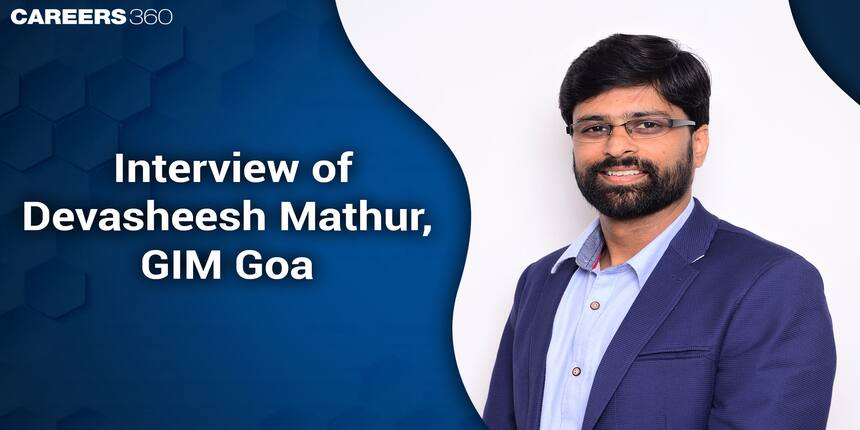 Careers360: Tell us something about the stupendous growth which GIM Goa has scaled with regard to the Healthcare Management programme (HCM) as it has positioned itself among other such programmes in Asia.
Devasheesh Mathur: Right from the beginning we were sure about the success of the HCM programme. Though there has always been good demand for healthcare managers in industry, premium B-schools have not ventured into it sufficiently. Other institutes, barring a few, which offer healthcare management are not well-recognized and lack the rigour and quality that is required for making a professional who can successfully take on the challenges of leading the business of complex healthcare functions. At GIM, we created HCM programme after multiple consultations with healthcare industry leaders and partnering with a large number of healthcare organizations. We kept quality of content and delivery at the core, and enriched the student learning through a high amount of practical exposure, interactions with industry leaders, and incorporating latest and futuristic trends in healthcare. The faculty members for the programme are all highly qualified, have rich experience and are adept in not just teaching, but effectively mentoring and enabling the students for a successful career.
In the very first batch (2013-15) we achieved 100% placement, with an average package of 6.3 LPA, which was highest compared to the average package of all other healthcare management institutes. Thankfully, and as we expected, industry received our students very well and kept coming back every year for recruiting. We maintained 100% placement for all batches with the average package seeing a sharp increase and reaching 10.1 lacs per annum for the last batch placed from the campus.
This was possible, because of the high quality of programme we offer, keeping in mind what skills the industry need currently and what they would need in future.
The programme has grown from a focus on disseminating knowledge on healthcare management to students aspiring for a life in healthcare domains to a programme which has sizable number of alumni across the sub-domains of healthcare-be it pharma and medical devices industry, analytics and consulting or even public health agencies. We have arrived at a point where we can start to believe that we are making a meaningful impact on this critical sector of healthcare by preparing young minds by imparting responsible and socially sensitive, yet cutting-edge knowledge on healthcare. The faculty members are also drawn from renowned institutions and industry who drive the dissemination not only within the students but also within the industry by way of training exercises and workshops and creating useful evidence for improving the public health systems across the country.
Careers360: Covid 19 pandemic has changed the complete scenario of the health sector. How do you see the role of the professionals who have pursued this course post COVID 19?
Devasheesh Mathur: While healthcare as a sector is always in high demand, Covid 19 has increased its importance to an unimaginable level. Health and wellness are now important needs for almost everyone in the world. Corporates doing business in healthcare are aggressively expanding their products and offerings. New companies are also venturing into healthcare. We think that this is just the beginning and the demand for healthcare products and services will only grow from here. There will be a greater number of hospitals with innovative models of delivering healthcare, several IT based solutions to offer healthcare and wellness, more production of medical devices and pharmaceuticals etc. High tech offerings such as robotic surgeries, 3D printed organs, telemedicine and tele-surgeries etc., which till date are seen as exclusive, will soon become mainstream.
Management graduates are taught well to deal with uncertain, volatile and complex situations like the Covid-19 pandemic. Those who would be working in the pharmaceutical industry must be working hard to develop a vaccine and ensure its efficacy as well as delivery mechanisms so that it reaches everyone in need. Professionals in public health must assist the governments to cope up with this situation by designing policies and implementation strategies to maximize the benefit for the affected.
Careers360: Tell us about the selection process for the programme and the seat intake. What is the eligibility criteria for the students to apply for the programme?
Devasheesh Mathur: While the programme we offer is of high quality, it takes the right kind of students to fit in and make a fulfilling career out of it. Due to this, we take utmost care to select suitable students for this programme. Keeping in mind what it takes to successfully go through the rigour of this programme and the kind of profiles industry demands, our selection of students is profile-based and not merely on the basis of cut-off marks of an entrance test. This means that while applicants must clear our recommended entrance test (CAT, XAT, GMAT, CMAT), with good percentile, we will also look into their overall profile such as graduation degree, score in 10th, 12th and graduation exam and type and duration of experience. Based on an algorithm that factors in several criteria, applicants are shortlisted. The shortlisted applicants go through a process of group discussion, personal interview and a written aptitude test. Those who successfully clears all these processes are offered admission to the programme.
Careers360: How relevant are the healthcare management professionals in the IT organisations?
Devasheesh Mathur: The IT sector has been transforming the way healthcare functions are carried out. Most healthcare organizations now use IT enabled systems to work. These IT platforms are getting better and better, as they understand more about customers and users' needs. Medical devices that are used for patient care are increasingly being connected to each other through the Internet of things (IOT), for easy data sharing and treatment planning. Telemedicine and tele-surgeries are all based on IT platforms. These are only a few examples of how IT is playing a central role in healthcare delivery. Besides, data analytics has plenty of applications in healthcare businesses. Professionals who can analyse volumes of data of patients and users and give insights to the healthcare business houses are in high demand. So, overall, I would say, that healthcare in current times cannot be imagined without IT. Dependence of healthcare on IT will only grow with time.
Careers360: How has been the placement in the past few years? Please share the details.
Devasheesh Mathur: As our students fill the specific gap of 'management professionals in healthcare businesses, placement of HCM students are organized separately. We invite only healthcare organizations, with promising career opportunities for campus placement. From the first batch till now, we have had a track record of 100% placement, with average packages growing year after year. Last passing out batch had an average package of 10.1 lacs per annum and highest package of 25 lacs per annum. These packages are highest amongst all other healthcare management programmes in the country. List of our recruiters is large and consists of most premium corporate houses such as J&J, Cadila, Narayana Health, Infosys, Bosch, Cognizant, Tech Mahindra, etc.
Careers360: How do you help the students get summer internships and which are the organisations where they get an opportunity to intern?
Devasheesh Mathur: All students are provided summer internship opportunities with well-known companies. A dedicated placement committee consisting of students' representatives and a faculty in-charge works for ensuring that every student gets a suitable internship opportunity. Due to our network and good standing in the industry, our students get internships of their choice. Almost all students get a decent stipend during their internship, which can be up-to rupees 1 lac per month. Most of the time, our interns get recognized as the best intern by the organization.
Careers360: What are the roles and responsibilities that are dawned by the students who have completed this course?
Devasheesh Mathur: Students for HCM programme with diverse qualification and experience. During the programme, they develop their own area of interest. Accordingly, they get placed into a variety of roles. For example, some students get into the role of management consulting, while some go for managing a unit. Many students seek roles and responsibilities in healthcare IT applications and healthcare analytics roles. Several of our students pursue marketing and strategy for healthcare business organizations. There are few examples of students venturing into their own start-ups or joining a healthcare start-up and taking an entrepreneurial type of responsibility.
Careers360: What are the future prospects for the students who want to pursue this course?
Devasheesh Mathur: As already stated, the future prospects look bright. Due to Covid-19, healthcare organizations are expanding and more companies are entering in this sector, be it diagnostics, last mile delivery or data-driven precision medicine developers. To manage these highly complex businesses, healthcare managers will be in demand at all levels- designing better health systems, creating human-centred delivery mechanisms, developing and delivering vaccines, medicines and medical devices where they are needed the most and so on. What is required is that the students should have right knowledge and right skills, which can be obtained by enrolling into a good quality healthcare management programme from a reputed institution.
Careers360: Which are the international entities with which the GIM is collaborating in this sphere?
Devasheesh Mathur: GIM has tie-ups with six international business schools where the students can go for international exchange. They typically spend one term there (about 3 months) and experience cultural immersion and make networks for life. We also have an International Consulting Bootcamp, where students from international universities visit GIM for a two-week immersion program and work on a live project along with GIM students. This exposes our students to working in culturally diverse teams and adds value to their learning.
As far as faculty members are concerned, they regularly publish in reputed peer-reviewed journals and present their research in international conferences, which is a testimony to the quality of their work. Most of them also work with intergovernmental agencies like the World Health Organization (WHO) and Indian government on impact assessments of health policies.
We also have a Distinguished Faculty program and Executives-in-Residence program, where globally renowned researchers and industry leaders respectively, interact with the faculty and the students regularly, sharing their experiences, mentoring in the ongoing projects and germinate ideas that are worthy for the future and making impact on the world!
Questions related to GIM
Showing 136 out of 136 Questions