Coronavirus Impact: Tips to Appear for Virtual GD/PI
What began few months ago in the Wuhan city of China is now known to the world. Coronavirus has affected major areas of work be it real estate, pharmaceutical, airlines, manufacturing and many to be named. Education sector has not been devoid of coronavirus impact. The World Health Organization (WHO) has declared coronavirus as a global epidemic and worldwide countries including India are also suffering its consequences. A number of major educational institutes offering management courses have postponed major events like GD/PI, convocation, exams etc., Many B-Schools like IIMs, NITIE Mumbai, BHU etc., have terminated or postponed or decided to conduct their admission process in a virtual environment. Selection procedure in IIMs and other B-Schools is conducted in March/April.
Stay up-to date with CAT News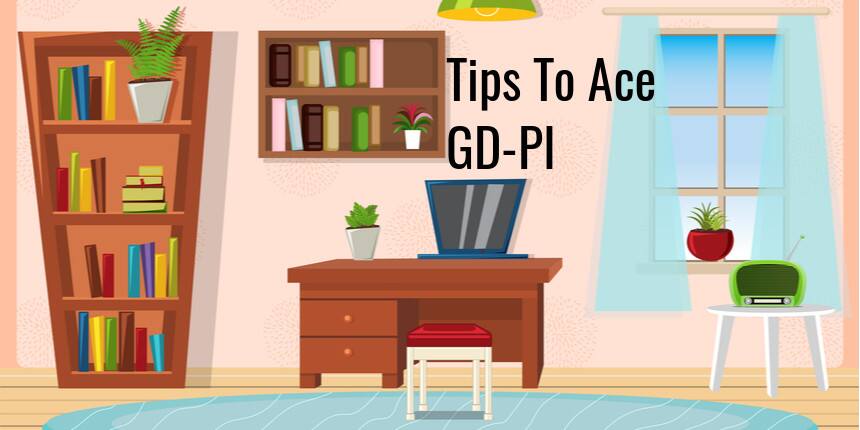 Coronavirus Impact: Tips to Appear for Virtual GD/PI
Due to the Coronavirus lockdown and postponement of selection rounds, candidates have good opportunities to prepare well for the GD/PI rounds. Careers360 in this article of tips to appear for virtual GD/PI bring to you dominant tips for cracking GD/PI rounds. Shortlisted candidates need not worry about the GD/PI rounds being in virtual mode as Careers360 is there to assist. Of Course there is a difference between being physically present and just showing your face online. But candidates need not worry if they know how to create an impact on the judging panel virtually.
Quick Links:
*COVID 19 Live Updates - Impact on MBA Admission, Interview and Entrance Exams
*Coronavirus Impacting B-Schools other than IIMs
Important Notes:
Marking Scheme of GD/PI will remain the same with not any specific changes

Parameters of judging candidates will not differ
Tips To Appear tips for GD round and PI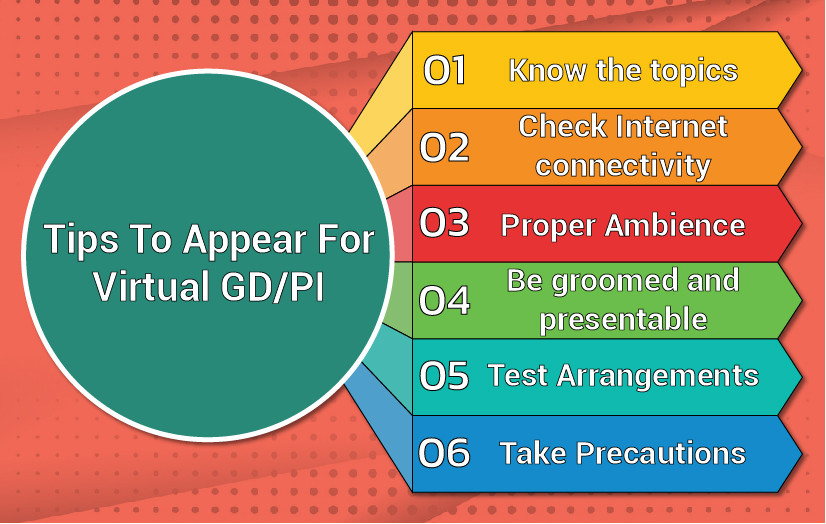 Know the topics

Check Internet connectivity

Proper Ambience

Be groomed and presentable

Test Arrangements

Take Precautions
Lets us look at each one of the tips for GD round-
Know the Topics
Shortlisted candidates must be prepared in advance and keep a track on the latest topics of GD PI. After knowing the topics, pen down your thoughts and try to rehearse these topics as if you are actually facing the group discussion and personal interview rounds. Group discussion aims to assess the overall personality of the candidate be it his/her thoughts, feelings or behaviour thus is an important aspect of MBA admission. Henceforth, candidates should be well prepared with the topics.
Check Internet connectivity
Those candidates who are shortlisted and have to appear for the group discussion and personal interview round in a virtual environment must check the internet connectivity. Make sure the internet speed is good and there is continuous connectivity without any interruptions. Having bad connectivity may not create a good impact on the interviewer and may also lead to lesser chances of selection as per the tips for gd round. During the group discussion round you may also miss some major parts of discussions due to bad internet. Henceforth, as one of the major tips for gd round, it is advised to candidates to have a proper internet connection.
Quick Links-
How to prepare for PI-WAT rounds of top B-schools
GD PI WAT Preparation Tips from Toppers and Experts
Difference between PGDM and MBA?
Proper Ambience
One of the tips for gd round is to make sure to place your desktop/laptop at a place which is well lit and has proper seating and lighting arrangement. Be at a place from where your face is visible properly. Avoid having any background noise and arrange for a seat that is calm and silent. Remove all possible distractions so that you get everything in one go. Do not irritate the panel of judges by asking them "may I beg your pardon" or "please repeat". Remember that selecting a distraction proof proper ambience will help you to appear more confident and answer questions correctly.
Quick Links-
How to crack GD PI WAT rounds of top B-schools
Be groomed and presentable
Although not completely, your face and upper body will be visible to the judge's panel. Be groomed and make yourself look professional and formal. Note that personal appearance be it physically or virtually is of utmost importance. Your confidence is visible with your personality. Apart from formal dress code, remember to sit straight, maintain eye contact with the camera.
Quick Links-
MBA from IITs: Know seats, fee and admission process
Test Arrangements
Make sure to test your arrangements beforehand. Do not wait until the last moment. One of the most common tips for GD round would be to test your internet before the actual group discussion and personal interview round start. Try connecting with someone from your family or friends and ask them if you are clearly visible and audible. Practice speaking in front of your webcam without hesitation.
Take Precautions
Since Coronavirus or COVID-19 is declared as a global pandemic it is advisable to candidates that they should wash their hands and keep a sanitizer near them during the interview. Even if your interview venue is somewhere nearby your place, make sure to travel with your personal vehicle instead of taking a cab or bus or local transport means. If you are not well, kindly inform the particular institute with relevant documents.
Quick Links-
Things you must not do during GD & PI round
Questions related to CAT
Showing 9974 out of 9974 Questions