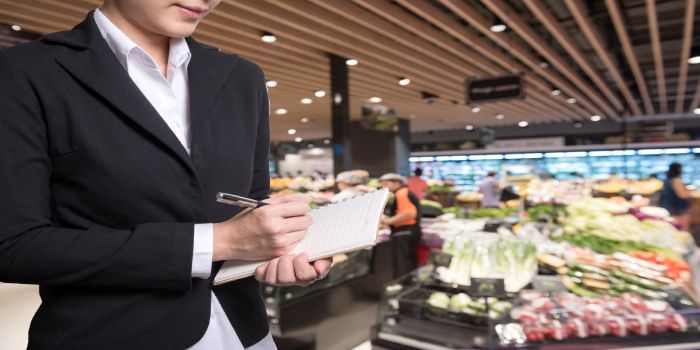 Bhanu Pratap Singh, 14 Sep 2018
FMCG Recruitment Scenario – The consumer industry in India has shown tremendous growth in ggthe last couple of years, leading to a high demand for competitive individuals in this sector. The consumer durables and FMCG (fast moving consumer goods) sectors, in particular, have shown a better growth trajectory. Being one of the fastest growing sectors in the economy, the consumer industry has a lot to offer to those who are willing to take the plunge. This Recruitment Special series brings to you the vast opportunities that unfold for MBA graduates in the consumer sector. Also know the academic and job prospects of this fast-moving consumer sector from some of the biggest experts of the industry.
According to a report by Edelweiss Research, the consumer durable sector in India 'clocked a healthy 11 percent CAGR' between 2012 and 2017. In the next five years the growth is expected to be around 13 percent CAGR (compound annual growth rate). Same can also be said for the FMCG sector. It is the fourth largest sector in the Indian economy. According to a report by Market Research firm Nielsen, the Indian FMCG sector will grow 10.5 percent in 2018.
The challenge
Even though the numbers look good, a lot needs to be done in this sector as there are a number of challenges which might hinder the growth of the consumer industry in the longer run. The foremost of these challenges is the academia-industry gap.
It is a known fact that what the institutes teach and what the industry demands is not on the same level. The academia lacks far behind in this regard. Although the top institutions of India are trying to bridge this gap, it is not enough.
The solutions
CURRICULUM: "The roots of the bridge have to be based on Outcome Based Education System (OBES). At Amity, the focus of the system is not on the output, but the outcome which makes a difference. To ensure students reach the desired levels of skills, it is important for an educational institution to implement OBES which focuses on the quality outcome and meets the standards of employability and practical knowledge," said Dr. Sanjeev Bansal, Dean – Faculty of Management Studies and Director, Amity Business School.
INDUSTRY INPUTS: Updating the curriculum with inputs from the industry can also go a long way in bridging industry-academia disconnect. Universities like Amity coordinate with industry leaders and frame their curriculum.
Dr. Sanjeev Bansal
Dean - Faculty of Management Studies & Director
Amity Business School

The participation of industry, alumni, and area experts has helped us benchmark our curriculum and syllabi to meet the international requirement in content, pedagogy and evaluation. They also help us to update the curriculum in order to meet the newly created demands of the dynamic business scenarios.
PRACTICAL LEARNING: Practical training is yet another aspect which needs a look in. It can be in the form of industry internships and is a great way for the students to learn the tricks of the trade. "The corporates absorb a number of students post the completion of the internship. The students are exposed to a number of areas and the projects are rigorous with the sole objective of value addition to the organisation. The projects are further taken forward as publications and have a commercial value," said Dr. Bansal.
Where to study
Some of the top colleges where students can do their MBA and then get into the consumer industry are Indian Institutes of Management (IIMs), Xavier School of Management; Faculty of Management Studies-University of Delhi; Management Development Institute Gurgaon (MDI Gurgaon), Great Lakes Institute of Management-Chennai; TAPMI Manipal; SIBM Pune and many more. Pursuing MBA from any of the top B-Schools will cost you anything between Rs. 15 to 21 lakhs.
What to study
If you are interested in making a career in the consumer durables or FMCG sectors, there are a number of courses one can choose from.
Some of the courses that will help in gaining employment in the above two sectors are HR management, finance management, sales and marketing, operations management, banking and finance and general management.
Job prospects
FMCG and consumer durables form essential pillars of economic growth, due to which a lot is being invested in these two sectors. This has resulted in the rise in the number of job opportunities in these two sectors. For example, if one has done MBA in sales and marketing and then got into any of these two sectors, sky is the limit in terms of remuneration. The starting salary for someone who has done his/her MBA can be anything between Rs.8 to 10 lakhs. For those who have done BBA, the salary can range between Rs 2.5 lakhs to 6 lakhs per year.
Manu Wadhwa,
VP-HR,
Coca-Cola India & South West Asia
Look beyond functional skills
FMCG was a new sector for me as I had mostly spent time in the financial services sector till then and when I wasn't sure how FMCG would turn out to be, then I met some of the smartest brains in the FMCG sector while interviewing for Coke and my perspective changed. I started to research the FMCG space more and I knew with certainty that this was going to be my next move. So far, I can say that I am in the right place. FMCG has a lot to offer to the new recruits. FMCG isn't a passing trend; it has stood the test of time. It's growing as the consumer spending goes up. The sector offers stable growth and competitive reward packages over a period of time and therefore job aspirants are finding it worth a try.
Individuals interested in working in this field must look beyond functional skills. While hiring we look out for growth behaviours such as whether a person can take on more responsibilities on one's own (empowered), whether they ask questions and challenge the defunct rituals (curious), whether they consider and respect diverse views and people (inclusive), and how they forge ahead through good and bad times (progressive).
Then there are capabilities and deep domain knowledge that people can acquire during the course of their career with us. We feel that there is a lot of talent in India and we do have learning and development programs besides on-the-job learning to hone their skills. We also need to learn to retain the talent, it is very essential for the growth of the company. We ensure that our employees remain motivated and satisfied. For example, last year, we shifted from performance management to performance enablement way of doing things. This encourages managers to have a candid conversation every month and course correct whenever required.
The company offers opportunities to work with cross-functional teams for a well-rounded professional growth and cross-border assignments to understand different markets.
Sameer Wadhwan,
HR Head,
Samsung India
Acumen to learn and excel is key to success
At Samsung, we consider potential and passion as key attributes towards hiring, especially at the campus level. Our focus is to identify driven and motivated leaders with interests and exposure across curriculums. This is an essential requirement in our dynamic and fast-paced business environment. When we are hiring for technical positions, one of the main aspects is to gauge the candidate's inclination and orientation towards research areas and emerging technologies. Posing real-life problems to candidates helps identify their potential and also focuses on their capacity for futuristic product/service development. Hiring for sales and marketing focuses more on the acumen to learn and excel on-ground.
Recruiters and managers focus on attributes such as aptitude towards excellence, risk-taking and drive for result and passion for leadership. To enable a comprehensive experience, we have training programmes for all our campus hires. These are defined as per different learning objectives, their role assignment and also to allow for an overall understanding of the business and team context. We also roll out real time projects during our internships for students to provide industry exposure and attract the best ideas while being mentored by leaders.
The HR and business teams work together towards the success of such programmes. Samsung has a dedicated development plan to allow an engaged learning from the commencement of the corporate journey for recruits. These programmes are the building blocks for understanding the core business and therefore provide a base for navigating success for the current workforce, which majorly comprises of the Millennials. They are a lot more conscious about their environment and are willing to volunteer for causes which they are passionate about.