CMR Institute of Technology Campus Life - Interview with MBA student Akanksha Tharman
Going to B-School is nothing less than achieving a milestone in life, which connects you to realizing your career goals and developing the key management skills needed to become a business leader. The B-School campus plays an important role in providing a conducive environment for career growth and personal well-being. CMR Institute of Technology is committed to providing its students with a unique MBA experience and a personalized environment on campus with their peers and professors. To know all about the campus life at CMR Institute of Technology, Careers360 spoke to Akanksha Tharman, a first-year MBA student at CMR Institute of Technology about her experience at the said institution.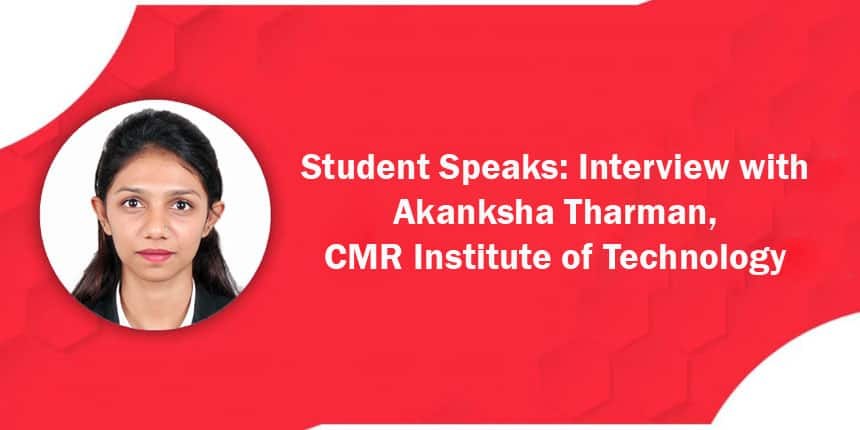 Careers360: Tell us something about yourself such as from which place are you from?
Akanksha Tharman: My name is Akanksha Tharman, born and brought up in Bengaluru. I reside near Sarjapur road. I completed BBA in Finance and International Business Degree from Christ Deemed to be University. I am also a Professional Dancer.
Careers360: Presently which course are you pursuing and in which year are you?
Akanksha Tharman: I am presently pursuing a first-year Master in Business Administration (MBA) degree at CMR Institute of Technology.
Careers360: Did you face any difficulties in the initial months when you joined the institute?
Akanksha Tharman: As I had taken a year break, getting back to campus life was exciting yet challenging. As I was worried about if I had lost touch with my books etc., but when I went to college and met the teachers and friends, the negative thoughts changed as the faculty were so welcoming and the students created a warm atmosphere.
Careers360: What activities are offered in the institution? Are there any clubs etc. for the various extracurricular activities which ones have you taken up and are a part of?
Akanksha Tharman: CMR institution offers both academic-related activities and extracurricular activities. In the MBA Department, we have academic-related clubs such as Human Resource Management, Finance, and Marketing, Entrepreneurship Development Clubs to enhance the students' skills and creativity and to give practical Knowledge.
Extracurricular activities include various clubs such as sports club which includes various sports activities like cricket, football, basketball, etc., a cultural club which includes activities like dance, art, fashion, etc.
I am a part of the academic-based clubs as I wanted to gain more knowledge on the subjects and get practical knowledge. I have also been selected for the college Western Dance team.
Careers360: Describe a typical Day at your institute- what do you do from the time you wake up till you go to sleep?
Akanksha Tharman: My day starts like this during college, I wake up at 5:30 am practice dancing, by 6 am I get ready for college, and by 7:15 am I have my breakfast. 7:25 am I leave for college and reach there by 7:50 am as class starts at 8 am.
We have 2 hours of class and then a short break and then classes continue till 12:20 pm, we then have a Lunch break till 1 pm and then the last few hours we usually have club activities and mentoring sessions. Around 4:30 pm I get back home as I take dance classes for kids till 7 pm. I then rest for a bit and check to see if I have any assignments, if any I then complete it and then get on to having dinner and I end my day by 10 pm or 10:30 pm.
Careers360: Tell us about the faculty-student ratio here and the teacher-student relationship in your understanding.
Akanksha Tharman: The faculty-student ratio is excellent and coming to the teacher-student relationship, teachers are extremely friendly and understanding and most importantly they treat us like MBA students (adults). The teachers here are extremely knowledgeable, and their teaching skills are creative. They conduct a lot of activities concerning the subject to get us, students, to understand the subject better.
They very often use real-life examples and cases which helps us in better understanding of the subjects. One best thing about this institute is that the teachers motivate us to do better in everything and push us to do our best, which is something that I did not get to experience in my previous institute.
Careers360: What all facilities do you have on the campus? What do you like here the most which you feel is unique and differentiating?
Akanksha Tharman: CMR Institute has a great campus filled with greenery around us. They have several facilities, some of them are Libraries, Labs, computer labs, sports equipment, Basketball court, a big playground, Throw-ball and Volleyball court, Cafeteria, Hostel services, Seminar halls, Spacious Auditorium, etc.
I like how we are surrounded by the greenery, and the library is also something that I liked as the books are arranged well and the ambiance of the library is neat and calming.
Careers360: How comfortable are your hostels and how about the cleanliness factor over there?
Akanksha Tharman: Taking the opinions of my fellow students who stay in the hostel, the hostels are maintained very well, with great infrastructure and comfortable spacious rooms, with clean bathrooms and good food, at affordable prices.
Careers360: What about the Medical Facilities? Can you avail requisite medical attention if needed in an emergency?
Akanksha Tharman: In our institute, the medical facilities are outstanding, yes we can avail requisite medical attention if needed in an emergency. During this pandemic, the college took necessary precautions and was strict in maintaining the social distance and wearing masks, and also sanitized the college premises.
As the pandemic is getting worse, as the institute has the infrastructure and the chemistry labs have oxygen cylinders, the college appealed to donate those oxygen cylinders to nearby hospitals and the needy citizens and also help them refill the same.
Careers360: How do you balance your studies, projects, exams, and other activities?
Akanksha Tharman: As our curriculum started late due to the ongoing pandemic, the time constraint was less and we had to complete the vast syllabus in a short period. It did get pretty hectic but our teachers made me easier by giving us breathing time and by conducting a few activities. I usually lay out a timetable for myself to make it easier for me to manage my time and make sure to complete my assignments and other work.
Careers360: Tell us about the clubs and societies at the campus and how significant are they from your point of view or the student's point of view?
Akanksha Tharman: Since it is our first semester and we had a tight and vast schedule that had to be completed in a short period, we couldn't experience much of the clubs or any societal activities at the campus.
We did experience a few academic-based club activities like the Finance, Human Resource, and Marketing clubs, which helped us understand each other (students) and helped us gain more practical knowledge, and helped us gain more creativity and come out of our comfort zone.
Careers360: Is there any in-house magazine or journal for the latest events or happenings at the institute?
Akanksha Tharman: The institute has an in-house Newsletter that includes all the events, guest lectures and in and out of all the events the department has conducted. It is carried out by a team of seven workings comprised of student members from 1st year and 2nd year and headed by a faculty. The Newsletter tries to give a quick glimpse of the whole semester.
Careers360: What are the popular hangouts at the institute? What according to you, are the most-visited places nearby?
Akanksha Tharman: The most popular hangouts at the institute would be the cafeteria area and the basketball court, and the most visited places nearby the institute would be the ice-cream shops outside the college, and the mall which is next to the college.
Careers360: How do you spend your leisure time at Campus?
Akanksha Tharman: I spend my leisure time at campus mainly by playing sports, I sometimes play basketball, throw-ball, or badminton. And if we have any group projects to be submitted, then we end up discussing them and spending time on completing them.
Careers360: Do you have any Facebook page of your campus where the students express their views, jokes, or ideas, or maybe even a blog where they write about their experiences of life on campus?
Akanksha Tharman: Yes, our college has social media accounts on Instagram, Twitter, YouTube, Facebook, and LinkedIn where we express our students' talents, views, ideas, events, achievements, etc.
Careers360: What type of companies come for campus recruitment and what percentage of students get placed every year? How is the recruitment process here?
Akanksha Tharman: Since it is my first semester, I am not well updated about the placement percentage. But as time passed, the teachers gave us guidance about the placements and the process, and to help us crack it they have come up with activities which help us overcome interview anxieties, and train us on how to crack such a recruitment process as the companies that come in are reputed and hard to crack.
As per the feedback from our seniors, the institute gives standard and reputed companies for placements and the teachers are helping us crack them since the beginning itself to make it easier for us to get placed.
Questions related to CMRIT Bangalore
Showing 214 out of 214 Questions