CMR IMS Alumni Interview with Ratnesh Kumar Choudhary: Academics, Placement, Facilities, & more
When searching for a b-school, we always prefer a helping hand that will guide us choose the correct business institute for us and that is where a b-school alumni comes in handy who tells us about the college, the facilities provided and other necessary information. In an interview with Careers360, Ratnesh Kumar Choudhary, an alumni of CMR IMS shares his experience at the said institute and what role did CMR IMS played in shaping his life. He also shares how students should go about choosing the right b-school to hone their skills and have a great career. He also mentions how to make full use of all the facilities available and create lifelong memories at CMR IMS. Know all about life at CMR IMS Bangalore in this alumni interview.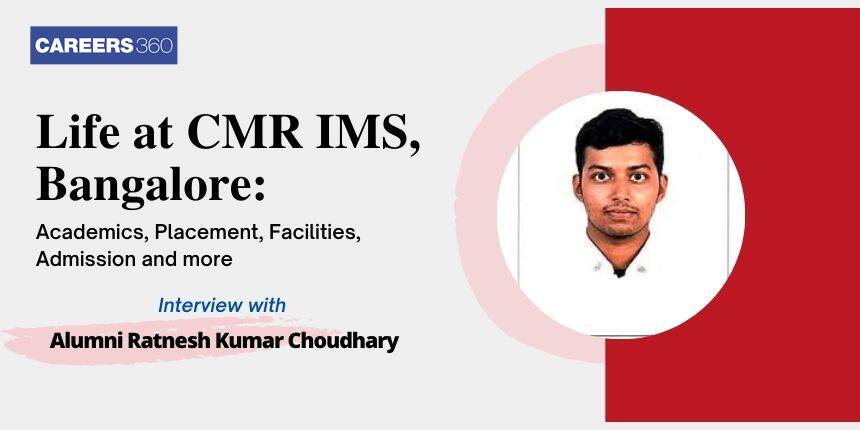 Careers360: Tell us about your domain and your work profile. At the professional level, did you pursue the same field you were interested in or you switched?
Ratnesh Kumar Choudhary: To begin with here's a brief introduction of who I am and how has CMR played a vital role in my career: I am Ratnesh Kumar Choudhary, I was a student of the BBA Batch of 2019, I currently work at Deloitte USI as an Engagement Financial Advisor – Analyst in the Finance and Administration department. I completed my degree in BBA with specialization in Finance and with the guidance of our placement cell I was able to land the opportunity of working in one of the Big 4 professional services companies globally as an EFA - Associate Analyst. Being a finance student securing a finance job to explore the field was what I had aimed for and CMR did catapult me right through it and what a great experience it has been ever since!
Careers360: Can you briefly tell us about your career path so far?
Ratnesh Kumar Choudhary: My professional career is still in its juvenile stage as it has not even been 2 complete years but I'm proud to say that with the learnings (both academic and professional) that I imbibed during my college days I was able to make a positive impact amongst my colleagues and seniors thus, landing a promotion in just over a year and nine months!
Careers360: Is the Industry work different from what you learnt at College?
Ratnesh Kumar Choudhary: Work in industry only becomes possible with the basics learnt at college. Yes, practical definitely varies from theory whatever we had learnt is all implemented and that is never enough, learning can never be enough! But what specifically CMR has done is that it has laid a foundation for the career to be built upon, all the life skills learnt, textual knowledge gained, industry experiences shared by the faculty and guest speakers helps navigate through the professional life in the services industry.
Careers360: How do you think your time in college has added value to your life, both professional and personal?
Ratnesh Kumar Choudhary: The 3 years that I spent in college turned my life 180 degrees. I assume CMR believes in "Value Based Learning'' because the amount of value I have extracted during the time I spent in college was exponentially high! On the professional front we were not only taught the ABC's of management but also various life skills such as grooming, email writings, CV drafting, professional etiquettes, and so much more which really come in handy in professional life. On a personality front I was able to notice how my personality enriched from day one through the end of the course, participating in club activities – public speaking club "Gavel Club" which helped me open up, be communicative and speak up my thoughts and ideas, Rotaract club for instilling an essence of community service and in addition to this being a part of various events conducted at college thoroughly developed my personality for good!
Careers360: What was your initial thought process when you joined CMR IMS College?
Ratnesh Kumar Choudhary: While searching for a prospective college I had 3 main criterions in mind: 1) Placements, 2) Diverse crowd, 3) Good faculty. I'll be honest before zeroing down on CMR IMS I did visit a few really "hyped" colleges. I was not able to make up my mind towards joining any one of them, then I visited CMR based on my uncle's suggestion as CMR group of institutions has a very firm hold in Bangalore, the very first day when I visited the college for admissions inquiry I along with my dad we got the opportunity to have a one-on-one meeting with the Principal and Dean of the institution, that meeting was the true deciding factor for me! I was initially in a fix whether to take up B.Com or BBA for my UG but after having a word with the Principal I was clearly able to map my strengths and weaknesses and decided on pursuing BBA, I had asked for a good faculty and I had the experience of a student centric great faculty, CMR also ticked the box of diverse crowd, I was amazed to see the sheer diversity of the students which always forms a great centre for cultural exchanges, the placement cell didn't talk rhetorically to lure in they had actual numbers, solid data to back their promises. I'm glad I visited CMR IMS it just naturally fit into the ideal college image that I had created!
Careers360: You must have had a memorable time at your College. Do you miss being a part of it? Share a few good memories.
Ratnesh Kumar Choudhary: College is the place where you not only make your career but also lifelong memories and relations. There has never been a time wherein I have not missed my college life! I have had so many good memories of participating in college activities along with my college mates, whether it is industrial visits, group outings, inter college events or just the everyday routine of attending classes with peers which were more like a closely knit family and the faculty which made classes so interesting but also empowered us by treating us like young independent individuals. The memories can go on and on. There would never be a day wherein I haven't missed college, I have enjoyed and learned so much every single day!
Careers360: Briefly take us through your life at the campus, the activities you used to do and your routine life.
Ratnesh Kumar Choudhary: The campus life at CMR covers all the bases making the campus life lively and engaging! CMR follows the corporate work life really closely therefore, a typical weekday would include 8 hours of classes coupled with guest lectures, seminars, class projects in addition to the regular classes post the classes we were given the option of participating in a variety of co-curricular activities which would eventually help in personality development. Campus life at CMR always keeps you on your toes, always engaging and inspiring you to perform better every day!
Careers360: Apart from academics, what were the other activities you were involved in and how did it enrich your life?
Ratnesh Kumar Choudhary: CMR offers every student a host of co-curricular activities apart from core academics to choose from. Taking part in these activities helped me not only score brownie points for my CV but also gain an edge over my peers and candidates in the professional services industry. I was a part of two very distinct pilot programmes offered by CMR the first one being MOOC by IIMBx and the other being Taster Programme to the University of York, York,UK. Apart from this I also got the opportunity to head Gavel club – the public speaking club of our college and in addition I was also a member of the rotaract club - enriching lives through community services. In addition to this the college also trains every candidate for the professional world by providing certification courses for Tally, Advance Excel and NSE accredited courses on Capital markets. I personally had a knack for debating and also landed an opportunity to be a part of one which was shot in the college and aired on the local TV. The college also trains every individual with soft skills courses from the CMR Life Skills Institute.
Careers360: How did you keep updated with the industrial requirements and what was the role of the institute in it?
Ratnesh Kumar Choudhary: As I mentioned CMR provides loads of industry-oriented certifications which makes the candidate stand apart from the crowd. To name a few which I have secured are : MOOC certification by IIMBx, Fundamentals of Capital Markets by Finmark x NSE academy, Tally ERP, Advance Excel, ASQ Quality certification, Taster Programme at University of York, UK, Tactical skills and Tao by Skipper and in addition to this I also got myself trained on Lean Six Sigma Green Belt, also took the opportunity and was a part of IIMB's Vista- young leaders' summit. All these helped me be industry ready right from day one of completing graduation.
Careers360: You are a proud alumnus of this top College. What is the best part of _____Institute from a student's perspective?
Ratnesh Kumar Choudhary: The best part about CMR is that it just throws an array of opportunities at you, the sheer number of opportunities you encounter can be overwhelming at times but you can't afford to miss them. The faculties are really supportive of what each student aspires to pursue, I have had good experiences of it for instance when I wanted to take some time off my regular classes to pursue Lean Six Sigma Green Belt training, each faculty member was so supportive and didn't make me feel left out on course upon my return. Every individual gets an opportunity to make the best of their time at the institute during their 3 years of their UG. I personally saw an overall development in myself. CMR helped me create an edge over my competition and kickstart my professional career in the field I wanted to work in and in the company I targeted for.
Careers360: What is your suggestion/guidance for the BBA (Course) aspirants?
Ratnesh Kumar Choudhary: As an Alumni of CMR BBA batch of 2019 I can vouch that CMR will ensure get you a host of opportunities coming way, just grab the one which best suits you, don't hesitate and shy away the college will make sure you achieve what you have aspired for, get connected with the great in-house faculties we have and utilise these 3 years in the best possible way to shape your career. You'll have an amazing bunch of people all around to network with and rely upon to have your back. Dive into the sea of knowledge and wish you a very happy learning!