CMAT Question Papers 2021 with Solutions (Released) - Download PDFs Here!
CMAT Question Papers 2021 - Along with CMAT preliminary answer key, NTA had also released CMAT question paper for slot 1 and 2. One of the important aspects while preparing for the exam is to prepare through the previous year's CMAT question papers 2021. It is important to have the whereabouts of the battlefield in order to achieve victory. Similarly to score well one must have CMAT 2021 question papers of the previous year. With the help of CMAT question papers, candidates can have an idea about the CMAT exam pattern, type of questions, and difficulty level of the question paper. Aspirants can now download the previous year's CMAT question papers from this article. Also, we attached the CMAT expected paper 2021 for the upcoming CMAT exam. By referring to the CMAT 2021 expected paper, candidates can get an idea about the upcoming CMAT 2021 question paper. Common Management Admission Test (CMAT) is conducted by the National Testing Agency (NTA) at a national level for admission to the MBA program of institutes accepting CMAT scores. Read this article by Careers360 to know in detail how to download the CMAT question papers 2021.
Quick Links-
CMAT 2021 Analysis and Expected Cutoff
CMAT Score vs Percentile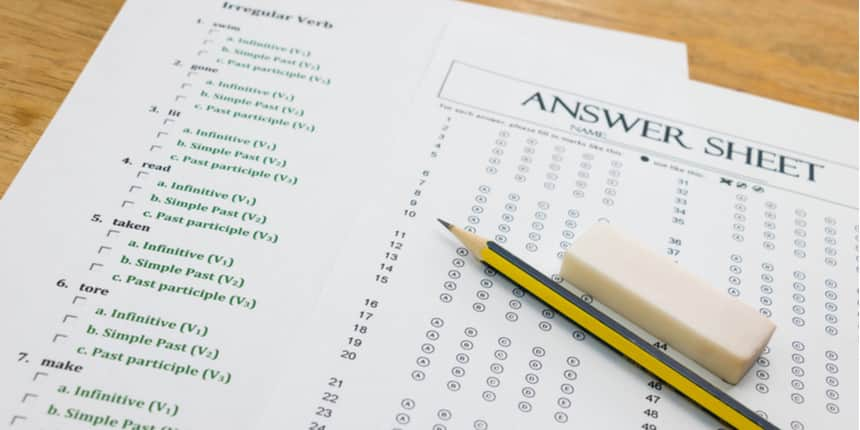 CMAT Previous Year Question Papers
Refer to the table below to download the 2020, 2019, 2018 CMAT question papers. CMAT 2021 has conducted in an online mode. To know how and where from the questions are asked? Then go through the CMAT 2021 expected paper pdf from our Careers360.
Previous Years CMAT Question Papers

Quick Links:-
CMAT Important Dates 2021
CMAT Answer Key 2021
How to Download CMAT Expected Paper 2021
Step 1: First, go to our Careers360 site.
Step 2: Then find and visit the CMAT section.
Step 3: It holds the CMAT 2021 expected question paper, CMAT analysis, CMAT cutoff, and etc.
Step 4: Choose the required CMAT expected paper 2021 pdf link and click over the link.
Step 5: It will download automatically in pdf format.
NOTE: It is not an actual CMAT 2021 question paper. It is a sample of CMAT question papers preferred by experts and top coaching institutes.
CMAT Test Practice Centres
National Testing Agency has created test practice centre networks across India. Through these practice centres, candidates can train themselves for the computer mode examination and become familiar with how to appear for the exam. To assist aspirants, qualified and experienced staff and nodal officers will be available at practice centres. With the help of staff, students can become familiar with the mode of examination and will result in motivation and a clearer idea for the exam.
CMAT Exam Pattern 2021
NTA has prescribed the exam pattern of CMAT 2021 upon the release of notification. Refer to the table below to know the key features of the CMAT exam pattern 2021.
Highlights of CMAT Exam Pattern 2021
Key Features

Details

Mode of examination

Computer Based Test (CBT)

Duration

210 minutes (180 + 30 minutes- optional)

Total No. of Questions

125

Nature of Questions

Multiple Choice Questions (MCQs)

Sections

Quantitative Techniques and Data Interpretation

Logical Reasoning

Language Comprehension

General Awareness

Innovation and Entrepreneurship

Marking Scheme

(+) 4 Marks for every correct answer




Negative Marking

Yes

TITA Questions

No
CMAT Syllabus 2021
Once candidates know the complete exam pattern, now it's important to know what all topics are needed to be covered and what to be studied through CMAT 2021 syllabus. However, students must note that NTA does not release the official syllabus of CMAT 2021, however, Careers360 brings you the compiled CMAT syllabus 2021 on the basis of the previous year's question papers.
Must Read:-
CMAT 2021 exam day guidelines and strategies to crack the test
CMAT Analysis - Previous Year
On interacting with the CMAT candidates, there were mixed reactions upon the difficulty level of the question paper. As per the students, the previous year's Quantitative Ability was easy whereas, general knowledge was the difficult one. The previous year's exam was held in one slot for a duration of three hours. Various coaching institute experts on CMAT analysis found that the paper was easy in comparison to other national-level entrance examinations that were held during the year.
CMAT Mock Test
Practicing CMAT mock test is one of the best ways of preparing for the entrance exam. The mock test of CMAT is based on the official CMAT exam pattern and syllabus and aims to help candidates in improving their CMAT preparation. CMAT mock test 2021 also helps candidates to gauge their current performance, modify their preparation plan and re-strategize the areas of improvement.
Top MBA colleges accepting CMAT score: Location-wise
Students can check from the list below, their preferred top MBA college in their preferred city for admission through CMAT 2021 score.
Frequently Asked Question (FAQs) - CMAT Question Papers 2021 with Solutions (Released) - Download PDFs Here!
Question: Can I switch between the sections while giving CMAT 2021?
Answer:
Yes candidates can switch from one section to another as per their preference.
Question: Is there any sectional time limit in CMAT 2021?
Answer:
No there is no sectional time limit.
Question: What is the marking scheme of CMAT 2021?
Answer:
As per the marking scheme of CMAT 2021:
For every correct answer +4 marks will be credited

For incorrect answer 1 mark shall be deducted
Question: What are the total number of sections?
Answer:
CMAT 2021 paper was divided into five sections namely,
Quantitative Techniques and Data Interpretation

Logical Reasoning

Language Comprehension

General Awareness

Innovation and Entrepreneurship
Questions related to CMAT
Showing 2980 out of 2980 Questions