CMAT 2021 Analysis & Expected Cutoff by Bulls Eye
CMAT 2021 Analysis & Expected Cutoff by Bulls Eye - One of the MBA entrance examination coaching institutions, Bulls Eye will provide an analysis of CMAT 2021 after the examination is concluded. The National Testing Agency will conduct CMAT 2021 in computer-based mode. CMAT 2020 will have 100 questions that have to be answered by the candidates in a period of 3 hours. The analysis of CMAT 2021 by Bulls Eye will be provided by the Institute after the start of the paper and will be updated as soon as possible. In the meantime, candidates can take a look at the analysis of CMAT 2020, which will help them in their preparation and provide an idea of a good number of attempts to secure a decent percentile.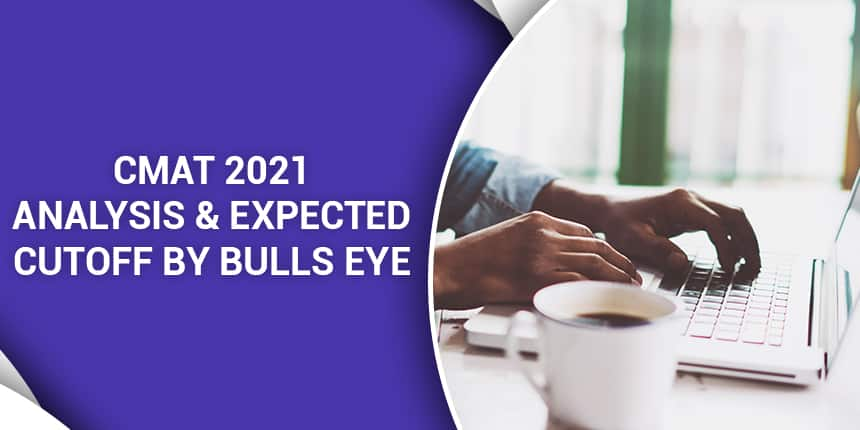 CMAT Exam Pattern 2021
Candidates can have a look at the CMAT exam pattern before going through the CMAT 2021 analysis by Bulls Eye. The Common Management Aptitude Test will be a 3-hour, paper-based test. The paper will consist of 100 multiple-choice questions. The topics from which the questions will be asked are divided into four sections: quantitative aptitude, verbal ability, logical reasoning and general awareness. The complete exam pattern is shown in the table below:
CMAT Exam Pattern
| | | |
| --- | --- | --- |
| Section | No. of Questions | Total Marks |
| Logical Reasoning | 25 | 100 |
| Quantitative Techniques & Data Interpretation | 25 | 100 |
| Language Comprehension | 25 | 100 |
| General Awareness | 25 | 100 |
| Total | 400 | 400 |
CMAT 2021 Marking Scheme: Each test question weighs 4 points. There is a negative mark of-1 mark for every incorrect attempt.
CMAT 2020 Analysis by Bulls Eye
CMAT 2020 exam analysis has been discussed. The analysis includes numerous test-related parameters such as the degree of difficulty, topics from where the questions were asked and a successful attempt for each section.
CMAT 2021 Bulls Eye analysis is only carried out by the institute after the examination has begun. The analysis of the paper is set out below in section wise:
Quantitative Techniques & Data Interpretation Analysis
According to the Bulls Eye, the paper's difficulty was easy to moderate. Various topics from which questions were asked are Geometry and Measurement, and the rest of the Quantitative Technique questions were from Arithmetic, three questions from Time, Speed and Distance and two questions from algebra, permutations and combination 4 questions were asked.
Good attempt in this section: 21-23 questions
Logical Reasoning
The paper's difficulty was easy to moderate. Three questions from Verbal Reasoning, two from Analogy, and only one question from analytical reasoning were asked. The two questions were also based on visual reasoning, but they were easy.
Good attempt in this section: 20-22 questions
Language Comprehension
In this section, four passages were asked. There were three short passages in which there were three questions about certain unique themes, such as endangered languages and world trade organizations, and who decides on the status of developing countries. Short passages consist of questions of fact and inference, which were of an easy to difficult level. The long passage consists of six questions about Steve Jobs and some little-known facts about him and his views on life. Vocabulary questions (4 questions were asked), Sentence Correction 1 Question (Although / but Concept), Grammar Part Error 1 Question, Idioms 2 Questions, Para Jumble 1 Question, and Sentence Completion 1 question.
Good attempt in this section: 22 questions
General Awareness
8 questions came from current affairs, and if anyone reads a newspaper or has a good knowledge of what's going on in the world, they'd be able to try 6 questions quite easily. Static GK questions dominated the paper, and questions came from Awards, Science, Politics, etc. A candidate who tried around 18-20 questions could expect to score well.
CMAT 2020 Analysis: Expected Cutoff by Bulls Eye
CMAT score is accepted by different colleges in India and some of them are top B-schools. The cut-off for some of the colleges is shown in the table below:
| | |
| --- | --- |
| Institute | Cut off (Percentile) |
| SIMSREE, Mumbai | 99.95 |
| Goa Institute of Management, Goa | 97.5 |
| Pune University Department of Management Studies (PUMBA DMS) | 96 |
| K J Somaiya Institute of Management Studies & Research (KJSIMSR), Mumbai | 97 |
| Asia Pacific Institute of Management, New Delhi | 85 |
| Jaipuria Institute of Management, Noida | 80 |
| Birla Institute of Technology, Mesra, Ranchi | 75 |
Questions related to CMAT
Showing 2980 out of 2980 Questions