CMAT 2021 Topper Interview Kumar Gaurav Rank 1 says Improve your knowledge day by day and practice hard
CMAT 2021 Topper Interview Kumar Gaurav (AIR Rank 1)- Hard work along with smart work and dedication can help one achieve their aim. Kumar Gaurav secured All India Rank 1 in CMAT last year in the first attempt by following a rigorous preparation regime and strategies. Kumar Gaurav secured a 100 score in the Quantitative Technique and Data Interpretation and General Awareness section. While 97.5 in Language Comprehension and 88.3 in the Logical Reasoning section. In this interview with Careers360, Kumar Gaurav shared his CMAT preparation journey and how he aced the CMAT exam. Like every MBA entrance test aspirant, Kumar Gaurav also had an aim to notch the top spot in the toppers list. Read this exclusive interview of the CMAT topper below.
Stay up-to date with CMAT News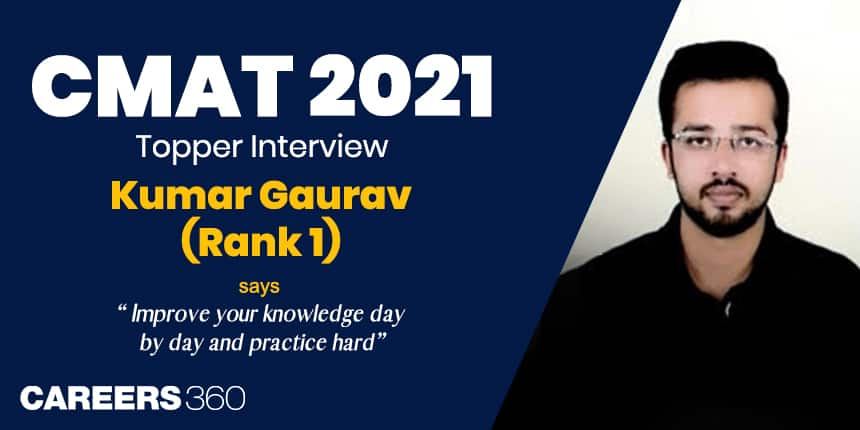 Careers360 - Tell us something about yourself.
Kumar Gaurav - My name is Kumar Gaurav. I am from Muzaffarpur, Bihar. I have completed my 10th and 12th from the CBSE board. I am an engineering graduate specializing in Civil engineering. I graduated from CGC Group of Colleges under I.K.Gujral Punjab Technical University and have an overall percentage of 75.52. I have secured All India Rank 1 in Common Management Admission Test (CMAT) 2021.
Apart from that in terms of hobbies, in my spare time, I love to play Chess and Cricket because for the simple reason that it keeps my mind and body healthy so who wouldn't want to do it. I used to participate in a lot of districts, state, and national-level chess tournaments. I was the senior district champion at the age of 7. Participated and won state-level championships and was crowned the state champion in different age groups from 1999 to 2009 continually. I have secured All India Rank 5th twice in the under 7 age group and 7th position in Telegraph National School Chess Championship.
I have received Sports Scholarships many times from the Sports Authority of India(SAI) and I am an international rated chess player which I got from FIDE(World Chess Federation)
Careers360 - Was CMAT 2021 your first attempt? Did you expect to score so well?
Kumar Gaurav - Yes, CMAT 2021 was my first attempt. No, I did not expect to score so well, I mean I was expecting a good score but not AIR 1.
Careers360 - What was your sectional and overall CMAT score along with percentile?
Kumar Gaurav - In quant and GK I got 100 percentile and in English 97.51 percentile and 88.4 percentile in Logical reasoning.
Careers360 - At what time did you decide to prepare for CMAT 2021 and what was your strategy? Brief us on your CMAT preparation. Did you take coaching? What about mock tests?
Kumar Gaurav - I decided to prepare for CMAT 2021 in the lockdown period. I was able to focus more and used whatever time I got like I studied for two hours and then took short breaks just to keep my concentration going. Different people have different strategies like mine. I was more focused on self-study because I did not take any coaching for that. I appeared for mocks and tried to figure out my strengths and weaknesses and then planned my strategy accordingly.
Careers360 - What books did you refer to during your CMAT 2021 preparations?
Kumar Gaurav - I referred to RS Agarwal for Quant and also Arun Sharma just to get a broader view of the subject.
Careers360 - How did you determine your strongest and weakest section in CMAT?
Kumar Gaurav - By giving mock tests and analyzing my sectional and chapter-wise marks I got to know about my strengths and weaknesses.
Careers360 - How many mocks did you take at the time of CMAT preparation?
Kumar Gaurav - Once my chapter-wise preparation was done I gave CMAT mock test daily and then looked at the solution and approach to solve a particular question.
Careers360 - What was your exam day strategy and experience?
Kumar Gaurav - I just tried to keep myself calm and give my best shot at it like I thought this is the only chance I got and I need to capitalize on it.
Careers360 - Were there any changes in the CMAT exam pattern that students preparing for exam this year should know?
Kumar Gaurav - Yes, I guess there is an additional section of Innovation & Entrepreneurship and additional time has been allotted and also each section is of 80 marks instead of 100.
Careers360 - Did you appear for other MBA entrance exams also? If yes, then what were your scores in such exams?
Kumar Gaurav - Yes I appeared for the CAT exam in which I got 98.5 percentile.
Top Colleges in India offering Management Courses
Careers360 - During CMAT 2021 preparations which B-schools were you targeting? Where have you taken admission now?
Kumar Gaurav - I was targeting Jamnalal Bajaj Institute of Management Studies(JBIMS), Mumbai and I got that.
Careers360 - For which B-schools you were shortlisted on the basis of other MBA entrance exams you had appeared for?
Kumar Gaurav - I was shortlisted for all the B-schools which come under the CMAT exam.
Careers360 - After the declaration of the CMAT result, how did you prepare for further rounds of GD, PI, and Essay Writing?
Kumar Gaurav - I took admission on the basis of CMAT score only. No further rounds.
Careers360 - You are in mid of your MBA program so what is your dream career to pursue after completion of your degree?
Kumar Gaurav - I would like to pursue my career in Finance. I want to be an investment banker.
Careers360 - Would you like to give any message to the aspirants who are going to appear for the CMAT entrance test in the near future?
Kumar Gaurav - Yes, prepare yourself and make a timetable and keep a short target in your mind. Improve your knowledge day by day and practice hard. Obtain online study materials and give mocks.
Also Read-
Questions related to CMAT
Showing 3095 out of 3095 Questions