Choosing a B-school in Delhi-NCR: Expert Advice
NEW DELHI: With new B-schools and management education institutes coming up in the country every other week, there is a need for better guidance with choosing the right one. Whether it is wiser to go for one with an extensive alumni network or one with an outstanding legacy, or to choose an institute with a higher ranking and accreditation grades – crucial questions like these were addressed in an MBA counselling seminar conducted by Careers360.
Three administrators and teachers from notable private management institutions in Delhi-NCR explained to prospective management students the nuances of choosing the right B-school and what factors they must consider. The panel included Himanshu Mishra, dean of student affairs, Jaipuria Institute of Management, Tejpavan Gandhok, vice-dean at Jindal Global Business School and Chanchal Kushwaha, chairperson, admission, at Birla Institute of Management Technology (BIMTECH). They shared their insights on finding the best institution.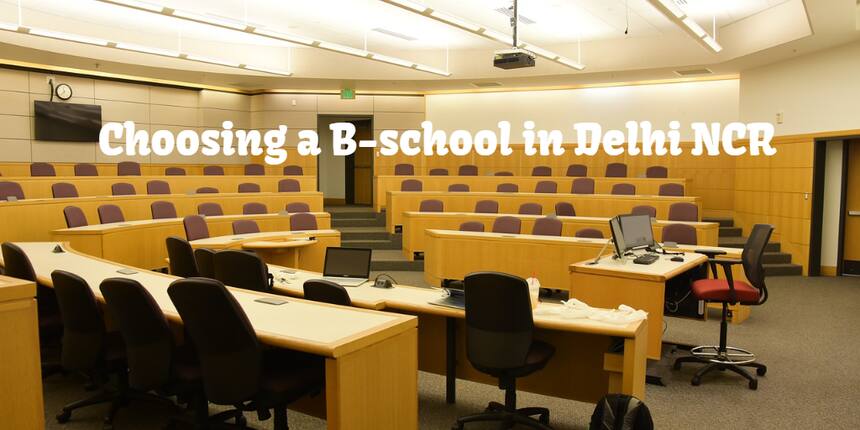 'The triad'
All three experts agreed that there were a few basic elements that need to be considered while picking a business school. Mishra believes three elements -- "the triad" -- must be in place and these include "peers, faculty, alumni".
"Who I'll interact with, will I enjoy being with them and get an opportunity to learn and contribute?" -- these factors related to the "peer group" are important for choosing a programme, felt Gandhok. How the alumni are performing is a critical factor, all three agreed, as is the quality of the faculty. Kushwaha felt that the "reputation" of an institution must also be a factor in choosing a programme.
MBA Counselling and Guidance series - Delhi Chapter: Watch Below

A match-making process, peer learning
There are IIMs at the top position but not every student makes it to IIM. But what type of a candidate is ideal that every other other premier B-school wants?
There are plenty of B-schools that, as per the experts, have proven to be promising alternatives to the premier institutions like the Indian Institutes of Management (IIM). Some, over the time, have also built their name with a reliable track-record. However, choosing the right institution requires assessment of one's own interest and academic background." For any prospective MBA student choosing a B-school is a match-making process," said Kushwaha. "It is not about choosing the top B-school of the country but finding the best fit based on the student's academic credentials, work experience and their own career interests," he added.
"If an engineering student with a good percentile in CAT, XAT or any national level exam wants to pursue say finance or marketing specialization. They should assess what kind of intellectual capital the institute possesses which will give them the confidence in choosing the right institute for them," Kushwaha explained. Mishra emphasized on the sheer number of possibilities in the private management education landscape in the country. "There are more than 3,000 B-schools wherein anyone aspiring to study management can definitely find a place. Legacy and the rankings of the institute is important but one of the most essential aspects of the learning process in a professional program is peer learning which should be considered while choosing an institute," said Mishra.
Choosing a younger institution
What should students look forward to when they join a younger MBA institution with no legacy?
Competing with age-old institutions with a wider reputation, younger institutions like Jindal Global Business School are aiming to attract young risk-takers who wish to build their own path. "Increasingly, the standard cookie-cutter path of B-schools and MBA programs are being questioned and criticized," said Gandhok. "I advise students to try and find a point of differentiation that match between the MBA programme and what you aspire to be. The interesting point is that the early risk-takers, the ones who are willing to be a part of creating a new path are usually the ones who stand out of the crowd. Within a short period of time, our university has forged partnerships with universities in California, initiated a partnership programme with Singapore Management University and also a pathway which will enable students to divide their time between Australia and India," Gandhok added.
"This is the speed and vibrancy of young institutions like us which resonates with young MBA students. The young minds confident about their abilities, in my opinion, should not follow the rat race," he said.
Importance of alumni
How important it is for students to have a huge alumni network to gain the most from the institution they study?
As in any professional course, an extensive alumni network is one of the crucial factors in the decision to choose the right institute. "There is a lot of handholding which is done by the alumni," said Kushwaha. "In the past 33 years, we have built an alumni base of 7,000-plus. The alumni are engaged in various activities from designing the course curriculum to mentoring of current students and even prospective students through interactive sessions," he added. Like other B-schools, the alumni network of BIMTECH also helps in bringing more recruiters for placement drives. "Alumni working with a company for over a decade, they send their company to participate in the placement drive as well. We have alumni chapters across metro cities in India and we have six international alumni chapters," said Kushwaha.
At Jaipuria Institute of Management, the alumni is also involved in reforms and suggestions of existing courses keeping the course content relevant. "Your network is your net-worth. They are helpful in every phase of management education. We, at Jaipuria take inputs from the alumni for new courses, changes required in existing courses. We also rope in our alumni in delivering some of these courses. They are also instrumental in helping these students for placements based on their interests. Students are provided help with mock interviews. Since we have four campuses in Lucknow, Noida. Jaipur and Indore, we have an advantage of a combined alumni network," said Mishra.
Importance of placement statistics
For a successful career and not just placement opportunities, Gandhok suggested looking beyond placement statistics. "They don't even capture the people who are pursuing entrepreneurial journeys, it doesn't capture the attrition rates and stuff like that," he said. "I would recommend thinking through a longer-term career outcome parameter….My advice would be to not look at the average number, look at the range of outcomes. If you are a smart person, would you rather go to a programme where you can stand out in a smaller cohort of 60-80 people or to one where you need to stand out among 900 people. I think that comes from looking ahead and trying to find paths that are less crowded."
Is there a location advantage?
On the question of whether being located in the vicinity of the Capital -- or any metropolitan city -- helps, especially with placements, there was some disagreement.
Kushwaha said: "Being located in the capital of the country, we get a lot of corporates coming from this part of the country as well as ...from other parts of the country and the...students are coming from almost every state."
He added that the location helps in ways beyond placement as well. They are able to get a large number of women students because their families feel more confident about sending their daughters to campuses that are within Delhi-NCR. "Parents don't want to send their female wards outside. [In Delhi-NCR] they feel their wards will be secure," he said.
Mishra, however, disagreed. "As far as placement is concerned, I don't think in today's scenario location is any disadvantage because most of the good companies will allow students irrespective of their location to participate in their aptitude examination," he explained. And for candidates who qualify that first exam, interviews can be held at a central location or even online.
Gandhok pointed out that a location in a major city or NCR has other advantages. He explained that the "breadth of interactions possible" in a major city is much higher and that brings with it opportunities for internships and mentoring. The "proportion of alumni that are likely to continue to stay on in that region as opposed to move on to other parts" is also much higher, he added.
Class diversity
According to Gandhok, conventional models of education have limited the learning possibilities of students.
"It is important to inculcate the life-long learning skill. This pressure on us to specialise and yet have a broad appreciation of a variety of areas of enquiries works beautifully well in a multidisciplinary university," said Gandhok. "The advantage of learning with students of law, public policy, liberal arts helps you build a broad perspective for climate change or even mergers and acquisitions. You not only build a fantastic network but you are also able to look beyond what is expected," he added. "That is why we have diversity in teachers, students and even the outcome of the students we celebrate. The achievements of these successful students often lie outside the conventional placement statistics leading tremendously profitable entrepreneurial ventures," he explained.
Agreeing with the merits of diversity in a class, Mishra said, "We encourage students from a variety of educational backgrounds. A good one-fourth of the class strength will be engineers along with students with an academic background of B.com and Humanities are also a part of our institute. We have students with excellent work experience in Hotel Management looking to propel their career further,"
Quality of faculty
How important is to look at the quality of faculty when a student is choosing any B-school?
Stressing on the need for creating a conducive environment for efficient teaching and learning, Gandhok explained the importance of looking for the right teachers. "The learning rarely happens only in the classroom as a majority of it happens outside the classroom. The important thing to look at is if the teachers are helping them learn as opposed to teaching," he said. "At Jindal, we are big on experiential learning and we have teachers who have not just outstanding pedigree, but a tremendous experience and industry-connect. We have over 100 teachers in the B-school and we have a small cohort of 60-70 students. This kind of student-teacher ratio gives the immersion one desires in such programs," he explained.
Choosing the right course
Another common question for young MBA aspirants is whether to choose a general MBA or PGDM programme or specialised one such as a PGDM-Finance. BIMTECH which offers a general PGDM course follows a system that guides students to pursue specialization based on their interests. "The system we follow is the candidate takes admission in the general PGDM and for the first two trimesters, we see the interest and performance and they are guided about which course is best, like PGDM Finance or PGDM HR," Kushwaha explained.
Mishra added that a candidate's own academic and work history is a factor too. He explained: "If the candidate is a fresh graduate without any corporate exposure, he should at least go for a generic MBA where in the first two trimesters, he'll study courses in all the areas and then automatically, in some or other courses, he'll develop some interests. If the candidate is an experienced candidate with work experience in banking, for them we do recommend a PGDM-Finance, for example, if they want to go back to work in the same sector."
Autonomy and flexibility
How does the freedom to create own curriculum and pedagogy help an institution in terms of outcomes a student is looking for?
The private management institutions have also gained some autonomy to offer courses that meet the industry requirements. "BIMTECH is one of the few institutions which has been given graded autonomy which has allowed us to start and design courses as per the market demand. We can offer it at our own pace. Usually, any AICTE [ All India Council for Technical Education] approved institute can provide only full-time postgraduate diploma for two-years duration. With autonomy, we can provide short-term courses too," said Kushwaha. BIMTECH has recently started offering an online PGDM course as well as an executive PGDM course. Certificate courses on Fintech, blockchain and e-commerce technology are also in the pipeline. Meanwhile, Jaipuria Institute's two-year PGDM course has been recognized to be equal to an MBA degree for the purpose of admission to higher studies and employment.