Chitkara University - In 2010, the Chitkara University was established by the Punjab State Legislature under "The Chitkara University Act".The university has the right to confer degrees as per the UGC Act, 1956. Chitkara University provides numerous possibilities to students, to go abroad on exchange programmes, and assists them to obtain global exposure. It is equidistant from the cities like Chandigarh, Mohali, Ambala, Panchkula, and Patiala. Chitkara university has a good faculty-student ratio. The university offers UG, PG and Doctoral level degree programmes in fields like engineering, management, applied health sciences, design, etc.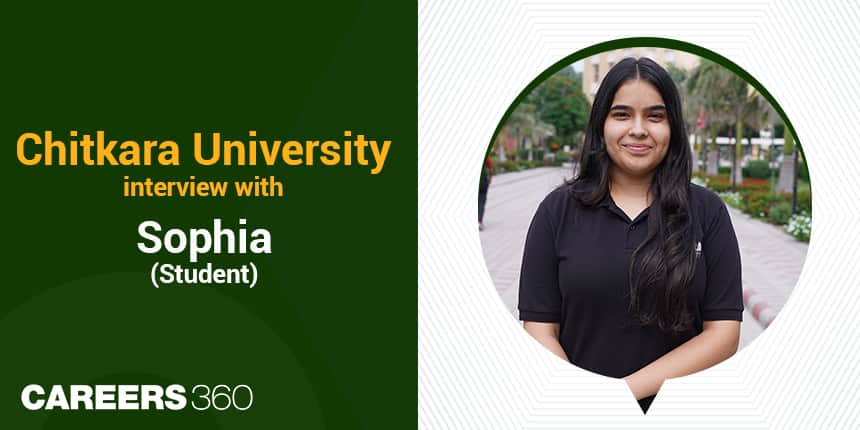 Chitkara University: Interview with Sophia (Student)
Careers360 brings you an interview with Sophia, an Bachelors of Business Administration (BBA), 2nd year student at Chitkara University. She is pursuing her undergraduate (UG) degree in business management. In her interview, Sophia shares her experience and life at university. How did she choose the BBA UG course at Chitkara? And other things about the university. To know more about Chitkara University from a student's perspective read the full interview of Sophia with Careers360 in the article below.
Careers360. Tell us something about yourself such as from which place are you from?
Sophia. I am Sophia, I belong to Jind, Haryana. I have always been passionate about food, I love to cook and eat. My hobbies include listening to music and watching series.
Careers360. Presently which course are you pursuing and in which year are you?
Sophia. I am pursuing a Bachelor of Business Administration (BBA) in Business Analytics and looking forward to what the 2nd year has in store for me.
Careers360. Did you face any difficulty in the initial months when you joined the institute?
Sophia. Not at all. I consider myself a fairly outgoing person and because of the friend I made here, life has been easy. What helped was that our teachers and mentors also ensured that we had all the information and help.
Also Read:
Careers360. What activities are offered in the institute? Are there any clubs etc for the various extracurricular activities? Which ones have you taken up and are a part of?
Sophia. We've various events throughout the year that help us indulge and develop skills besides our education. Yes, there are clubs for almost every Co-curricular activity like C2S2 Custody, tasveer, etc. I'm currently in the C2S2 club, THE BHANGRA REGIMENT (TBR) .
Careers360. Describe a typical day at your institute – what do you do from the time you wake up till you go to sleep?
Sophia. From waking up early to catching the bus on time till meeting my friends in class is a complete bliss. On reaching college my friends are the first people I look for. Discussing assignments, solving queries and hanging out with these beautiful people in SQ1 is like a routine. Participating in different activities and meeting new people actually comprehends one's ability to communicate and that's what this place doesn't lack. We have classes from 9 to 4 and once I reach home I relax and then finish my assignments for the day.
Careers360. Tell us about the faculty-student ratio here and about the teacher-student relationship in your understanding.
Sophia. I feel like the teacher student ratio is very good. I feel like a good bond between teachers and students can really help both develop themselves into better individuals even outside the classroom. Our teachers do take personal interest in ensuring our better understanding of the subject and helping us in whatever way they can.
See Also:
Careers360. What facilities do you have on campus? What do you like here the most which you feel is unique and differentiating?
Sophia. Our campus is loaded with all the necessary facilities. We have an amazing food court that provides us with the best quality food, we have all the sports courts, places to sit and talk, open grounds and amazing architecture with air conditioned classes and lifts that help us get to those classes in time. I also feel that having such well qualified teachers and cooperative staff-student culture is not something to be overlooked upon.
Careers360. How comfortable are your hostels and how about the cleanliness factor over there?
Sophia. I personally don't reside in a hostel but from what I have heard cleanliness is something non negotiable for the hostel facilities so I feel they must be keeping those floors swept well, also the food quality is really good.
Careers360. What about the medical facilities? Can you avail requisite medical attention if needed in an emergency?
Sophia. We have a dispensary located right in the middle of the campus and they are well equipped with qualified doctors and the college has ties with Neelam hospital right across the street so students can avail medical facilities without any hassle, plus we have numerous ambulances that are always ready for any emergency.
Quick Links:
Careers360. How do you balance your studies, projects, exams and other activities?
Sophia. Sometimes it gets tedious but I believe a right routine is something that helps me personally not have these imbalances in life. I avoid procrastinating and get the stuff done.
Careers360. Tell us about the clubs and societies at the campus and how significant are they from your point of view or students point of view?
Sophia. We have a number of clubs ranging from sports to studies and whatever you can think of. I personally am a member of THE BHANGRA REGIMENT club and it taught me numerous things like leadership, taking action, being present, solving issues and being calm in the worst situations. I feel like these clubs are very essential in the all round development of an individual.
Careers360. Is there any in-house magazine or journal for the latest events or happenings at the institute?
Sophia. Yes, we do have in-house magazines for each department and they are available in the library. They are an assistance in exploring and learning about the particular department.
Careers360. What are the popular hangouts at the institute? What, according to you, are the most-visited places nearby?
Sophia. We have this big ground right next to the entrance, guarded by a tank and a fighter plane that might have seen a lot of aerial combat. It's called alpha zone and when the weather is pleasant I love sitting there with my friends. We have SQ1 too which is like a food court and it is chilled up during the hot days and has an amazing playlist playing and these I feel are the most visited places on campus.
Careers360. How do you spend your leisure time at the campus?
Sophia. In between classes we have breaks, we have an amazing library which is air conditioned and loaded with books… I like to go there and study or read something interesting. The rest of the time I'm with my people hanging out or eating in sq1.
Other links: Chitkara University Q&A
Careers360. Do you have any Facebook page of your campus where the students express their views, jokes or ideas, or maybe even a blog where they write about their experience of life at campus?
Sophia. Yes, we do have and there is a regular update through which we come to know about the on goings in the university.
Careers360. What type of companies come for campus recruitment and what percentage of students get placed every year? How is the recruitment process here?
Sophia. Chitkara has on campus placements with a 99.99 percent placement rate. As a multidisciplinary university chitkara has tie up with many big unicorns and blue chip MNC some of them are INFOSYS, IBM, Google, etc.
Disclaimer: This content was distributed by Chitkara University and has been published as part of Careers360's marketing initiative.
Other Popular Institutes: