"Change in CAT 2020 Exam pattern a welcome change,"says Vivek Tuteja, CEO of Endeavor Careers
The CAT 2020 exam pattern has undergone a major change with the duration of the entrance test being reduced to two hours from the regular three hours. Right now the candidates are still wondering if there will also be reduction in the total number of questions in each section. In this regard Vivek Tuteja, Chairman and CEO of Endeavor Careers says though there might be less questions but it is difficult to predict as in the past also there have been 60 questions which the candidates had to answer. Moreover, he added that the students will now be tested more on their natural aptitude as well as on how well they manage the time on the day of the CAT exam which is scheduled to be held on November 29. Read the full interview of Vivek Tuteja who himself is an alumni of IIM-Ahmedabad and has been long associated with the media and the education industry. In this interview he talks about the preparation strategy, how to prepare for different sections and the importance of the CAT mock tests.
Stay up-to date with CAT News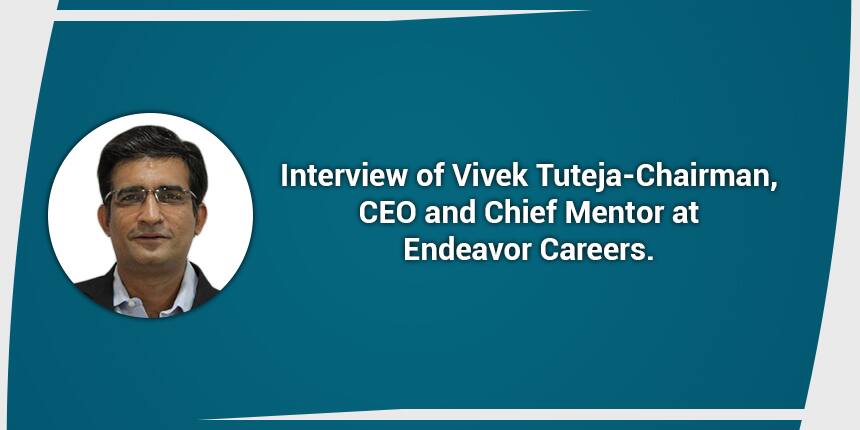 Latest: IIM Indore released CAT 2020 admit card on October 28. Take the CAT 2020 mock test to gauge your preparation.
Careers360: How do you perceive the change in the CAT 2020 exam?
Vivek Tuteja: This is a welcome change as students will not have to bear through 3 hours of the intense test as CAT has developed over the years. This will empower students with natural aptitude bent or those who have prepared well to get a better chance of clearing the test. It will bring the test skills like time management and being objective oriented while attempting as key skills over and above a good comprehension ability, logical skills along with core quantitative concepts
Careers360: What is the strategy that the candidates must adopt while answering the questions in the CAT 2020 exam since the exam duration has been reduced?
Vivek Tuteja: Basics remain the same. The student should try to read and comprehend each and every question. What comes on your screen may be easy or tough and each student will perceive this difficulty differently. Hence the test taker will have to be far quicker and more aware while taking the test with respect to his strength and weakness. Familiarity of question and logic would be handy when taking the call whether to invest more time in a question or not. Clearly, students who have practised sufficiently and all varieties will have an edge.
Careers360: Do you think that there will be a reduction in the total number of questions and will IIM Indore do away with Non-MCQ type questions.
Vivek Tuteja: Non-MCQ questions won't be done away with as it is a long-term decision and tests students on clarity. IPM Indore continued with Non-MCQ questions in their post COVID entrance conducted in September.
The number of questions should come down but not in the ratio of time reduction ideally. I will go ahead with a 25% reduction in questions at maximum. But CAT has in past conducted tests with only 60 questions so we cannot write that option off. Students will have to deal with uncertainty until CAT authorities reveal more data.
Careers360: Now that less than two months are left for the exam, what is the strategy that the students should adopt to crack the CAT 2020 exam.
Vivek Tuteja: Students should now understand the areas they have not yet managed their foundations yet and should immediately get to work on them. Simultaneously this is time to practise exam-oriented questions and take at least 2 CAT mocks a week, analyse them and set weekly improvement targets. If a serious taker is able to divide his time into these three areas, he should get substantial score improvement till CAT assuming he is not his starting preparation now.
Careers360: What are the section-wise tips that you would like to suggest for the candidates who will be appearing for the CAT exam?
Vivek Tuteja: Read a lot of variety and dense content for Verbal and do focused reading. Analyze errors in RC and verbal and understand where you erred rather than solving more.
DI & LR focus on variety and revise all sets from Mocks regularly. Do not get programmed in your logic and focus on organize data first than chasing answers immediately.
Quant I would recommend students to start practising heavier weights and exam-oriented questions now.
Careers360: Do you think there will be an increase in the number of candidates who will be appearing for the CAT 2020 exam in wake of the COVID 19 pandemic. If yes, then what is the number likely to be.
Vivek Tuteja: No. There should be a dip as students were not technology ready to prepare. We should see a significant jump in exams next year.
Careers360: What is the time management strategy that the candidates should adopt on the day of the CAT exam so that they can score a high percentile?
Vivek Tuteja: CAT manages time for students per section so student's effort should be to manage time within the section. Ensure you divide your time in 4 quarters per section and track time individually per quarter. and ensure you reach the last question by the end of the fourth quarter in each section if possible. Do not be in a hurry. Either commit or leave. And if your realized commitment was a mistake let go and move on. It is a sunk cost already. Focus on next quarter.
Careers360: How do you see the dip in the total number of registration for CAT 2020? What is your take on it.
Vivek Tuteja: It is because student's couldn't prepare because of the lack of preparatory tools and then they didn't have sufficient time. Many of them had not appeared for their exams when CAT announced the exam. Was CAT to be delayed we would have seen a jump in the numbers.
But do understand the number of takers has nothing to with competition at top B-Schools and IIMs. The dip this time is more from the students who contribute to the lower rung of percentiles as they couldn't start preparation. The competition for top B-Schools would be higher as more top graduates will be taking the exam because their career plans whether with jobs/education abroad has been disturbed.
Questions related to CAT
Showing 9999 out of 9999 Questions