CAT 2020: Registration (Started), Exam Dates, Preparation, Pattern, Syllabus, Admit Card
CAT 2020 - Indian Institute of Management, Indore has started the registration window for CAT 2020 on August 5. Authorities had activated the official website of CAT 2020 exam, iimcat.ac.in on July 29. Common Admission Test 2020 will be held on November 29 in two sessions. Candidates can do their CAT 2020 registration till September 16. Candidates will have to pay the increased registration fee of Rs 2000 (gen candidates) and Rs 1000 (reserved category) through online means. They will have to choose 6 exam cities instead of 4 while filling the application. The CAT 2020 mock test will be available from October 16. There is no change in the CAT exam pattern this year. CAT is a computer based test for admissions to 20 IIMs, IITs, FMS, MDI, SPJIMR, IMI, JBIMS & 500 plus Bschools across the country. CAT exam will be conducted in 156 cities across India.
Latest : CAT 2020 registration begins from August 5. CAT 2020 to be held on November 29.
IIM Indore will facilitate the CAT 2020 admit card download from October 28. CAT 2020 result will be announced in the second week of January 2021. CAT scores will be valid for one year only. IIM selection process includes CAT scores and qualifying in WAT, GD and PI. More than 2,40,000 students had registered for the CAT exam in 2019.
What is CAT exam?
Common Admission Test is the full form of CAT. It is a computer based test held by one of the six designated Indian Institutes of Management (IIMs) in rotation. Cat exam for what - IIM and other MBA admissions are through the exam. CAT exam is designed to gauge the quantitative ability, verbal ability and reading comprehension, data interpretation and logical reasoning skills of the candidates who appear for it to try for admissions at the IIMs and other leading BSchools. CAT exam scores are used not just by the IIMs but also by the Indian Institutes of Technology which also offer MBA programmes.
CAT 2020 - Overview
Particulars

Details

Full name of the exam

Common Admission Test

Common Name

CAT

IIM conducting CAT 2020
Indian Institute of Management Indore
CAT 2020 Convenor
Professor Harshal Lowalekar, Faculty for Operations Management and Quantitative Techniques
CAT exam 2020 Official Website
iimcat.ac.in

Periodicity of CAT exam

Once a year

CAT exam type

Computer based national level exam

CAT 2020 exam date

November 29, 2020

CAT eligibility and age

No age limit; any graduate with 50% can appear for the CAT exam

CAT exam pattern

Questions: 100 Multiple Choice Questions
Duration: 3 hours

Medium: English

Sections in CAT exam with number of questions

Verbal Ability & Reading Comprehension (VARC) - 34 questions
Data Interpretation & Logical Reasoning (DILR) - 32 questions
Quantitative Ability (QA) - 34 questions

Time Limit per section in CAT 2020
1 hour per section

CAT 2020 application fee

Rs. 2000 (general category); Rs 1000 (reserved category)

CAT Registration Process

Online

Number of CAT Exam Centres

376 centres across 156 cities (2019). Students have to choose 6 cities instead of 4.

CAT Participating Institutes and score using institutes

20 IIMs, IITs, MDI, FMS, SPJIMR, JBIMS and more than 500 management schools in the country

Admission Process after CAT exam

Separate applications to all IIMs and other MBA colleges. However, students do not need to pay a separate application fee for IIM admissions.

CAT Score is valid till

December 31, 2021

No of CAT applicants (2019)
2,44,169 - 75004 female, 134917 male and 5 transgender candidates

CAT Helpline

Email: cathelpdesk@iimcat.ac.in
What's New In CAT 2020
There is an increase in CAT application fee 2020. It is Rs 2000 for general category and Rs 1000 for the reserved category In 2019, it was Rs 1900 and Rs 950 respectively
In wake of COVID 19, candidates can select 6 exam centres according to the preference as compared to 4 cities last year
IIM Indore has announced that CAT 2020 exam date is November 29. CAT exam dates are mentioned in the table below. Candidates can use the same to keep track of the important CAT exam events and plan their preparation.
CAT 2020 Dates
| | | |
| --- | --- | --- |
| S.No | Events | Dates |
| 1 | Release of CAT 2020 notification | August 2, 2020. |
| 2 | CAT registration dates | August 5 to September 16, 2020 |
| 3 | Application correction date | Last week of September 2020 |
| 4 | Mock test release date | October 16, 2020 |
| 5 | Issue of CAT admit card 2020 | October 28, 2020 |
| 6 | CAT 2020 exam date | November 29, 2020 |
| 7 | Release of candidate's response sheet | First week of December 2020 |
| 8 | Release of CAT answer key 2020 | Second week of December 2020 |
| 9 | CAT 2020 result date | Second week of January 2020 |
| 10 | Validity of CAT Score | Till December 31, 2021 |
CAT 202O Official Website looks like -

Applicants appearing for the exam must meet the CAT 2020 eligibility criteria which includes academic qualifications, age and nationality and other parameters as given below
Candidates must have a bachelor's degree from a recognized institute or university (students from all backgrounds like engineering, humanities, science, commerce, arts etc can apply)
Candidates who are in the final year of graduation are eligible to apply for CAT exam 2020
General and OBC-NC category applicants must have scored at least 50 percent marks in aggregate or equivalent in their graduation. Reserved category candidates must have scored 45 percent in their graduation
CAT 2020 exam has no age criteria.
IIM Indore has released CAT 2020 application form from August 5. The last date of CAT exam 2020 registration is September 16. Steps to fill CAT application form are given below:
Step 1 - Generate CAT user id and password
Step 2 - Use CAT 2020 Registration Login and fill details
Step 3 - Upload required documents and images
Photograph - 30 mm (width) x 45 mm (height) in JPEG/JPG format in a file not more than 80 KB
Signature - 80 mm (width) x 35 mm (height) in JPEG/JPG format in a file not more than 80 KB
PwD/ Category certificate if applicable
Step 4 - Pay the CAT exam fee through debit card/ credit card or net banking and submit.
CAT 2020 Registration Fee
| | |
| --- | --- |
| Category | Fees* |
| SC, ST and PwD candidates | Rs 1000 |
| All other candidates | Rs 2000 |
Check the steps to fill CAT application form below.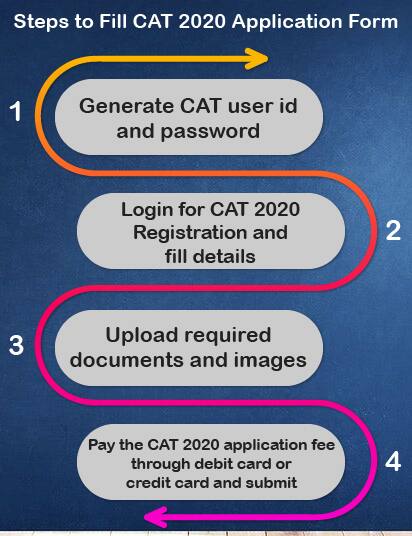 Mistakes in the application form can be corrected when the CAT application correction window opens after September 16 when the CAT 2020 registration process ends. To make the corrections, they must login and rectify the details and submit them in the CAT exam 2020 registration form. Students should note that not all fields can be corrected.
Also Read: CAT Frequently Asked Questions (FAQs) 2020
CAT Application Statistics
| | | |
| --- | --- | --- |
| Year | No. of Registrations | No. of Test Takers |
| 2019 | 2,44,169 | 2,09,926 |
| 2018 | 2,40,338 | 2,09,405 |
| 2017 | 231,000 | 1,99,632 |
| 2016 | 2,32,434 | 1,95,000 |
| 2015 | 2,18,664 | 1,79,602 |
| 2014 | 1,96,988 | 1,67,829 |
| 2013 | 1,94,516 | 1,73,714 |
| 2012 | 2,14,000 | 1,95,000 |
| 2011 | 2,05,000 | 1,86,000 |
| 2010 | 2,04,000 | 1,85,000 |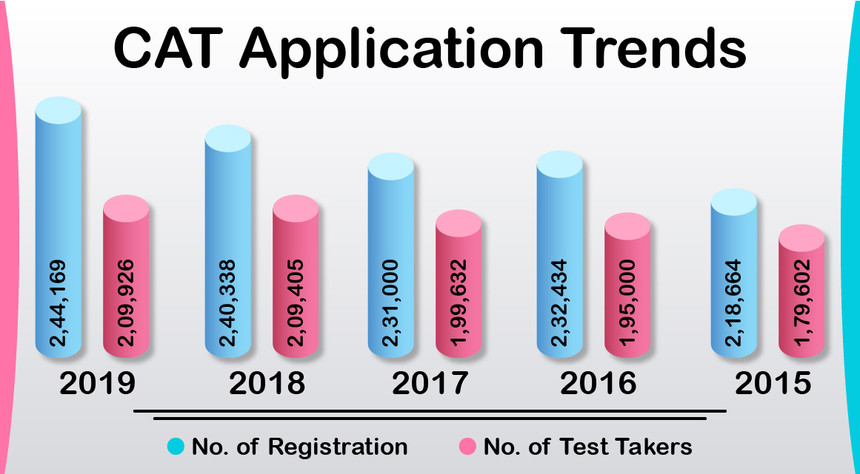 How to prepare for CAT 2020? Big question that is asked by most aspirants. However, there is no simple answer or shortcut for CAT preparation. It involves not just knowing CAT exam details but also checking out CAT subjects, books, tips from experts, CAT toppers and constantly solving CAT exam papers. The below table has been compiled keeping all these aspects in mind. Aspirants can use this concrete CAT 2020 preparation plan to ace the exam.
CAT Syllabus – Resources, Books and Materials
A crucial need to ace CAT exam 2020 is having the right CAT preparation material on hand. Now, most of these can be bought or even referred online. These cover the entire CAT syllabus and are a must for every CAT exam aspirant.
CAT Preparation Strategy – 1 Year to Last Minute
It is well known that the CAT exam preparation strategy differs from stage to stage. A one year preparation would need different handling while the monthly preparation would need different strategy. The reason being that as time passes, students may get familiar with the subjects, topics and would need more revision and practice than studying.
What is the best way to prepare for CAT 2020?
Every student has a method of preparation. Each aspirant has his/her own limitations and way of working and studying. This is why CAT preparation strategy matters if one has to crack the exam. The various types of CAT preparation strategies are given below suitable for all types of aspirants appearing for CAT exam.
CAT Preparation Tips – Toppers and Experts
Most toppers who have cracked the CAT exam have some or other other personal experiences, tips that helped in this journey of theirs. Mentors also experts who have coached many such aspirants know strategies to prepare for CAT that help. While the fact is that most have succeeded with a lot of hard work and dedication, one can always see if there is some tip that may help in CAT preparation 2020. Check such experts and toppers just to be motivated, understand some good tips and aim for the best results.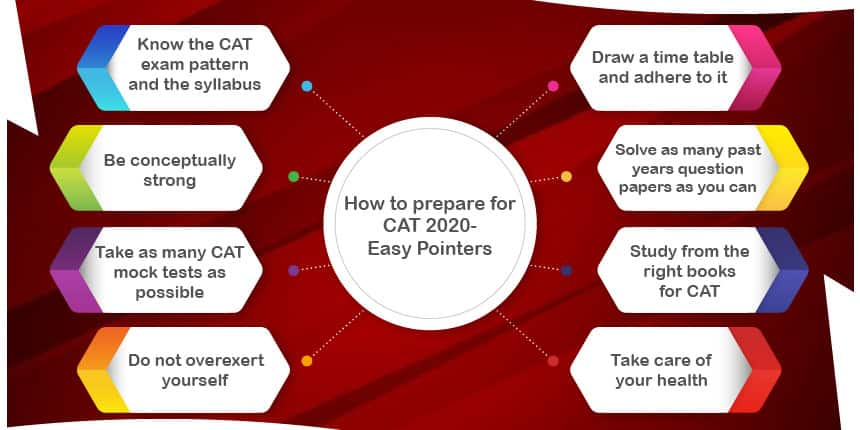 IIMs don't specify any particular CAT exam syllabus. The CAT 2020 syllabus given below is based on the CAT exam analysis of the past years. Candidates can also download the CAT syllabus pdf to keep it handy during preparation.
CAT Syllabus
Quantitative Ability (QA)

Verbal Ability & Reading Comprehension (VARC)

Data Interpretation & Logical Reasoning (DI & LR)

Number Systems, LCM & HCF,

Synonyms Antonyms (Vocabulary Based)

Caselets and Tables

Profit, Loss & Discount, Percentages

Grammar or English Usage

Bar Graphs and Column Graphs

Speed, Time & Distance, Time & Work

Correction in Sentence

Venn Diagrams

Simple & Compound Interest

Fill in the blanks

Line Charts & Pie Chart

Ratio & Proportion, Averages

Reading Comprehension

Combination of two or more types linked to each other

Logarithm, Binomial Theorem

Verbal Reasoning

Number and Letter Series

Coordinate Geometry & Mensuration, etc.

Jumbled Paragraph and Close Passage

Calendars, Cubes and Clocks

Complex Numbers, Quadratic & Linear Equations

Meaning/Usage Match

Binary Logic

Sequences & Series, Surds & Indices,

Inequalities

Analogies and Reverse Analogies

Seating Arrangement, Syllogism

Probability, Permutation and Combination

Summary Questions

Logical Matching, Connectives. Sequence

Set Theory, Functions & Geometry,

Mixtures & Allegations, Trigonometry

Facts Inferences Judgements, etc.

Blood Relations, etc
Watch Careers360's Video to Know All About CAT Exam 2020 -
The notification has mentioned that CAT 2020 will be held in 374 exam centres across 156 cities in the country. Candidates must choose six test cities while filling the CAT 2020 registration form. The CAT 2020 test centre allotted will be mentioned on the admit card/hall ticket with complete address details and the location code. The list of states and the number of CAT 2020 test cities are given below
CAT Exam Centres and States
Name of state
Number of Test Cities
Andhra Pradesh
9
Assam
5
Andaman and Nicobar Islands
1
Arunachal Pradesh
1
Bihar
6
Chattisgarh
3
Chandigarh
2
Delhi-NCR
8
Haryana
6
Gujarat
7
Goa
1
Himachal Pradesh
1
Jharkhand
5
Jammu and Kashmir
Karnataka
9
Kerala
7
Madhya Pradesh
7
Maharashtra
18
Mizoram
1
Meghalaya
1
Nagaland
1
Odisha
7
Puducherry
1
Punjab
7
Rajasthan
8
Telangana
3
Tamil Nadu
7
Uttar Pradesh
11
Uttarakhand
3
West Bengal
8
There is no change in exam pattern of CAT 2020 as per the official CAT notification. One important factor in CAT 2020 preparation is the knowledge of how the CAT exam paper is like. Every aspirant has to know how many sections, subjects, types of questions, marking scheme etc to crack the exam. Check the CAT 2020 exam pattern detailed in the table below to know this and more.
CAT Exam Pattern
Particulars

Details

CAT exam duration

3 hours; 60 minutes for each section. Candidates cannot move from one section to the other randomly. They can move to another section after completing one.

Mode of the CAT 2020 exam

Computer based test

Total number of questions asked and type

100 Multiple Choice Questions

CAT exam subjects

Quantitative Ability (QA)

Verbal Ability and Reading Comprehension (VARC)

Data Interpretation & Logical Reasoning (DI & LR)

Marking Scheme

3 marks for every correct answer and - 1 mark for every wrong answer. No negative marking for non-MCQs or TITA (Type In The Answer) questions
One way to cement preparation is to test what a candidate has studied. This is where the previous year question papers of CAT and sample papers as well as mock test play a role. CAT exam question papers of previous years must be solved by the candidates as it will help them to analyse the level of their prepration.
CAT Question Papers with Answer Key
The official mock test of CAT 2020 will be released on October 16. CAT mock test gives a true picture of the test. While IIMs only give one or two mock tests, candidates can get these on the net from various coaching centres and otherwise too. CAT mock tests should be an integral part of preparation as this allows students to know how exactly to time their answers, navigation between sections and more. The CAT official mock test (2019) can be used in the meantime to understand how the test goes.
IIMs have a separate mock test for PwD candidates. These candidates get twenty minutes extra for each section and need to complete CAT 2020 in four hours or 240 minutes. So the CAT mock test for PwD is released separately along with the regular one. The 2019 official CAT mock test for PwD candidates can be used for practice in the meantime.
It is mandatory for all candidates to carry and show the CAT 2020 admit card at the exam hall while appearing for the exam. CAT admit card 2020 can be downloaded by registered candidates from October 28 after entering their login details. The admit card of CAT 2020 will mention the exact address of the test centre and CAT exam day instructions to be followed . CAT hall ticket must be printed on A4 size paper. Any mistakes or discrepancies in the CAT hall ticket must be rectified by writing an email to the authorities at cathelpdesk@iimcat.ac.in or calling them on 1800-266-3549.
What to Carry to CAT Exam Centre?
Candidates must bring with a valid government identity proof along with the hall ticket

A Medical certificate is mandatory if the candidate requires a scribe

CAT 2020 dress code specifies that plain pullovers, sweaters, cardigans without pockets are permitted inside the test centre

Candidates with a metal implant, pacemaker, etc. in their body must bring the medical certificate to the CAT test centre.
CAT exam day - Do's and Don'ts
Some instructions are given for CAT exam by the authority and these are printed on the admit card. All candidates appearing for the exam must follow them. CAT 2020: 10 Dos and Don'ts for the exam day are a compilation of the instructions to be followed by candidates. Also the other important pointers to note are CAT 2020 Mistakes you must avoid on exam day



CAT 2020 Exam Day Guidelines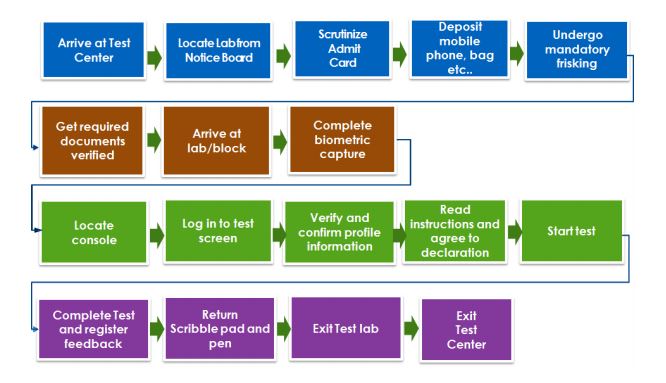 CAT Exam Analysis 2020
Post exam, CAT 2020 exam analysis will be provided for the overall and sectional papers. CAT exam analysis from students who have appeared for the exam will be available. In addition, in depth CAT 2020 exam analysis by experts from the coaching institutes will also be available after the exam concludes. The difficulty levels of the exam and expected cutoffs can be gauged from this analysis.
CAT Candidate Response File 2020
All candidates who have appeared for the exam can download their CAT 2020 response file after it is released by IIMs in the first week of December by entering the CAT login id and password. The response file of CAT 2020 will mention the answers which the candidate gave to a particular question. The details of the unanswered questions will also be given.
IIMs is expected to release the final CAT 2020 answer key in online mode around December 15. The final answer key will contain the correct responses to the questions asked in the test. Candidates can challenge it within a stipulated time with proof in support of their claim. They will be required to pay Rs 1200 per question. The authorities will refund the amount only for all challenges found correct. Candidates can gauge their probable CAT 2020 score.
Candidates can know their qualifying status in the second week of January when the authorities release the CAT 2020 result. To download their CAT 2020 scorecard, aspirants must use their registered CAT ID and password. The scorecard of CAT 2020 will contain sectional and overall scaled scores and percentiles. Candidates must take the print out of the CAT result 2020 and keep it safely till the completion of the admission process. CAT scorecard will be valid for a year.
Since the CAT exam is conducted in two slots, the equivalence of the papers is ensure through the normalization process adopted by the IIMs. The details of the CAT 2020 normalization process are given on the official website. The CAT normalization process takes adjustment for location and scale differences of score distributions across different forms into account before the normalizing the scores. Achieved CAT scaled scores will be converted into percentiles to shortlist candidates for selection. The overall scaled score is computed by adding scaled scores of the three sections.
Once the exam concludes, candidates are curious to know about the likely percentile which they would score. The CAT 2020 percentile predictor is a tool which can be used by the candidates to know their probable percentile. BY using this tool, candidates will be able to know their overall and sectional score even before the announcement of CAT result. By knowing the percentile well in advance, candidates will get an idea as to which IIMs and other B-schools they can apply to. By judiciously using the CAT percentile predictor, candidates will be able to prepare for the next round of selection.
The minimum qualifying marks which are required by the candidates to be eligible for next round of selection are referred to as the CAT 2020 cutoff. The minimum percentile is generally referred to as the CAT cutoff 2020. Some of the important factors which are taken into account while determining the CAT cutoff 2020 are the overall difficulty level of the entrance exam, the total number of candidates who appeared for the entrance test, the seats that are offered in different programmes.
| | | | | | |
| --- | --- | --- | --- | --- | --- |
| IIM | General | NC-OBC | SC | ST | PwD |
| Ahmedabad | 80 | 75 | 70 | 60 | 70 |
| Bangalore | 85 | 75 | 70 | 65 | 60 |
| IIM Calcutta | ≥ 85 | ≥ 75 | ≥ 70 | ≥ 65 | ≥ 65 |
| Lucknow | 90 | 82 | 70 | 65 | 65 |
| Indore | 90 | 80 | 60 | 50 | 50 |
CAT 2019 Cutoff for top colleges
| | |
| --- | --- |
| B-School | Expected Cutoff of CAT |
| | 98.20 Percentile |
| | 98+ Percentile |
| | 99+ Percentile |
| | 95+ Percentile |
| | 95+ Percentile |
| | 95+ Percentile |
| | 90+ Percentile |
| | 90+ Percentile |
| | 85+ Percentile |
| | 85+ Percentile |
CAT Selection Procedure 2020
Candidates who clear the entrance exam will have to participate in the selection procedure of CAT 2020 that include shortlisting of candidates by the IIMs for the next round of selection. IIM will comprise Written Ability Test (WAT), Group Discussion (GD) and Personal Interviews (PI). Some of the important components of CAT 2020 selection procedure include academic performance of the candidates at the school and college level, gender, requisite work experience etc. The respective IIMs determine their own cutoff on the basis of which they shortlist the candidates and also allocate weightage to different sections.
CAT Reservation Criteria 2020
All the IIMs and the management institutes follow the reservation criteria that has been laid down by the candidates. The category wise reservation percentage is given below in the table:
Category wise seat reservation
| | |
| --- | --- |
| Category | Percentage |
| ST (Scheduled Tribe) | 7.5 |
| PWD (Person with Disability) | 3.0 |
| OBC-NC (Other Backward Class – Non-Creamy Layer) | 27 |
| SC (Scheduled Caste) | 15 |
Candidates must understand that CAT participating institutes are of two types- IIIMs and Non- IIMs. About 115 CAT 2020 participating institutes allow admission to their MBS and postgraduate programmes. Non-IIMs have to apply to the conducting IIM before being declared one of the CAT participating institutes. 20 IIMs and other institutes like 6 IITs, NITs, IISc Bangalore, JNU, IPU, IMT Ghaziabad, MDI Gurgaon, SPJIMR Mumbai to name a few use CAT scores.
IIM Programmes and Admission Criteria
Contact Details for CAT Exam
Website: iimcat.ac.in
Email: cathelpdesk@iimcat.ac.in
Helpline: 1-800-209-0830 (Toll Free) - Monday to Saturday 9 am to 6 pm (excluding National holidays)
For Academic queries like eligibility, category and PwD certificate
CAT Centre
Indian Institute of Management Indore
Prabandh Shikhar,
Rau - Pithampur Road,
Indore- 453556, Madhya Pradesh, India
Phone: +91-731-2439410 - Monday to Friday excluding holidays, from 9:30 am to 5:30 pm
Email: cat2020@iimidr.ac.in
Frequently Asked Question (FAQs) - CAT 2020: Registration (Started), Exam Dates, Preparation, Pattern, Syllabus, Admit Card
Question: Is CAT exam conducted twice a year?
Answer:
CAT exam is conducted once a year. Its scores are also valid till December 31 of the admission year.
Question: Who is eligible for CAT?
Answer:
Any graduate who has scored 50% and above will be eligible to sit for the CAT exam 2020. There is no restriction of the stream or age for CAT.
Question: Who will be conducting CAT 2020? What is the CAT exam date?
Answer:
IIM Indore is conducting CAT 2020. It has announced that CAT exam date will be held on November 29 in two sessions.
Question: Will CAT 2020 happen?
Answer:
Yes. IIM Indore is conducting CAT 2020. It has released the CAT 2020 notification and exam dates as well as the information brochure.
Question: When should I start preparing for CAT 2020?
Answer:
You should ideally start preparing as soon as you can as CAT requires more practice for speed and technique improvement. About 6 months of dedicated preparation is enough to crack CAT.
Question: What is the purpose of CAT?
Answer:
CAT is for admissions to MBA and other PG management programmes at IIMs, IITs, NITs and other leading institutes and universities.
Question: How many attempts are allowed for CAT exam?
Answer:
You can attempt the CAT exam only once in a year. There is no age restriction so you can attempt the exam every year.
Question: Do class 12 marks matter in MBA admissions?
Answer:
Yes. For IIM admissions they do. The admission criteria for IIMs is based on not just CAT exam scores but also the academic performance in class 12 and graduation too.
Question: Can a weak student crack CAT?
Answer:
There's no reason not to. CAT syllabus covers topics like reasoning, verbal ability, quantitative aptitude which has got more to do with the way a person thinks and logically applies his/her brain to. The CAT exam does not have any core subjects so a weak student who may be strong in these areas but disinclined to study core subjects may perform well in CAT 2020.
Question: What is new in CAT 2020?
Answer:
The application fee has increased. Also candidates have to choose 6 exam cities instead of 4.
Questions related to CAT
Showing 8697 out of 8697 Questions