CAT 2020 - Student Reactions
CAT 2020 - Student Reactions: The Common Admission Test 2020 was conducted today across the country in computer based mode amidst strict adherence of COVID 19 guidelines. At the CAT test centre, candidates are seen standing in a queue as they wait for thor turn to get their documents verified and also get their temperature checked. The CAT 2020 exam was conducted in three shifts today on November 29. At the CAT 2020 test centre, correspondents of Careers360 will get the analysis from those who appeared for the exam. Careers360 brings to you the live coverage from the test centres as well as how the students prepared for the CAT exam in wake of the changed pattern.
Stay up-to date with CAT News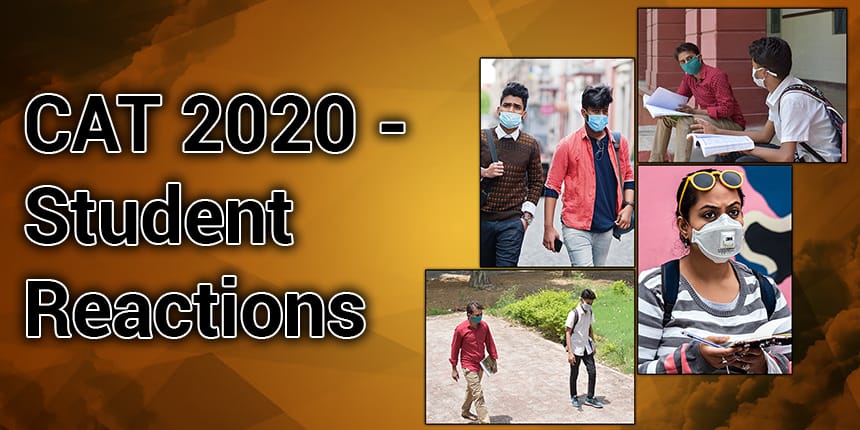 Ongoing MBA Admission 2022
CAT 22020 Slot 3 Post Exam Analysis
Amir- Overall paper was as similar to previous year. Only the VARC section was quite tough, Quant was same as previous year.
Unknown- Exam was average. DILR was bit difficult, Quant section was easy to attempt. VARC section had 4 RCs, 3 Parasummary, 2 Odd sentence. In Quant- Arithmetic and Geometry were the dominated one.
Sahil- It was my first attempt. DILR was bit tough. Quantitative Ability was bit easy.
Important Links -
CAT 2020 Slot 2 Post Exam Analysis
Aishwarya- Exam was quite difficult. VARC 26, DILR-24 and QA 26 questions. Quantitative Aptitude was bit difficult. In Quant section, most of the questions were asked from Algebra.
Mohit Dhyani- In DILR section, total 6 sets have 2 questions, 3 sets with 4 questions each. VARC have 2 passages, most of the questions were from Para Jumbles. Quant was moderate.
Vishal- It was my second attempt. Overall exam was moderate.
Vikram- Overall exam was moderate. It is my first attempt, for me VARC was lengthy but easy. In Quant section, most of the questions from algebra.
Zibran- My CAT attempt was not that good. In Quant section questions were asked from Algebra, Percentage, Time and Distance etc.
Akansha- Exam was quite good. It was my first attempt.
CAT 2020 Slot 2 Pre Exam Analysis
Saurav Kumar- I have prepared for CAT 2020 from past 4 months, I left my job for CAT. I have done my graduation in B.Tech Mechanical, my CAT preparation is good enough as per my mocks result, I am expecting around 90-91 percentile. As per my batchmate, CAT 2020 overall difficulty level will be moderate.
CAT 2020 Slot 1 Analysis
Ruby Sighla- The overall difficulty level was easy. There were a total of 76 questions, VARC -26, DILR -24 and QA - 26 Questions.
Shubhankar- The overall difficulty level was moderate.
Anuj- Exam was quite good. Overall difficulty level was moderate. DILR was tough as compare to last year, Quant and English was easy.
Gaurav- Exam was moderate. For me DILR was easy and VARC & QA was tough for me.
Badri Vishal- It's my first CAT attempt. Quant was very easy, DILR was tough for me and English I can say moderate.
Speaking about her CAT preparation Saumya Vishnoi said, "My preparation for CAT 2020 has been sufficient enough if not perfect. I don't think anybody can be 100 percent ready ever but I tried to give my best while preparing. When the media release about the change in exam pattern came I was not very happy with it because I have been attempting Mocks since June and have been adjusting myself according to the 3 hour pattern and was improving as well. But in 2 months I tried to adjust myself with the 2 hour pattern. It would have been better if they would have released the news about pattern change a little bit earlier."
About the strategy that she has in mind, Saumya added, The strategy to deal with the pattern change was just to attempt more and more mocks based on the new pattern and see where I am lacking. To increase the speed was the tough and important task."
Aiming to score a good percentile, Saumya added, " Everyone aims for the best and therefore the goal is obviously 100 percentile but since I have a different profile and most of the colleges are moving towards diversity a few points downside would also work for me."
The B- schools which Saumya is targeting include SP Jain, MDI Gurgaon, IIFT, XLRI apart from the IIMs.
On being asked, which other exams will Saumya be appearing for, she said, " NMAT, IIFT, XAT, SNAP"
Questions related to CAT
Showing 8257 out of 8257 Questions