CAT 2019 Student Reactions
CAT 2019 Students Reaction - Indian Institute of Management, Kozhikode conducted the Common Admission Test (CAT) on November 24 in two slots. The first slot concluded at 12 PM and the difficulty level of the paper was moderate. Slot two will commence at 2.30 PM. CAT 2019 is being held in 376 cities across 156 cities in forenoon session and afternoon session. Careers360 brings the students reaction from centre wherein approximately 2600 students are appearing in the slot 1. Candidates speak about how they have prepared for CAT, what are the books they have consulted and which are the other B-schools they are targeting apart from the IIMs.
Latest: CAT result 2019 will be declared on January 6, 2020.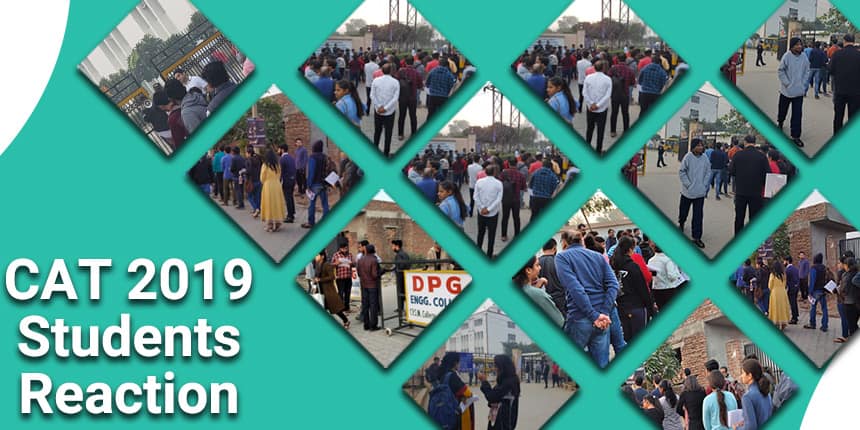 Watch Careers360's Exclusive Vidoe on "Pre-Exam Student Reactions"
SLOT-2 - Post-exam CAT 2019 Student Reactions
Bharat- For me overall exam was moderate, I was able to tackle all the three section within prescribed time. For me Quantitative ability was easy. LIDR was quite difficult for me.
Bhavna- Overall exam was easy to moderate. But still I was not able to solve the full paper, because of VARC, it's quite lengthy and I personally find it toughest for me. I am still expecting 90-95%.
Sampada- I have prepared well, so for me exam was not that difficult. Exam was moderate, It was not extremely simple. Taking regular Mock Test makes DILR simple for me. I have attempted 8 to 12 in DILR.
Aditi- Overall Exam was easy to moderate. Somehow, I will be able to manage all the three section in limited span of time. English was easy by Quant was tough for me.
SLOT-2 - Pre-exam CAT 2019 Student Reactions
Divya- I have prepared well for the exam. I am expecting to score 90-95%. I am targeting XLRI, SP Jain and Narsee Moonji other than IIMs.
Aman- I have prepared very well by giving mocks through T.I.M.E and I used to score 97-98%. My strategy for the exam is to pick the easy questions first and in DILR I will not solve all questions, but 2-3 questions of each set.
Kajal- I gave lots of CAT mock tests from Careers and T.I.M.E. I am expecting to score 95 percentile. I am targeting MDI and SP Jain. I will be also appearing for SNAP, NMAT, IIFT and XAT.
Sugandha- This is my first attempt. My preparation strategy was to give lots and lots of mock tests. I am targeting for SP Jain and other IIMs.
Post-exam CAT 2019 Slot 1 student reactions
Puneet- The difficulty level was moderate. I was able to manage complete all the questions. LRDI was the easiest section whereas, Quant was difficult. There were no technical glitches
Prachi- I am from Gurgaon. English was easy and maths was tricky for me. It was a good experience. I attempted around 15 in English 14 in DI and12 in maths. Overall paper was moderate
Ruchi- The overall difficulty was moderate. English was time-consuming and quant was based on logarithm. The calculator was very helpful. I attempted 80% of the paper.
Akansha- The overall paper was not difficult. One who has prepared well it was easy. LR was difficult according to me. Quant was difficult. I was not able to complete all sections.
Harsh- Talking about all three sections, the Verbal section was comparatively hard compared to the previous year and LRDI was moderate and quant involved more questions from Arithmetic. Though the questions were lengthy it was easy to attempt. I felt English verbal was a bit tricky. There was no particular dominating topic in LRDI. I think LRDI and quant were easy and verbal was the toughest. There were many TITA questions. The majority of the questions were from Arithmetic, hence, the calculator was very helpful for me. This time the CAT was synchronized, with big hall and proper arrangements. In arithmetic there were8-9 questions. In LRDI there were 4-5 and English there were 5-6 TITA questions. There were total 100 questions and 65 around questions were MCQs. Currently am working in KPMG.


Slot - 1- Pre-exam CAT 2019 Student Reactions
Dhruv Bajaj: For CAT I have prepared for a month and want to get exposure to how the exam goes. Am not appearing for any other exam other than CAT
Shubh Taneja: I have done B.Com from Delhi University and am planning for colleges like SP Jain and FMS and not IIMs. This is my first attempt. I will be also appearing for NMAT, MAT, and TISSNET. My strategy for exam is to be fast and if there is any doubt I will skip that question. I practiced to increase my speed and took coaching to prepare for the exam.
Sharansh: My preparation for CAT 2019 is good. I took coaching from T.I.M.E. I have been preparing through T.I.M.E mock tests and books. I used to study 5-6 hours per day. I will be also appearing for IIFT and XAT examinations. I am targeting for SP Jain and MDI Gurgaon other than IIMs.
Sahil: I have been preparing for CAT since 6 months and I took no coaching.
Pallav: It's my first attempt for CAT. I have no particular strategy to appear for CAT. I aspire to get admission in IIM.
Sachin: I started preparing for CAT around 3-4 months back. My daily routine for preparation was to give 4-5 hours per day through self-study.
Ridhima: I have planned to attempt four sets in Logical Reasoning and 18+ questions in quant. I am accepting 80-90 perecentile for CAT 2019. Also am targeting for NMIMS, TISS and XAT.
Also Read
Questions related to CAT
Showing 9083 out of 9083 Questions