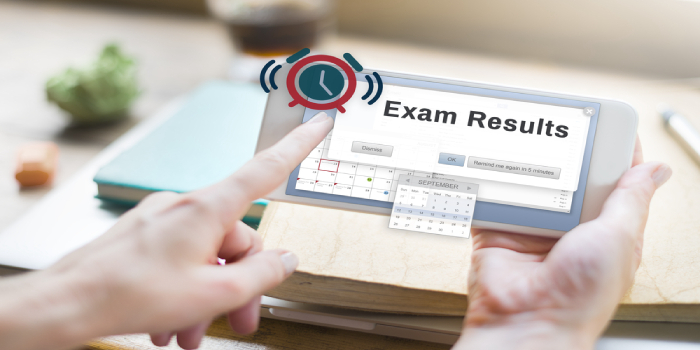 CAT Result 2018 - Indian Institute of Management Calcutta has released CAT 2018 result. The score and percentile of CAT result 2018 are released via online mode on January 5, 2019. The scorecard is made available in PDF format in the official website (iimcat.ac.in). Earlier, the social media reports claimed that the test takers could check the CAT 2018 result percentile at the CAT login using the page source code. However, IIM Calcutta has completely denied the reports. It seems the same happened due to some technical glitch as it is using the technical skills, candidates could unofficially check the result for some time. Candidates will be able to check the CAT 2018 result by logging in to the official website using their CAT user id and password provided at the time of registration. CAT result 2018 will be available in the form of scorecard displaying the percentile and section wise & overall scaled scores. IIM Calcutta will also send the result of CAT 2018 to the registered mobile numbers of the test takers mentioning their overall CAT 2018 percentile. No hard copy of the CAT result cum scorecard will be sent to the candidates. Based on the CAT 2018 result, candidates will be shortlisted for further selection rounds by IIMs and other CAT participating institutes. In this article, candidates can check all the information related to CAT result 2018 like the date, score calculation, how to download, etc. in the article below. The CAT answer key 2018 of both the CAT slots has been released on December 7 and candidates can check the answers by clicking the link given below.
LATEST: Click Here to check CAT 2018 result and download the CAT 2018 scorecard
MBA/PGDM Admissions Open 2019
IFIM Business School
To check the name  of colleges based on your score, Click Here
CAT Pathfinder
Know your call chances for Admissions
Use Now
To check IIM Institute Section wise Cutoff, Click Here
To check Top MBA Colleges in India accepting CAT score in 2019
To know, "How to check CAT Result 2018?" check the video below:
CAT 2018 result cum scorecard is valid only for one year (till December 31, 2019). Before moving further to know more details related to CAT result, let's take a look at the important dates revolving around the same. 
CAT Result 2018 Dates
| | |
| --- | --- |
| Events | Dates |
| CAT 2018 Exam - Conducted | November 25, 2018 (Sunday) |
| CAT 2018 Candidate Response Sheet | November 30, 2018 (Released) |
| CAT 2018 Answer Key | December 7, 2018 (Released) |
| CAT result (released) | January 5, 2019 |
| IIM shortlist | Fourth week of January 2019 |
| Selection procedure | February-March, 2019 |
| Final selection | April 2019 |
How to check CAT Result 2018?
Candidates can either visit the official website of CAT 2018 or Click on the link given above (the link will be available as and when it's available)

Login through your registration credentials – CAT user id and password

Click on the tab 'Score Card'

Download your CAT 2018 result cum scorecard
Candidates are advised to print and keep the CAT result cum scorecard until the admission process is complete.
CAT results window looks like below image: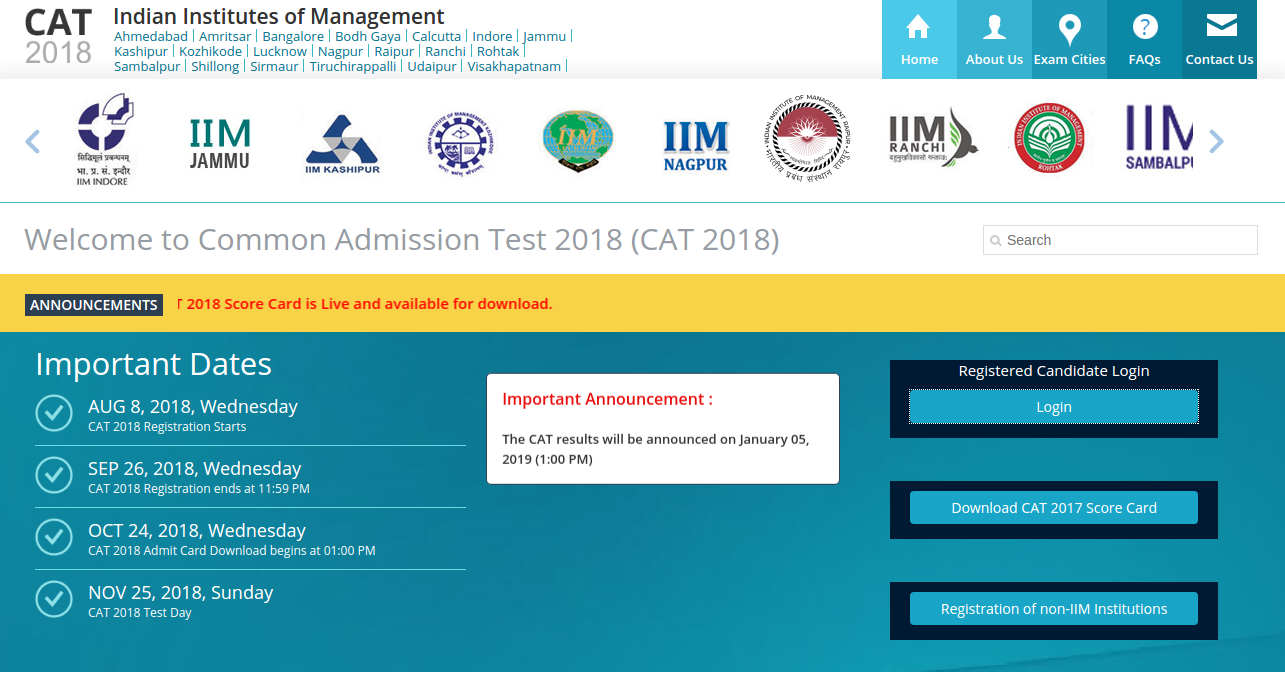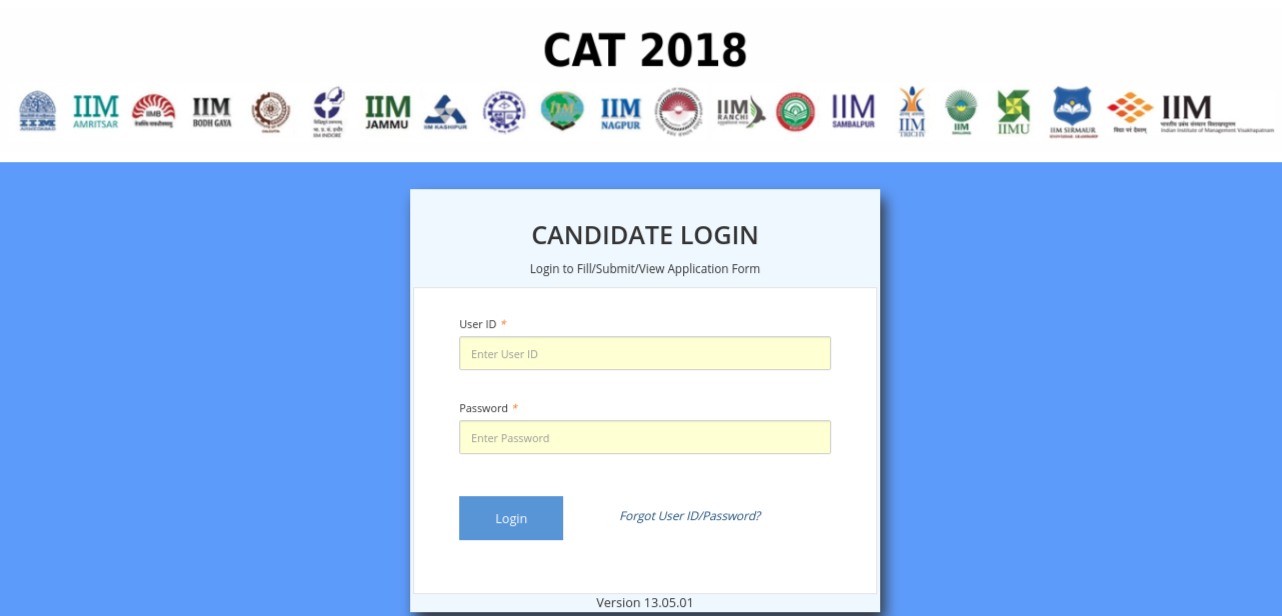 CAT 2018 Result on SMS
IIM Calcutta will also send the overall CAT result to the registered mobile number of the candidates through SMS. Candidates would be able to check the detailed result either on CAT 2018 official website or on this page. 
What are the Details Printed on CAT 2018 Result cum Scorecard 
The following information will be mentioned on the CAT result cum scorecard:
Registration number/User Id

Candidate's name, category and gender

Date of birth (DOB)

Date and time of examination

Candidate contact details and email id

Scaled Score of Section 1 (Verbal Ability and Reading Comprehension)

Percentile of Section 1 (Verbal Ability and Reading Comprehension)

Scaled Score of Section 2 (Data Interpretation and Logical Reasoning)

Percentile of Section 2 (Data Interpretation and Logical Reasoning)

Scaled Score of Section 3 (Quantitative Ability)

Percentile of Section 3 (Quantitative Ability)

Overall Scaled Score

Overall Percentile

Instructions for post CAT result 2018 activities
A sample copy of CAT score card is given below: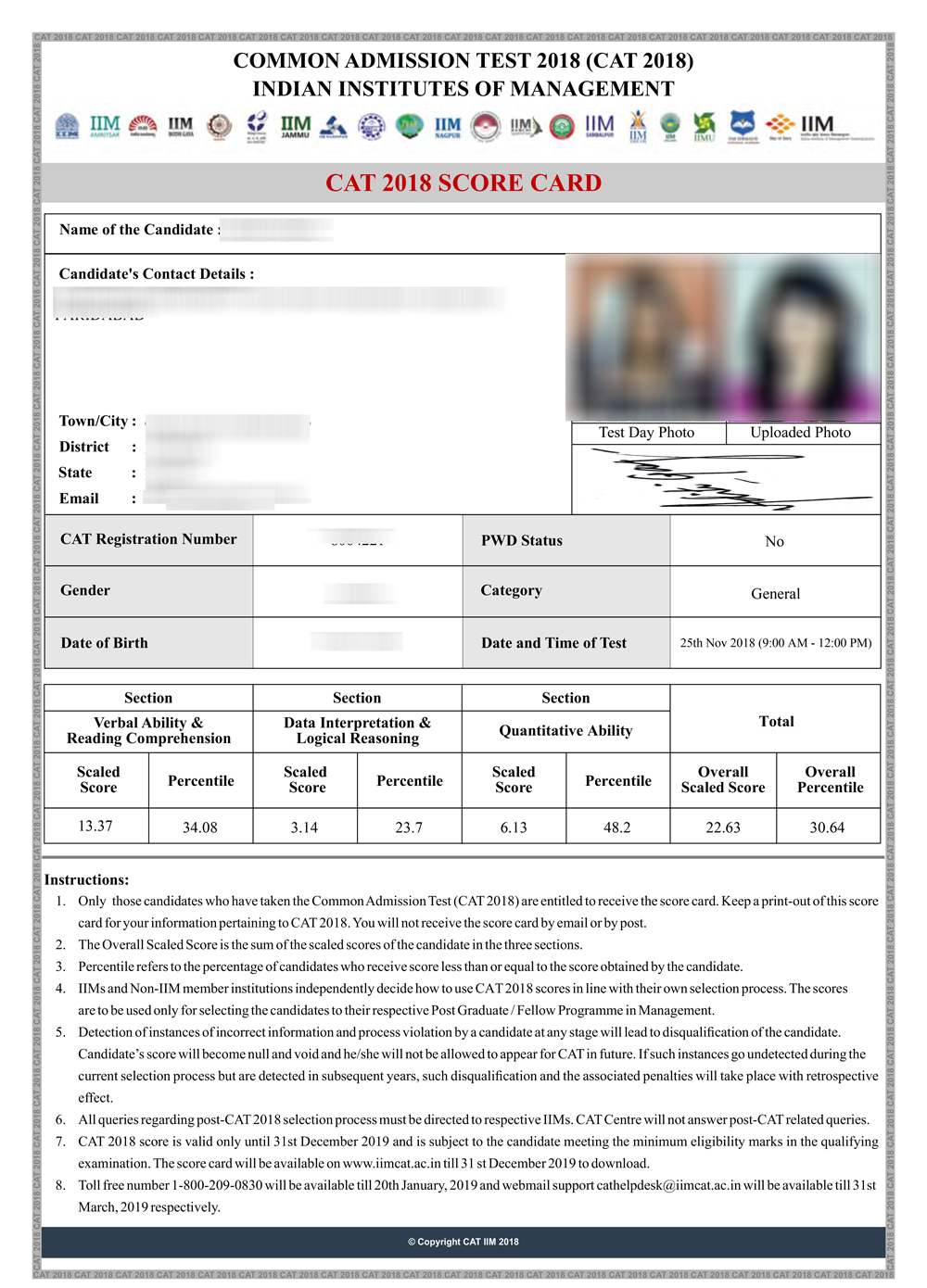 IIM Calcutta released the CAT 2018 answer key for both Slot 1 and slot 2 on December 7, 2018.  The last date to raise objections, if any, based on the Question Paper PDF was December 10, 2018 (05:00 PM). Test takers can tally their response sheet with the published CAT answer key 2018 by entering the login details. Objection file was made available to the test takers against a payment of Rs. 1200 per objection until December 10, 2018, up to 5 pm. The fee did not include transaction processing fee and applicable GST (if applicable). IIMs started releasing the CAT answer key only from last year. In the CAT 2018 answer key, the correct answers will be marked in green for both slot 1 and slot 2 exams. Candidates who appeared for CAT exam will be able to download the CAT 2018 answer key pertaining to both the CAT slots (1 & 2) along with the question paper.
The CAT Percentile Predictor 2018 tool of Careers360 will allow test takers to estimate their overall and sectional percentile even before the official result is declared. The CAT Percentile Predictor or the CAT percentile calculator is a data-driven unique tool created especially for CAT 2018 candidates to calculate their estimated percentile. By making use of the CAT percentile predictor 2018, test takers can check their chances of securing admission in top B-schools like old IIMs (Ahmedabad, Bangalore, Calcutta, Lucknow etc.), new IIMs (Amritsar, Ranchi, Sirmaur, Sambalpur etc.) and other reputed management institutes.
Previous Years' Trends of CAT Result
Last year, more than 2.31 lakh registered for CAT exam and as many as 1.99 lakh candidates appeared. Based on the previous years' result of CAT, we bring to you the number of candidates who secured a high sectional and overall percentile in the table below.
Year-wise CAT Results Trend
Year

No. of Registrations

No. of candidates appeared for the test

Declaration of CAT Result

CAT Result Declaring IIM

Scores obtained

Conversion into percentile

CAT 2018
2,40,338
2,09,405
January 5, 2019
IIM Calcutta
TBD
TBD

CAT 2017

2,31,067

1,99,632

January 8, 2018

IIM Lucknow

 230.17-232.31

100

CAT 2016

2,32,343

1,95,000

January 9, 2017

IIM Bangalore

220.09 – 241.68

100

CAT 2015

2,18,664

1,79,602

January 8th, 2016

IIM Ahmedabad

254.61 – 249.90

100

242.33

99.99

235.33

99.98

215.54 – 215.43

99.89

180.02

99

CAT 2014

 

1,96,988

1,67,829

December 27th, 2014

IIM Indore

268.700 – 261.740

100

245.92

99.97

227.65

99.87

178.02

98.07

How is CAT 2018 Result Computed?
The CAT 2018 result is computed as per the marking scheme of the exam.

According to the marking scheme of CAT, each question carries three marks.

One mark is deducted for every incorrect answer.

However, negative marking scheme is not applicable for non-MCQs.
CAT 2018 Score Vs Percentile (Expected)
| | | | | |
| --- | --- | --- | --- | --- |
| Percentile | VARC | DI & LR | QA | Overall |
| 85 | 40-45 | 23-29 | 22-26 | 90-95 |
| 90 | 46-50 | 32-33 | 29-30 | 95-100 |
| 95 | 51-58 | 34-39 | 35-38 | 105-110 |
| 99 | 59-70 | 48-52 | 48-50 | 140-150 |


How long is CAT Score / Result valid for? 
CAT 2018 score will be valid for one year only. The date of CAT result will be released by authorities and also the last date will then the CAT 2018 score will be valid. 
CAT 2018 Percentile
IIMs declare CAT result in the form of percentile. A percentile is a measure used to indicate the value below which a given percentage of test takers fall. On the basis of CAT percentile, IIMs and other CAT participating B-schools shortlist candidates for admissions. The CAT 2018 percentile will be calculated on the basis of the CAT normalisation process adopted by the IIMs. 
CAT 2018 Result  - Highlights
Candidates who appear for CAT 2018 only will be able to download/print the exam result. The CAT result will be available only online. No hard copy of the result will be sent to any candidate.

The Overall Scaled Score is the sum of the scaled scores of the candidate in the three sections.

Percentile refers to the percentage of candidates who receive the score less than or equal to the score obtained by the candidate.

IIMs and Non-IIM member institutions independently decide how to use CAT 2018 scores follow their own selection process. The score is used only to shortlist candidates for the selection rounds.

In case, any candidate provides incorrect information and violates the admission process, his/her candidature will be disqualified. Candidate's score will become null and void and s/he will not be allowed to appear for CAT in future. If such instances go undetected during the current selection process but are detected in subsequent years, such disqualification will take place with retrospective effect.

All queries regarding the post-CAT 2018 selection process must be directed to the respective IIMs. CAT Centre will not answer post-CAT related queries.

CAT 2018 score will be valid only until December 31, 2019, and subject to meeting the minimum eligibility marks in the qualifying examination.
What is CAT Normalization Process?
IIMs use CAT Normalization process to ensure fairness and equity in comparison of performances of the candidates across different test sessions. CAT Normalization process is a sort of percentile equivalence method similar to that used for calculating scores of GATE.

The process adjusts location and scale differences of score distributions across different forms. After adjusting the normalization across different forms, the scores are further normalised across different sections.

Under the term 'Equating', scores will be normalised across all the sections. These normalised scores will be converted into percentile to shortlist the candidates who will get a call from IIMs which shortlist them.

For purposes of reporting, Scaled Scores for each section (Section I: Verbal and Reading Comprehension, Section II: Quantitative Ability and Section III: Data Interpretation and Logical Reasoning) and total along with the percentiles will be published.
What after CAT 2018 Result?
After the declaration of the CAT result, the official cutoff will be declared by IIMs and CAT 2018 participating institutes will shortlist the candidates for the selection rounds – WAT, PI and GD. CAT 2018 cutoff percentile will vary from institute to institute.
While IIMs and some other top B-schools announce their admission criteria including cutoff prior to the result, a majority of the B-schools declare their cutoffs after the CAT result is declared.
Shortlisted candidates will be called for the selection procedure which includes Writing Ability Test, Group Discussion/Group Exercise/Case Study and Personal Interview.
The final result or the merit lists at the B-schools will be based on candidates' performance in CAT 2018, selection rounds and overall profile. 
Documents Required for IIM Shortlist Process
IIMs will also verify the eligibility criteria of the shortlisted candidates on the basis of the following parameters:
Mark-sheets and Degree Certificates: Institutes will check the candidates' mark-sheets and attested copies of same at the time of interview to prove their eligibility. They will check whether the candidate fulfils the basic eligibility criteria of CAT 2018 or not.

Reservation and Category Documents: SC/ST/OBC-NC/PWD candidates will have to show their original caste/tribe/disability certificate and submit a photocopy at the time of interview.

Final Year Graduation Candidates Documents: Candidates appearing for the final year or equivalent exam will have to submit an original certificate from the concerned authorities of the college (Principal/ Registrar/ Director of the university/institution), certifying that the candidates have obtained 50 percent marks or equivalent (45 percent in case of to SC/ST/PWD category) based on latest available marks or grades.
IIMs and government B-schools follow the seat reservation criteria as per the Government of India norms. Let's have a look at the seat reservation criteria followed by IIMs.
IIMs Seats Reservation Criteria
| | |
| --- | --- |
| Category | Reservation Percentage |
| SC | 15 |
| ST | 7.5 |
| OBC-NC | 27 |
| PwD | 3 |
CAT cutoff varies with from category to category. Aspiring candidates can check the CAT 2018 cutoff for the IIMs from the table given below-
CAT 2018 Cutoff of IIMs
Number of Seats for PGDM Admissions 2018 in IIMs
IIMs shortlist candidates on the basis of their CAT result/cutoff for the selection process. After the completion of the selection process, IIMs finally select students for admissions as per the number of seats available. Have a look at the number of seats in each IIM last year. 
Number of Seats in different IIMs
Every IIM has different admission criteria. The CAT cutoff is different for shortlisting purpose and even the weightage to CAT score, PI, GD and WAT differ with each IIM. Let's have a look at the previous year's actual IIM interview call cutoff and the shortlist cutoff mentioned in the admission criteria for General category candidates for the academic year 2016-18. 
IIM Interview Call Cutoff and Shortlist Cutoff – General category
| | | | |
| --- | --- | --- | --- |
| IIM | Max. Score | Interview Call Cutoff Percentile | Cutoff Percentile Stated in Admission Criteria |
| | 100 | 98.75 | 90 |
| | 100 | 96.5 | 90 |
| | 100 | 96 | 90 |
| | 100 | 96 | 90 |
| | 100 | 96.82 | 90 |
As many as 20 IIMs along with 100+ B-schools of India will accept the scores of CAT 2018. Like last year, this year too, around two lakh candidates are expected to appear for CAT 2018. Approximately 2.41 lakh candidates have applied for the test. Common Admission Test (CAT) 2018 was conducted on November 25 in two slots - forenoon (from 9 AM to 12 PM) and afternoon (2:30 PM to 5:30 PM).
CAT Result 2018: Frequently Asked Questions (FAQs)
Q> Will the CAT 2018 result be available in both offline and online modes?
A> No. The CAT result 2018 will be made available to candidates in online mode ONLY. Candidates would need to login to the official website with their CAT user id and password to check the result.
Q> Has IIM Calcutta declared the result date of CAT 2018?
A> Yes, IIM Calcutta has declared the result date of CAT 2018. The CAT 2018 result has been announced by IIM Calcutta on January 5, 2019, at around 10 AM.
Q> How will be candidates come to know when the CAT 2018 result is declared?
A> IIM Calcutta will send an SMS alert and email to the candidates' registered mobile number and email address mentioning the overall CAT 2018 percentile. Candidates have to then login to the official CAT website to download the scorecard of CAT 2018.
Q> If I appear for CAT 2018 in the second slot, will my result be declared on the same day as slot 1?
A> Yes. The result of both slot 1 & 2 will be declared on the same day.
Q> How to download the CAT Result 2018?
A> Candidates can view and download the CAT Result/Scorecard 2018 using their credentials (CAT User ID & Password) created during the registration. Simply login to the official website to download the result. An SMS will be sent to all the test-takers, informing them about their CAT Percentile as well.
Q> What is meant by a 'valid CAT score'?
A> The CAT 2018 result/score has a validity attached to it. The scorecard of CAT 2018 will have mention of the last date until which the CAT 2018 result will remain valid. After the expiration date, the CAT 2018 score will not be considered for admission to any college/management institutes. following the last year's scorecard, it is expected that the CAT result 2018 will be valid until December 31, 2019. 
Q> What impact will the answer key objections have on the CAT 2018 result?
A> In case any of the CAT 2018 objections of answer keys released by IIM Calcutta is found valid, adequate measures will be taken by the exam authorities. The CAT 2018 result will be altered accordingly based on the decision taken by the expert panel. 
Q> What is the maximum number of attempts in CAT?
A> There is no limit pertaining to the number of attempts for CAT exam. Eligible candidates can appear for the exam as many times. 
Q> How many institutes will accept CAT 2018 score?
A> Apart from 20 IIMs, over 100 B-schools across India will accept the CAT score 2018. Around 4,000 seats are offered by 20 IIMs through CAT exam.
Q> What after CAT result 2018?
A> After receiving the CAT 2018 score, candidates need to appear for further selection rounds of Group Discussion and Personal Interview for the final selection. Some IIMs even conduct a writing test as well along with GD and PI for the final selection. The admission to IIMs will largely be based on CAT Score, Group Discussion (GD), Writing Ability Test (WAT), and Personal Interview (PI). Apart from this, a significant weightage to the profile of a candidate is also given for the final selection for admissions. 
Q> Can I get my CAT score re-calculated if I don't find it accurate?
A> No. IIMs do not provide any provision of re-calculating the CAT score. The CAT result once announced remains unchanged. However, last year, candidates were allowed to file objections if there was any discrepancy in the answer sheet before the announcement of the result.
Q> When will the admission process commence after the declaration of the CAT result 2018?
A> Previous year, IIM Bangalore and Ahmedabad published their admission shortlisting on the result day itself, while others did it later. However, the Non-IIMs and private colleges usually publish the shortlists early to catch the attention of candidates. In short, the process will start almost immediately after the declaration of CAT 2018 result.
Q> Part-time work experience is considered during selection?
A> No. Only full-time work experience is considered for the final selection. Work experience gets a decent weightage in the final merit list. However, the weightage given to the factor may differ from IIM to IIM. 
Q> Will my CAT score be valid if I get a backlog in the final year of my graduation?
A> Yes, your score will be valid. However, you would need to clear your backlog before the final selection and need to submit the result before a particular date as set by the institute where you apply for admissions. Until then, you will not be eligible for admissions.