CAT Result 2023: Indian Institute of Management (IIM), will most likely release CAT result 2023 in the second week of January 2024. Once the CAT 2023 result is out, candidates can check it by clicking the designated link given on the official website of IIM CAT, iimcat.ac.in. To download IIM CAT result 2023, candidates are required to log in with their CAT ID and password.
Common Admission Test (CAT 2023) will be a Computer Based Test and will be conducted in various exam cities spread across India. Going by the past trends, CAT exam may be held in three sessions, and the result will be subject to normalisation, which means the marks of candidates appeared in the session difficult will be increased. Read through the article to know more about the CAT result 2023, normalisation process, steps to download CAT scorecard and so on.
CAT Result 2023
Before the declaration of CAT 2023 result, the authorities will issue the CAT provisional answer key of candidates who appear in the exam. Candidates can raise the objections on provisional answer key within the given time frame. Finally, CAT result 2023 will be released based on the objections received from the candidates. Here are important dates along with the CAT exam result date 2023, answer key and so on.
CAT 2023 Result Date
| | |
| --- | --- |
| CAT Events | CAT Dates |
| CAT exam date | November 26, 2023 |
| CAT provisional answer key release date | To be announced |
| Last date to file an objection against an answer key | To be announced |
| CAT exam result date | Second week of January 2024 (Tentative) |
Know about: CAT 2023 Sample Paper
How to Check CAT 2023 Result?
Candidates can check below the major steps that are required to check the MBA CAT result 2023 in online mode.
Steps to Check CAT Result 2023
Step 1: Visit the CAT official website, that is, iimcat.ac.in
Step 2: Click on the CAT result 2023 link titled- 'CAT Result 2023 Tab' and enter your CAT user ID and password to log in
Step 3: Next, click on the 'IIM CAT Score Card' tab
Step 4: CAT result 2023 will appear on the screen
Step 5: Download the CAT 2023 result and keep it for future reference
NOTE- In addition to this, candidates will also be intimated about the result of CAT 2023 via SMS on the registered phone number and an email wherein, the CAT percentile of a candidate will be mentioned.
How to Check CAT 2023 Result on Mobile?
Candidates can also check their qualifying status after declaration of CAT result 2023 on their smartphones. They need to follow some points detailed in the table below.
Access your mobile browser to visit the official CAT 2023 website.
Enter your CAT 2023 login credentials i.e. user ID and password on the result login page.
Once logged in, you can view your CAT 2023 result, including overall score and percentile.
Some platforms might allow you to download or save the result as a PDF.
After checking CAT exam result 2023, log out of your account for security.
Also, keep an eye on emails or SMS notifications for updates on your result.
CAT Exam Result 2023 Highlights
CAT 2023 results will be declared in the second week of January 2024.
The CAT 2023 result is available in online mode only on the CAT 2023 official website.
An SMS will be sent to registered candidates telling about the announcement of the result.
All CAT slot results are announced on the same day.
The CAT scorecard 2023 contains the scaled scores and percentile of the candidate.
22 candidates secured 99.99 and 99.98 percentile last year in CAT
Details Mentioned on CAT Scorecard 2023
The following details will be mentioned in the CAT scorecard download.
CAT 2023 registration number/user Id

Candidate's name, category, and gender

Date of birth

Date and time of examination

Candidate contact details and email id

CAT scaled score (overall)

CAT score (section-wise)

CAT percentile score (section-wise)

CAT percentile score (overall)

CAT score validity
Snapshot of last year's CAT Scorecard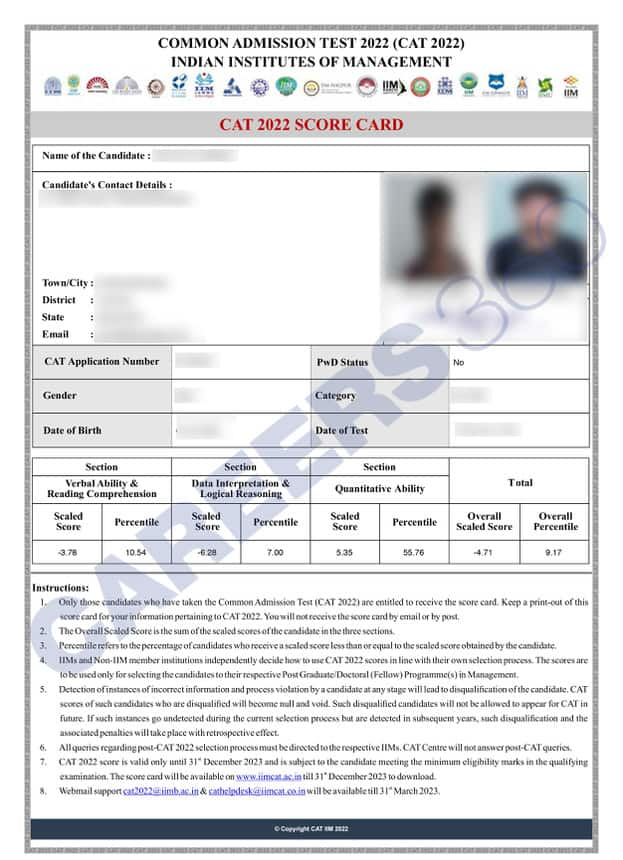 Top Colleges in India offering MBA
How is CAT Percentile Calculated?
The calculation of the CAT percentile includes three steps:
As per the CAT exam pattern over the years, three marks are awarded for each correct answer and one mark is deducted for every incorrect answer. No marks are deducted for wrong answers in non-MCQ-type questions.
Steps to Calculate IIM CAT Percentile
Each candidate's score is first evaluated section-wise and then the overall score is arrived at by totaling the section-wise scores.
Thereafter, these section-wise and overall scores (raw scores) are normalized to arrive at a scaled CAT score.
The normalized scores are converted into percentiles which are reported on the CAT scorecard 2023.
CAT Percentile Calculation 2023
To calculate the CAT percentile 2023, scaled scores are used. The process of calculating percentiles for the CAT 2023 result remains the same for all sections. The more percentile the greater will be the chances of selection. The given below process will be used to calculate CAT 2023 percentile.
Step 1: Take the total number of candidates who appeared for IIM CAT in the morning, afternoon, and evening shifts.
Total no. of candidates = N
Step 2: Assign rank = R, on the basis of the scaled scores obtained by candidates in VARC (can take any of the three) sections of all candidates who will appear for CAT 2023. If two or more candidates will obtain identical scaled scores in the VARC section, identical ranks will be assigned to them.
For example, if two candidates obtain the highest scaled CAT score in the VARC section, then both candidates will be assigned rank 1. Candidate(s) obtaining the second-highest scaled score in the VARC section will be assigned a rank of 3.
Step 3: Now calculate the percentile score (P) of a candidate with rank (r) in the VARC section as shown below:
Step 4: Now round off the calculated percentile score (P). This can be done up to two decimal points. For example, all CAT percentile scores greater than or equal to 99.995 are rounded off to 100, all percentile scores greater than or equal to 99.985 but strictly less than 99.995 are rounded off to 99.99, and so on.
What is the CAT Normalization Process?
As the CAT for the MBA exam is conducted in different slots, a normalization process is used wherein the marks of every candidate are scaled in order to bring equity to the marking process. The normalization process of CAT is an established practice followed over the years to assess the performance of a candidate across multiple sessions.
What are the parameters taken into consideration for CAT normalization?
Highest score

Lowest score

Mean score

Median score

Top 10 percentiles

Lowest 10 percentiles
CAT 2023 Result: Important Instructions
Candidates who have taken the CAT entrance exam 2023 will only be able to check the CAT result.
The result can be accessed in online mode only. No hardcopy will be sent to candidates through email or post. However, the candidates can download it online and take a printout for future reference.
IIMs as well as Non-IIM institutions are free to use the CAT result 2023 based on their respective selection process.
The CAT 2023 result will be valid for a year i.e. till December 31, 2024.
CAT Exam Result Release Date - Past Year Trends
| | | | |
| --- | --- | --- | --- |
| CAT exam year | CAT exam date | CAT result date | Gap between exam date and result date |
| CAT 2023 | November 26, 2023 | Second week of January, 2023(Tentative) | |
| CAT 2022 | November 27, 2022 | December 21, 2022 | 24 days |
| CAT 2021 | November 28, 2021 | January 3, 2022 | 36 days |
| CAT 2020 | November 29, 2020 | January 2, 2021 | 34 days |
| CAT 2019 | November 24, 2019 | January 4, 2020 | 41 days |
| CAT 2018 | November 25, 2018 | January 5, 2019 | 41 days |
| CAT 2017 | November 26, 2017 | January 8, 2018 | 43 days |
| CAT 2016 | December 04, 2016 | January 9, 2017 | 36 days |
What after CAT Result 2023?
Since the CAT 2023 result is declared, the candidates who meet the minimum CAT cutoff score will be intimated via an email by the respective IIMs for further selection rounds. Each IIM sends interview letters to the shortlisted candidates directly via email/registered/speed post. The criteria for shortlisting vary across IIMs.
Normally the IIMs follow the selection procedure which includes the following rounds- Written Ability Test (WAT), Group Discussion (GD), and Personal Interview (PI) rounds. The new IIMs have a common selection procedure, that is, a Common Admission Process( CAP) for which separate registration is done once the minimum CAP cutoff percentile is released by the CAP conducting authority.
The final selection of the candidates for MBA admissions will be done on the basis of various parameters such as CAT score, academic history, work experience, academic diversity, gender diversity, and performance in WAT/GD-PI.
CAT Cut Off 2023
The minimum marks required by a candidate in the CAT result 2023 to make it to the next selection rounds is called the CAT cutoff. There are a number of factors considered before calculating the CAT 2023 cutoff. These factors include- the difficulty level of the CAT question paper, the number of candidates appearing for the CAT exam, seat intake, previous year CAT cutoffs, etc. Candidates can meanwhile check the previous year's CAT cut off.
Expected CAT Exam Cutoff 2023
Top B-schools Accepting CAT Exam Result 2023
| | |
| --- | --- |
| B-School | Expected CAT Cutoff |
| | 98.20 Percentile |
| | 95+ Percentile |
| | 85+ Percentile |
| Xavier Institute of Management Bhubaneswar (XIMB) | 90+ Percentile |
| | 76 to 85.75 Percentile |
| | 93+ Percentile |
| | 95+ Percentile |
| | 85+ Percentile |
| | 75 to 80 percentile |
CAT Result 2023 Toppers List
| | |
| --- | --- |
| CAT Topper Name | CAT Topper Score |
| To be notified | To be notified |
| To be notified | To be notified |
| To be notified | To be notified |
| To be notified | To be notified |
| To be notified | To be notified |
| To be notified | To be notified |
| To be notified | To be notified |
CAT Toppers List 2022
| Name of CAT Topper | CAT Topper Score |
| --- | --- |
| Suneet Kumbhat | 100 |
| Maruti Konduri | 100 |
| Pranav Chaturvedi | 99.98 |
| Adarsh Khandelwal | 99.93 |
| Sagar Bhargav | 99.89 |
| Geetsaisumant | 99.89 |
| Pranav Bahedia | 99.82 |
| Atish Naskar | 99.81 |
| Sunil Singh Rathod | 99.75 |
| Shubham Bubna | 99.46 |
| Samyak Jain | 99.33 |
| Adit Sanjanwala | 99.9 |
Previous Year's CAT Toppers List- Names and Percentile
| | |
| --- | --- |
| CAT topper 2021 list | CAT 2021 topper score |
| Maruti Konduri | 100 percentile |
| Parth Chowdhary | 99.99 percentile |
| Palli Dolananda Saivardhan | 99.94 percentile |
| Devansh Tyagi | 99.82 percentile |
| Satya Sripada | 99.51 percentile |
| Prakhar Sinha | 99.91 percentile |
| Manavdeep Singh | 99.77 percentile |
| Tushar Saneja | 99.73 percentile |