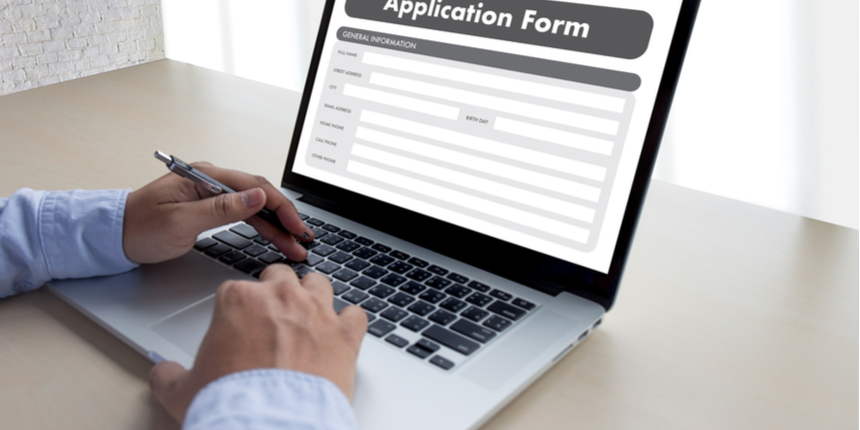 CAT Registration 2019 - The IIMs will start the registration for CAT 2019 from the first week of August for all aspirants who wish to appear for the exam. The CAT application form can be filled in online mode only by registering on the official website. The requisite CAT Application fee must be paid at the time of submitting the form. CAT registration 2019 will conclude in the last week of September 2019. Candidates who successfully complete the CAT 2019 application process will be given the opportunity to re-upload their improper or blurred photograph in the last week of September. The Common Admission Test is administered by the IIMs every year on rotational basis to conduct admissions in the postgraduate management programmes. Know the entire information related to the application form of CAT 2019 including how to fill the form, application fee and more.  
MBA/PGDM Admissions Open 2019
Acharya School Of Management
Candidates need to register for the exam first. After successful CAT registration 2019, they will receive the User Id and Password on their registered email and mobile number. The next step is to login to the official website with the login credentials and fill the CAT 2019 application form. Applicants can select upto four exam centres as per their preference when they register for CAT 2019. The payment of the CAT application form 2019 can be made via Net Banking, Debit Card, Credit Card, BillDesk, PayU and Paytm.
CAT Sample Paper
Download Free Sample Paper for CAT
Download Now
CAT is conducted by Indian Institute of Management (IIMs) annually on a rotational basis. CAT 2018 was conducted by IIM Calcutta on November 25 in computer-based mode under the supervision of Prof. Sumanta Basu, the convener for the exam this year. As many as 2.80 lakh candidates registered for the exam last year out of which 2.31 lakh applied for the exam by paying the application fee. Around 2.09 lakh candidates appeared for the exam. In this article by Careers360, candidates can check all the information about CAT 2019 registration and online application form such as how to register, application dates, application fee, etc.
Important Dates related to CAT Registration 2019
| | |
| --- | --- |
| Events | Dates |
| CAT 2019 Notification | Fourth week of July, 2019 |
| CAT 2019 registration starts  | First week of August, 2019 |
| CAT 2019 online application ends | Last week of September, 2019 |
| Re-upload of photograph in CAT application form  | Last week of September, 2019 |
| CAT 2019 admit card release | Last week of October, 2019 |
| CAT 2019 exam | Last week of November, 2019  |
CAT Eligibility Criteria 2019 - Before starting with the CAT registration process, it is recommended that candidates check whether they meet the eligibility parameters of CAT. Here are the eligibility criteria of CAT 2019:
Candidates must have BAchelor's degree in any discipline from a recognised institute or university with minimum 50 per cent aggregate marks or equivalent CGPA (45 per cent for SC, ST and PWD candidates).

Students in their final year of graduation are also eligible to apply provided they attain the degree with the requisite percentage of the stipulated schedule. 
Document required at the time of CAT Registration 2019
There are certain documents that one must keep handy before starting the CAT registration 2019. Here is the list:
Documents to keep ready before filling CAT 2019 Online Application Form
 

 

Documents

to keep handy

Mark sheets of Class X, Class XII, Bachelor's Degree and or higher education

Applicable certificates to upload

Scanned images of passport size photograph and signatures. The photo should not be more than six months old and should have a white background.

List of IIM programmes to apply for 
How to fill CAT Application Form 2019
Let's look at the step by step procedure to apply for CAT 2019. The following steps will help in understanding the CAT 2019 registration procedure.
Step 1 – CAT Registration (to get User ID and Password)

Step 2 - Login to CAT Website with generated User ID and password 

Step 3 – Fill up CAT Application Form 2019 and pay the application fee
Step 1 – CAT Registration 2019
Visit official website of CAT and register to generate the login credentials. Then perform the following steps-
Go to the official website of CAT 2019. 

Click on 'New Candidate Registration'.The CAT registration window will open.

Note that there are certain specifications to complete the registration such as recommended browsers to fill the CAT 2019 application form. Recommended browsers are - Internet Explorer (version 11 and above) or Mozilla Firefox (version 50 to 61) or Google Chrome (version 50 to 69). Additionally, candidates who have already registered for the exam need to click on 'Registered Candidate Login' to complete the application form. 

Enter the information in the fields including Name, Date of Birth, Email Address, Mobile Number, Country in the fields provided. Make sure that information entered is correct, especially the contact details. It is highly important to ensure this as all the information such as login credentials, alerts regarding the application confirmation, admit card, result etc. will be communicated through these contact details. To avoid entering erroneous information, follow the below instructions while filling up the fields in CAT registration form:
Name - The name should be same as in Class X or SSC Certificate. If the name has been changed due to marriage or any other reason, candidates need to submit a valid document like court affidavit or marriage certificate to support the same.

Date of birth – Use the virtual calendar to enter date of birth to ensure that it is correctly entered.

Email address – The email id should be vali. The CAT ID or username will be sent to this email address. For overseas candidates, both Username and Password will be sent through email. Hence, candidates must make sure that the information provided is correct.

Mobile number – The mobile number must be a valid one since the password will be sent through SMS at this number itself. The number should be based in  India and must contain 10 digits. Other mobile numbers should be prefixed with area code. 
After filling these details, click on Generate OTP button, enter the captcha or retype the special characters displayed on the screen. Check the box which says 'I Agree' and click 'Submit' button. This will verify and authenticate your CAT registration. Details entered cannot be altered once submitted. 
Candidates will receive the CAT 2019 login credentials through Email and SMS. The Serial Number or USER ID will be sent to the email address provided by the candidates. The password will be sent via SMS to the registered mobile number. Selecting the 'I Agree' checkbox will ensure successful submission of the CAT registration form. 
Step 2 - Login to CAT Website
Next, login to the official website of CAT 2019 using the system generated User ID & Password to continue filling the CAT application form 2019. In case you do not remember the password, click on 'Forgot Password' tab on the 'Existing User' login window and a new password will be sent to the registered email id. 
Before start filling the CAT 2019 application form, one must look at some important instructions to be followed during the process.
Important Instructions for CAT Registration 2019
According to the exam officials, the following instructions must be adhered to in order to register successfully:
All the fields '*' marked fields must be mandatorily filled

Fill all the required information and upload scanned copies of requisite documents in the specified format.

Before proceeding to the next section, always click on click on 'Save & Continue'

It is advisable to use the Mouse to move to the next field instead of using the 'Tab' key. 

The application process  can be completed by the applicants in multiple sessions by logging in for the next session. They must ensure that the application is always saved before logging out during the previous sessions.

After the payment of application fee, candidates would not be allowed to make any changes in the information or documents submitted, unless the conducting body declares it later.
Step 3 – Fill and submit CAT Application Form 2019
After logging in, the personal details of the candidate will be displayed on the screen/dashboard. Candidates can click on 'Go to Application Form' button on top right to continue filling CAT 2019 online application form. The application form will be divided into six sections, as given below:
Personal Details

Academics

Work Experience

Programmes

Test City

Payment
Personal Details-
Father's/Husband's/Guardian's Name and Mother's Name

Select Category – Candidates who do not belong to the General category have to select the applicable category among Scheduled Caste (SC), Scheduled Tribe (ST), Serial Number, State or Union Territory and Name of Caste and Tribe.

Aadhaar Card Number is asked for; however, it is not mandatory to mention the Aadhaar card number

Select Gender- Male/Female/Transgender

Click on Yes or No for Person With Disability (PWD) field. In order to apply under the PWD category, the Disability Percentage should be equal to or more than 40 per cent.

Select Nationality 

Communication address - Enter full postal address along with alternate email and mobile number which will be used for further communication by IIMs.
Documents to be Uploaded-
Candidates must upload a certain set of documents in support of the information provided by them. The documents are-
Passport size photograph and signature: Applicants have to upload a  scanned image of their passport size photograph. The dimension of this image file should not be more than what is prescribed by exam authorities. Refer to the below table for photograph and signature dimensions. The photograph and signature should be clearly visible and legible.
Dimensions for Photo and Signature for CAT 2019 Application Form
Image

File size

Dimensions

File Format

Image Resolution

Photograph

Not more than 80 KB

30 mm (width) x 45 mm (height)

JPEG/JPG

150 px/inch (min)

Signature

80 mm (width) x 35 mm (height)
NC-OBC/SC/ST Certificate: Applicants belonging to reserved categories have to download the category certificates from the CAT website and enter the required information and get them attested by appropriate authorities, self-attest, scan and upload.
PwD Certificate: Download the Certificate from the CAT Website, enter the required information and self-attest and scan as PDF document to upload.
 After uploading documents, click on 'Save & Continue'. 
 Academic Details-
Enter past academic records in this section, like:
Class X/SSC/Equivalent Exam Scores

Class XII/HSC/Equivalent Exam Scores

Bachelor's Degree Details

Master's Degree Details

Other Professional Course Details 
Under each section, candidates have to enter the Board, Subjects, Aggregate marks or CGPA. Once all the academic details are filled, click on 'Save & Continue'. 
Work Experience
Now, candidates need to fill the work experience. If the applicants have prior work experience or are working professionals, they have to enter the work experience in the number of months completed as on July 31, 2019. Candidates have to also enter the industry type. Only full-time work experience pursued after the completion of Graduation will be applicable. Internship, part-time job, articleship, pre-graduation experience should not be entered.
Choose Programmes
Candidates have to select the IIMs and the full-time management programmes where they wish to seek admission into postgraduate management programme. They also need to select the interview city from the drop-down menu provided under this section. 
Note that candidates applying to IIM Indore will also be considered for the Mumbai campus of IIM.The final selection will depend on the respective admission criteria of the institute.
Candidates applying for PGP or PGDM programmes at the below given IIMs are requested to choose the same interview city for all the selections:
IIM Udaipur

IIM Tiruchirappalli

IIM Raipur

IIM Ranchi

IIM Rohtak

IIM Kashipur 
Exam Centre City
Candidates can select any four cities where CAT 2019 will be conducted from the drop-down menu. After the completion of the CAT 2019 online application process, candidates will be allotted test centre in one of the four preferred cities. They cannot opt to select the same city more than once is not available.
Pay the application fee
After completing the CAT application form 2019, submit it along with the application fee. First choose one of the payments mode given below and then the respective payment gateway will be enabled. The payment modes available are - 
After selecting the payment gateway, candidates need to enter the CAPTCHA given in the box provided and check the declaration box given. Based on the selected mode, options to pay the application fee as displayed.
CAT 2019 Application fee
| | |
| --- | --- |
| Category | Application Fee |
| General and NC-OBC | Rs. 1900 |
| SC, ST and PWD | Rs. 950 |
Along with the above-mentioned application fee, candidates have to also pay the online transaction charges, which varies according to the mode of payment.
Transaction Fee for CAT 2019 Application form
Mode of Payment

Transaction Charges

Net Banking

Rs. 20 per transaction

Credit Card (Visa/Master)

1.20 per cent of the transaction amount and subject to a minimum of Rs. 5

Credit Card (American Express)

2.85 per cent of the transaction amount and subject to a minimum of Rs. 5

Debit Card (Visa/Master)

0.75 per cent of the Transaction amount for value up to Rs. 2000 and subject to a minimum of Rs. 5

1.00% of Transaction amount for the value
Other Payment Methods - BillDesk, PayU and Paytm
Before proceeding towards payment, candidates must preview the entire CAT 2019 online application form and the information provided and cross check with official documents in order to avoid erroneous application which may not be rectified later.
Application Confirmation Email
After payment of application fee, candidates would receive an application confirmation email at the registered email id. The email contains information about communication and CAT admit card 2019 details. You can check the application summary whenever you want by logging in to the CAT website as a Registered user. 
CAT 2019 Online Application Correction
Last year, IIM Calcutta, the conducting body of CAT 2018, had allowed the provision of re-uploading of photographs for registered candidates who had uploaded improper or blur photographs. Candidates could login and re-upload their photograph between September 27 to September 30. Only registered candidates who successfully and paid the application fee of the exam before the specified deadline could perform this process of re-uploading their photograph.
It is likely that the conducting body will offer this service for the upcoming CAT exam as well. 
CAT Registration Trend - Past 10 Years
| | |
| --- | --- |
| Year | No. of Application |
| 2019 | 2,41,000 |
| 2017 | 2,31,000 |
| 2016 | 2,32,292 |
| 2015 | 2,18,664 |
| 2014 | 1,96,988 |
| 2013 | 1,94,516 |
| 2012 | 2,14,000 |
| 2011 | 2,05,000 |
| 2010 | 2,04,000 |
| 2009 | 2,41,000 |
| 2008 | 2,90,000 |
IIM Calcutta will conduct CAT 2019 on the last Sunday of November 2019 in online mode. The score of CAT is accepted by 20 IIMs and more than 100 other B-schools in India. Almost 4,000 seats are offered through CAT exam which acts as a gateway to admission in postgraduate management programmes in reputed B-schools.
CAT Registration 2019-FAQs
Q. When and how do I register for CAT 2019?
A. Online registration for CAT 2019 starts from the first week of August and the deadline to submit the online application is September last week. CAT 2019 registration process is completely online where candidates have to register by entering their personal, educational and professional details and paying the application fee.
Q. Can I use my coaching institute's or a friend's email address when registering for CAT?
A. No, candidates are not allowed to use someone else's email address in order to complete CAT 2019 registration. They must register with a valid and unique email address which they use regularly on their own. Since all correspondence or information related to CAT 2019 and further admission process of IIMs would be communicated through the entered email address, hence, it must be a functional one which they regularly log in to and check.
Q. I have done 5 years integrated course of B.Tech and MBA. As per my university norms first 3.5 years is considered to be B.Tech and remaining 1.5 years is considered to be MBA. How do I enter my marks?
A. According to IIMs, candidates who have pursued integrated course have to enter the aggregate percentage of first 3.5 years under Bachelor's Degree and the remaining 1.5 years under Master's degree.
Q. I have completed a 5-year dual degree course (BTech+MTech, BS+MS, B.Tech+MSc etc.)? How do I enter my marks for the bachelor degree?
A. As per the university norms and as stated by the CAT officials, candidates pursuing 5-year dual degrees have to enter the aggregate of marks that are equivalent to Bachelors' Degree under the Bachelor's Degree section and the equivalent Marks for the Masters' degree under the Master Degree section under the CAT registration form.
Q. I have completed dual Bachelors' degree courses (B.Com+LLB, B.Pharm+B.Tech etc.). How do I enter my marks for two Bachelor degrees?
A. On the CAT registration form, candidates have to select the option indicating dual Bachelors' Degrees under the requisite section. There, the applicants can then enter the details of both qualifications.
Q. When will CAT 2019 be held and can I choose an exam date?
A. The CAT exam will be held in the fourth week of November, 2019, in two slots (forenoon and afternoon). Candidates will not be given the option to select their slots. They would be allotted a slot at the CAT exam centre in one of the four preferred cities entered by the applicants during the CAT registration process. The final venue and slot will be communicated to the candidates through the CAT admit card.  
Q. Can I appear for more than one slot for CAT 2019?
A. Candidates are not allowed to appear for more than one slot. Candidates who attempt to take the test more than one will be eliminated anytime during the selection process. In order to ensure that candidates appear only once, their CAT admit card, photo ID cards, biometrics would be scrutinised thoroughly.