CAT Question Papers: Candidates willing to appear in CAT 2023 exam should solve the CAT exam question paper as it is the best study source and also helps in effective preparation. There are multiple benefits of solving the CAT previous year paper like understanding the types of questions asked, marking scheme, weightage carried by various sections, and importantly learning how to solve a problem quickly which will help in the CAT exam 2023, which is scheduled to be held on November 26, 2023.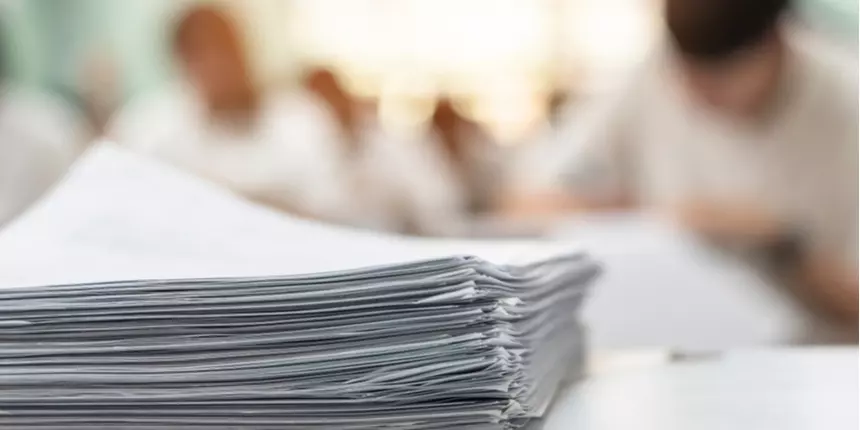 CAT Question Papers: Download Previous Year Papers With Solution, PDF
CAT Question Papers
The CAT question paper will also help candidates in understanding their strong and weak areas for the CAT exam and improve their time management skills significantly. CAT question papers of previous years will have questions from the CAT syllabus like quantitative aptitude, logical reasoning, reading comprehension, and verbal ability.
To answer CAT questions one needs critical thinking, analytical skills, and the ability to interpret complex information. CAT question papers often are based on real-life case studies and situational questions to assess a student's business acumen. Practicing with CAT past question papers will give students an edge in preparation. Check out the CAT question paper with the solution pdf
CAT Question Paper with Solution PDF
CAT Exam Previous Year Question Paper PDF
Understanding the CAT exam pattern, topics with high weightage, and the type of difficult questions is possible with the help of the previous year CAT question papers. Download the CAT question papers for the past 6 years (2017 to 2022) slot-wise below on this page. Also, check the official CAT mock test to get an idea of the exam.
CAT Previous Year Question Paper with Answers- Slot-wise
The CAT exam is divided into three sections: Verbal Ability and Reading Comprehension (VARC), Data Interpretation and Logical Reasoning (DI-LR), and Quantitative Ability (QA). Download section-wise CAT previous year question papers.
CAT Last Year Question Paper Section Wise
CAT 2021 Question Paper Section Wise PDF
CAT 2020 Question Paper PDF Section Wise
CAT 2019 Question Paper Section Wise PDF
CAT 2018 Question Paper PDF Section Wise
CAT 2017 Question Paper Section Wise PDF
Previous Year CAT Question Paper
How to Download CAT previous year paper?
Just click on the CAT question papers pdf links as per the year and slot
Download the pdf of the CAT test paper
Save and start answering the CAT previous question papers
Solving CAT questions is one of the major success mantras of CAT toppers. For better CAT exam preparation also check out the One Year Study Plan for CAT 2023 and know the Best Study Material for CAT 2023.
CAT Question Paper - Overview
Particulars
Details of CAT Question Paper
Sections in the CAT question paper

VARC (20 questions)
DILR (24 questions)
QA (22 questions)

CAT 2023 questions (total)
66
Duration of CAT question paper
120 minutes (2 hours)
53 minutes and 20 seconds for PwD candidates
The section time limit in the CAT exam question paper
40 minutes
CAT question paper - marking scheme

+3 marks for every correct answer
-1 for every wrong answer
No negative marking for non-MCQs

Total marks in CAT question paper
198
To crack any exam, understanding the exam pattern is crucial. The CAT exam pattern 2023 is given below to aid students to check the same and know what to expect in the exam.
Other relevant articles-
CAT Question Paper Pattern - Sections and cut-off
| Sections | No. of MCQs | No. of Non-MCQs | No. of Questions | Total Marks | Cutoff Score |
| --- | --- | --- | --- | --- | --- |
| VARC | 18 | 8 | 20 | 78 | 25-27 |
| DILR | 18 | 6 | 24 | 72 | 16-17 |
| QA | 18 | 8 | 22 | 78 | 17-19 |
| Total | 54 | 22 | 76 | 228 | 54-57 |
CAT Previous Year Paper
Topics covered in the CAT exam include comprehension-based questions, number system-related questions, and puzzles. The exam aims to test the candidate's critical thinking ability, problem-solving skills, and time management skills. It is essential for the candidates to prepare meticulously and practice various mock tests to excel in the exam.
CAT Questions - Official Mock Test Links
CAT Question Papers: Topics for Reading Comprehension
| | | |
| --- | --- | --- |
| Migration of Northern Seals | Piracy in international trade | The need for economic literacy in the general population |
| Anarchism | Investing in renewable energy technologies | Travel Writing and Feminism during colonial times |
| Grammar/Vocabulary | A study of visualization | An Analysis of human nature |
| Currency of the Tang Dynasty | Freudian models of aggression | Screen time and undercurrents of social class |
CAT Question Paper - Important Topics
The exam comprises of three sections: Verbal Ability and Reading Comprehension, Data Interpretation and Logical Reasoning, and Quantitative Aptitude. CAT questions test the students on their analytical, logical, and comprehension skills. The exam includes a mix of multiple-choice questions and non-multiple-choice questions. Some of the questions are based on case studies, graphs, and data interpretation.
Therefore important topics that have been part of the CAT previous years question papers are useful to get a grip on the preparation and score well. Use CAT 2023 Preparation Material and know how to Score 100 Percentile in CAT 2023.
QA Topics from Past CAT Question Papers
| | | | | |
| --- | --- | --- | --- | --- |
| HCF LCM | Factors | Factorials | Remainders | Digits |
| Percents, Profit Loss, SICI | Ratio, Mixtures: Averages | Logarithms & Exponents | Speed Time Distance | Pipes Cisterns, Work Time |
| Geometry | Set Theory | Mensuration | Co-Geo | Pipes Trigonometry |
| Functions | Linear & Quadratic | Polynomials | Inequalities | Progression and Permutation Probability |
VARC Topics from CAT Previous Question Papers
| | | | | |
| --- | --- | --- | --- | --- |
| Sentence Correction | Para Jumble | Paragraph Completion | Sentence Elimination | Reading Comprehension |
| Word Usage | Critical Reasoning | Text Completion | Para Summary | |
DILR Important Topics Based on CAT Question Papers
| | | | | |
| --- | --- | --- | --- | --- |
| Pie Charts | Bar Graphs | Word Problems | Multiple Graphs | Line Graphs |
| Grid Puzzles | Sequencing | Visualization | Math Puzzles | Other Patterns |
Quick Links
What are the advantages of CAT Previous Years Papers
Is it important to solve the past CAT question papers? The answer is a big yes. Candidates will benefit much from solving CAT previous year question papers during their preparation and before the actual CAT exam. The benefits of solving CAT question papers are
Time management

Speed and accuracy in answering

Segregation of topics with weightage

Easy problem-solving techniques

Common formulae to solve CAT questions
Also Read:
When to Start Practicing CAT Question Papers?
Solving CAT previous year question papers allows candidates to find out which section they have prepared well for and which section they need to work on. If a candidate is starting everything from scratch, it is recommended to have a look at the CAT previous year paper. This is in order to get familiar with the CAT exam pattern. But one should not start solving them prior to preparation as it won't prove fruitful.
after a good look at the CAT 2023 syllabus and topics, candidates can start their preparation. With the completion of each chapter and topic, it is vital to test the level of preparedness by solving CAT questions. The mock tests and CAT previous question papers are the right tools for this.
CAT toppers and CAT mentors recommend solving at least 30-40 mock tests during CAT preparation. Some toppers attempt even up to 80 mock tests.