CAT Preparation: Myths vs Facts – Most MBA aspirants appear for CAT but look up all sorts of information about the exam before starting their preparation. It is also true that during CAT preparation, a lot of myths and facts that are baseless are propagated to them. In this article, we take a look at all such CAT preparation myths and facts to enable aspirants to segregate myths from facts about CAT and finetune their preparation strategies accordingly.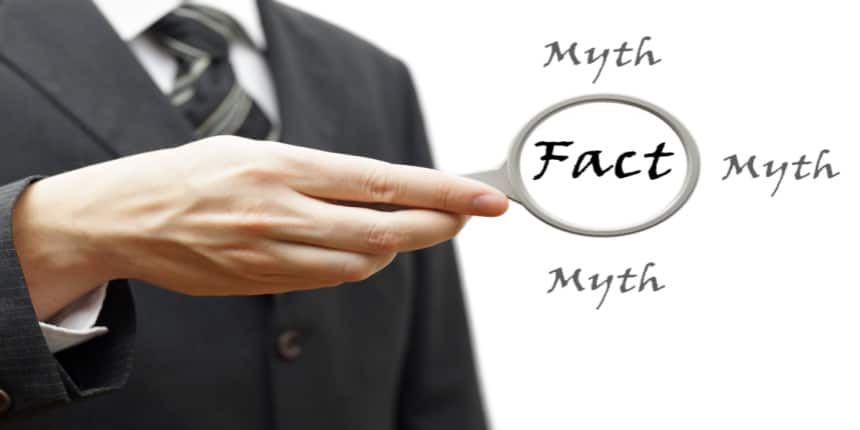 CAT Exam: Myths vs Facts | Truths About CAT Preparation
CAT Exam Facts: Separating myths from facts
The statements given below are generally assumed to be true. While some may seem closer to fact, most of them have no bearing to CAT preparation. The simple fact remains that CAT can be easily cracked with the right sort of preparation and perseverance.
CAT Preparation: Myths vs Facts No 1: CAT is difficult to crack
This is one of the CAT exam myths. Most feel that CAT requires a very high IQ and is difficult to crack. This is a common perception for all exams but totally a myth. The perception comes because of the difficulty in IIM admissions which is the dream for many. CAT is just like any other exam that can be cracked successfully with good preparation. However, it is a fact that there are limited IIM seats so not all get a seat.
CAT Preparation: Myths vs Facts No 2: Good Maths skills are a must
While it is true that one needs Maths skills, the fact is that the CAT Quantitative Aptitude section is mostly based on topics learnt in class 9 and 10. Applicants are expected to first understand basic and core concepts to be able to apply them in different contexts. If one works and puts in a bit of effort, with time and practice, one can get better at cracking the CAT QA section well. Accuracy is more important and hence practice is crucial and a must.
CAT Preparation: Myths vs Facts No 3: CAT without coaching is not possible
Totally a CAT exam myth. Coaching helps regulate the topics to cover but this is a personal decision. There have been many toppers in CAT's history who have not taken any coaching but have done really well in terms of their performance in the CAT exam. Once can check out how to prepare for CAT without coaching.
CAT Preparation: Myths vs Facts No 4: Engineers can crack CAT easily
There is a certain truth to this. The reason being most engineers are good at quantitative aptitude, analytical areas on account of their academic background. However, the IIMs and leading BSchools endorse diversity in their student community hence non-engineering students do have a good chance to get in.
CAT Preparation: Myths vs Facts No 5: Females stand a lesser chance
The fact is the number of females appearing for the CAT exam as compared to males is much less. Most toppers in CAT are engineers and female engineering students appearing for CAT are again few. This doesn't mean that females stand a lesser chance. It means that there is no strong basis to give credence to this CAT exam myth.
CAT Preparation: Myths vs Facts No 6: Topper strategies are best for CAT
Again, this is a big myth about the CAT exam. The fact is that most toppers have devised their own methods and means to prepare. Their stories can be taken as examples for motivation but the fact still remains that aspirants must figure out their strengths and weaknesses to plan their CAT exam strategy. Blindly following the toppers would be a big no.
CAT Preparation: Myths vs Facts No 7: Speed and good reading skills are a must
While speed helps, it is not the only factor to help in scoring. It is a CAT exam myth that one needs to be very fast in answering. Good reading skills are an advantage so aspirants must try to cultivate them. Speed can only come with practice and hence to keep this as a factor would be detrimental especially if one is in the initial stages of preparation.
CAT Preparation: Myths vs Facts No 8: CAT means IIM Admission
A total myth with the CAT exam is that cracking it means an IIM admission. This is not really correct as the 21 IIMs have limited seats and only a few can be accommodated out of the 2 lakh students who appear for the exam every year. However, the main fact is that CAT is just a screening test. To get into IIMs, candidates still need to meet the selection criteria which considers academic performance as well as the scores obtained in group activities as well as personal interviews held by the respective IIMs.
CAT Preparation: Myths vs Facts No 9: Attempting all questions equals good scores
Again, one of the myths of the CAT exam is that one can score well only if all questions are answered. This can be detrimental also. CAT has negative marking and one has to mind this as answering all can sometimes lead to loss of marks. Hence answering those questions to which one knows the answers would be the best method to go with.
CAT Preparation: Myths vs Facts No 10: Preparation for a year or two is best
This is a matter of time management, understanding and proper preparation. Many students who attempt CAT are working professionals and hence may not be able to devote time to preparing well for the exam. Other times, there are students who just attempt the exam to get the hang of it and start serious preparation. However, it is totally untrue to say that to crack CAT, one would need to prepare for one to two years. There have been many students who have cracked the exam in their first attempt. It all depends upon the preparation and hard work put in by the candidates.
CAT Preparation: Myths vs Facts No 11: TITA questions are not really important
The best part of the TITA questions that there is no negative marking. This makes them less risky unlike other questions. Preparation for these questions is ideally a good thing since one can attempt them without fear of losing marks.
CAT Preparation: Myths vs Facts No 11: Learn shortcuts and implement in CAT exam
Another CAT exam myth is that learning shortcuts is a must as this would allow aspirants to quickly complete the exam. However, this is not true at all. While speed is a factor that can help, it will be advantageous only if combined with accuracy.
The other fact is that to learn shortcuts, one needs to not just know the concepts but practice them well. Sometimes, answers can be worked out with the help of the concepts understood.
CAT Preparation: Myths vs Facts No 12: Your mock test scores will define your performance
Everybody has good days and bad days. Mock tests will only reflect the answers on a given day but if one works on the weak areas after every CAT mock test, there will only be improvement. Second, most aspirants get dejected after just a test which is the wrong way to go. Most toppers have persevered and appeared for many mock tests, improved on their performance after each test by working on the weak areas; questions where they have gone wrong.
CAT Preparation: Myths vs Facts No 13: Learning must continue till the eleventh hour
This is another piece of bad advice. The last weeks and days are best spent on strengthening the already known concepts. Learning at the last minute is a bad idea as there is very little time to put it to use and this could facilitate making mistakes in the exam. That would be detrimental to the scores and morale.
Advice by experts is to fix a timetable and schedule the syllabus such that most topics are covered within half the time. The next step would be to put them to use with mock tests and practice sessions.
The above listed are some common myths of CAT exam and also the cause of unnecessary fears as well as stress. Aspirants should not be looking at these before starting their CAT preparation. Instead, they should make sensible achievable plans keeping in mind their constraints (time, effort etc.), strengths and weaknesses.