CAT 2022 Topper Interview: "Once you determine, half the battle is won" says Soumik Banerjee, 99.95 percentile
CAT 2022 topper Soumik Banerjee pointed out consistency and determination to be the keys to crack this MBA entrance exam. Soumik Banerjee has scored a magnificent 99.95 CAT percentile. Being a working professional, a proper schedule has also assisted this topper to face this challenge and stand among the top 100 toppers of CAT exam.
Stay up-to date with CAT News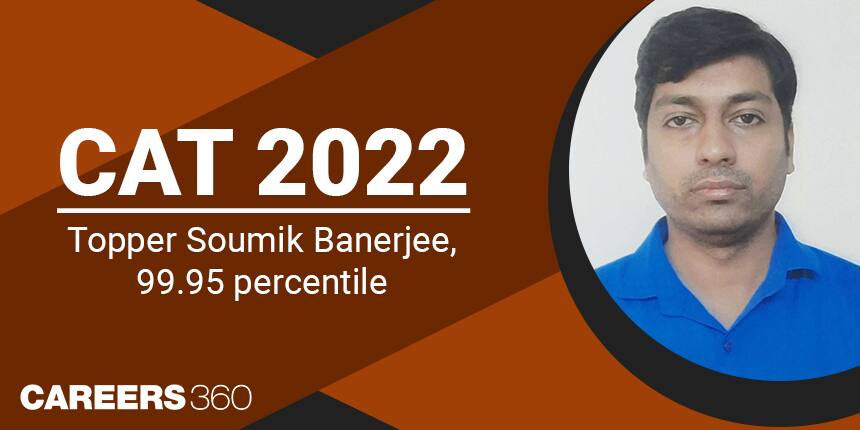 CAT 2022 topper, Soumik Banerjee has suggested CAT exam to be an aptitude test which is not about testing one's knowledge, instead testing one's ability to thrive in situations. Read this CAT 2022 topper full interview to know about his CAT preparation strategy and ace the upcoming CAT exam.
Careers360- Congratulations on being one of the CAT 2022 toppers! What was your reaction? Were you expecting this?
Soumik- After the examination was over the response sheets were released within two weeks. So, I ventured to some of the websites which give predictions based on the response sheet. Mostly, I found score around 99.8. However, when the actual results came out, I was very delighted to get the score of 99.95 and to be one of the top 100 candidates in all over India.
Careers360- What are your overall and sectional percentile and scaled scores?
Soumik- My overall CAT scores is 99.95 percentile, VARC-98.54, DILR-99.55 and QA- 99.9. Overall scaled score – 116.22.
Careers360- Tell us something about your background.
Soumik- I was born and brought up in Kolkata. I graduated with a Bachelor in Mechanical Engineering from Jadavpur University. I have been working in BPCL since 2016. Currently, I am looking after engineering, maintenance and capex jobs as an Assistant Manager in an LPG bottling plant.
Careers360- How was your exam day experience?
Soumik- I was allotted slot 1, so I reached the venue around 6.30 am. My strategy was to be relaxed, never keen on taking last minute notes. I knew Verbal was my weak point, so I didn't put a lot of effort in it, just went with the flow. I knew DILR was going to be tough this year as in the last two years, it was easier section. My strategy was to give time and solve 2 sets out of 4. After completing VARC and DILR, I was happy to implement my strategies. QA was easier for me, expectedly I had decent accuracy in this section. Overall, I was satisfied after the exam.
Careers360- What was your preparation strategy for CAT?
Soumik- I started early, from January 2022. Mostly I prepared myself, however as I am from engineering background, I identified weakness in VARC. So, I joined an online course in a coaching platform. I tried to effectively utilise my time and appeared in quite a few CAT mock test. I had prepared a schedule for myself, I think that was very much beneficial for me.
Careers360- What according to you were the toughest and easiest sections?
Soumik- As I think, in slot 1 DILR was toughest and QA was easiest for me.
Careers360- How did you tackle your strong and weak areas?
Soumik- My weak area was VARC. It was the first section. So, I was continuously reminding myself that the performance in this section should not affect me in the next two sections. My strategy was to get the Verbal done first and then go for at least two RCs with maximum accuracy and if time permits then go for the third one. I completed three RCs with two minutes in hand, so I rechecked my responses in the verbal section.
My relatively strong area was QA. I didn't choose questions. Instead, I started from the beginning and I was solving one after another. In between, I have left one or two questions on probabilities as it was my strategy from the beginning to leave those and some other lengthy questions. I was not looking for solving all the questions, instead I was focussed on accuracy. Eventually I got to the last questions with bare minimum time remaining.
Careers360- What was your time management strategy for preparation and exam day?
Soumik- As I am a working professional, I knew I would not be able to give a lot of time, so I kick started early. I had prepared a schedule for myself, I think that was very much beneficial for me. I tried to dedicate 2 hours daily for my preparation, in later stages it was around 3 hours. In the last three months, I took mocks almost every week and at least 2 sectional tests in each section on a weekly basis.
Careers360- Did you take coaching? How helpful was your coaching institute for you? Is it possible to succeed through self-study?
Soumik- Yes, I took coaching. I took it online mostly because of the study material and mock test platform. It was very much helpful for me as I didn't need to look for contents here and there.
I think it is only beneficial for you if you can contemplate your ideas properly. Coaching can give you an additional edge as some of things are given to you beforehand. However, I believe at the end of the day, it is the self-study that brings the success, no matter how many institutes one is associated with and how much study material one is having. If one is not dedicated and not willing to put efforts, then success will remain unattainable.
Careers360- What are the factors behind your success?
Soumik- I think the consistent efforts that I have put in has brought me success. I focused on improving myself on a regular basis with strategic uses of resources and time.
Careers360- Have you started preparing for GD/ PI/WAT?
Soumik- Yes.
Careers360- Which other MBA entrance exam have you appeared/appearing for?
Answer- No other
Careers360- Which is your dream B-School? From which ones are you expecting a call?
Soumik- My dream B-school is IIM Ahmedabad and I have got call from IIM Ahmedabad, IIM Calcutta, IIM Lucknow and MDI Gurgaon so far.
Careers360 - Where do you see yourself in another 5 years?
Soumik- Currently I am working in an LPG bottling plant, where my decisions are focussed on plant level. Post MBA I would like to lead teams by understanding the business dynamics, so that my decisions can impact a wider section of business.
Careers360- What are your hobbies?
Soumik- To mention my participation in sports and hobbies, since childhood I was very enthusiastic about football. I used to play as a striker in my school football team and the departmental team in my college. Playing in a team taught me the importance of leadership, focusing on the bigger picture and teamwork. I follow the Liverpool football club and I am also a member of the club. The history of the club made me realise about the ups and down in career and life.
Another hobby is reading books, especially leadership books, autobiography and biographies of CEOs and Entrepreneurs are some of my favourite genres. I am deeply inspired by their visions, management skills, struggles, resilience and grits.
Careers360- What were the relaxation and recreation methods you followed amidst CAT preparation?
Soumik- I have been a full time working professional. The jobs sometimes demand me to be at site on even Sundays and holidays. At the same time, I had to prepare for the CAT. My hobbies are to follow world football and reading self development books. Apart from that whenever I find time I go for street photography, sometimes I watch movies and tv series to be relaxed.
Careers360- What is your message for next year's CAT takers?
Soumik- I believe preparation for CAT is a journey for self. So, I want future candidates to ask their inner selves that whether they are prepared for the journey or not. Most importantly whether they really want to get into a top B school or not. Once the person is determined half the battle is won. Then they need to be consistent in their preparation. As it is an aptitude test, it does not test one's knowledge, instead tests one ability to thrive in situations. So be prepared for one or two elements of surprise on the exam day. Don't procrastinate, be confident and deep down inside believe you can do it. All the very best.
Questions related to CAT
Showing 10431 out of 10431 Questions