When one starts the preparations for competitive exams like CAT, they don't know at the very initial stage where their preparation journey would lead them. It is their consistent hard work and impeccable preparations that helps them ace arduous entrance exams and get admission at their dream colleges. The same has happened with Shreyasee Sarkar, who has bagged a seat for herself at one of the premier B-Schools, IIM Calcutta, after scoring 99.68 percentile in CAT 2022.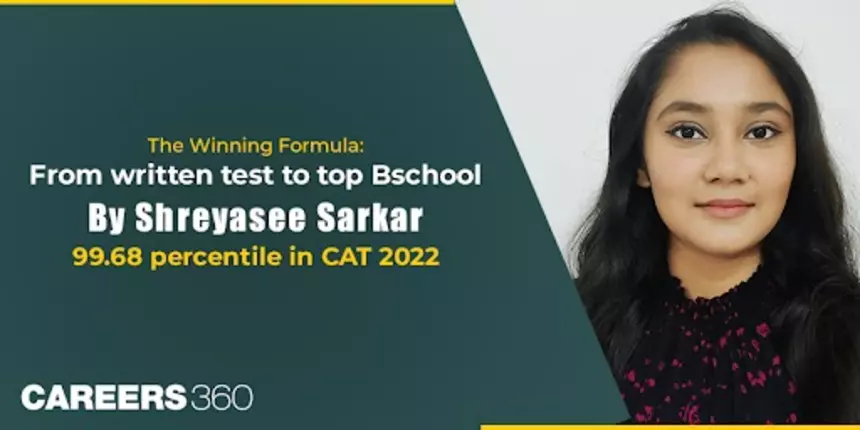 The Winning Formula: CAT 2022 topper's journey of acing MBA entrance and PI to land at IIM Calcutta
Shreyasee has always been a bright student academically and worked as a software tester at State Street Corporation, Bangalore. Apart from CAT, Shreyasee also appeared for SNAP (98.6 percentile), XAT (96.44 percentile), and IIFT (96.87 percentile). In this engaging chat with Careers360, Shreyasee shares her journey, from MBA entrance preparation to PI experiences at top MBA colleges and finally landing at IIM Calcutta. Check out this interview for tips to ace management entrances and the winning formula to impress the panellists during PI at top B-schools.
Careers360- Hearty Congratulations on converting to IIM Calcutta. How would you describe your overall journey experience from CAT preparation to converting to one of the top B-School?
Shreyasee- Thank you so much! When I started my CAT preparation, I didn't have any specific college in mind. I just wanted to get a decent score that would fetch me a good percentile. The entire journey was full of ups and downs.
I got a series of low scores in mocks by the end of my preparation which was very disheartening but I kept practising the questions I couldn't solve which had ultimately helped me in CAT.
The interview process is actually more difficult than CAT because literally anything can be asked in these interviews. I had very little control over how my interview would go. But luckily, most of my IIM interviews were in March, and non-IIM interviews in February so I was somewhat prepared for my IIM interviews.
Since it's almost impossible to know the answer to every question that is asked, the time period from the PIs to the result declaration was the most stressful time of the process. But, as positive results started coming in, the stress subsided eventually.
Careers360- Tell us about your academic background. What were your grades, and your CAT 2022 percentile? What motivated you to pursue MBA?
Shreyasee- I did my B. Tech in ECE from SRM, Chennai. I graduated in 2019 and had been working as a Software Tester at State Street Corporation, Bangalore. My CAT 2022 percentile is 99.68. I have a 95% in Class 10, 93.17% in Class 12, and 91.75% in my B.Tech.
State Street is a custodian bank and one of the oldest in the US. Working there for almost 3+ years made me realize in order to grow in this sector, I need to have domain knowledge along with technical knowledge. An MBA could help me in that aspect.
Also, I realized that as I grow in my career, I would be getting more leadership roles. An MBA would make me better prepared for such roles. I was also part of the Editorial team at my workplace and I used to take interviews with various Indian leaders. Hearing about their first-hand corporate experiences also motivated me to pursue MBA.
Careers360- What other MBA entrance exams did you take? Your percentile in these exams?
Shreyasee- I took NMAT, SNAP, XAT, and IIFT apart from CAT. I scored 248 in NMAT, 98.6%ile in SNAP, 96.44%ile in XAT, and 96.87%ile in IIFT.
Careers360- What were your initial thoughts before beginning the CAT preparation? How and when did you start, and for how much time you used to study in a day? Can you share your CAT preparation timetable, study plan, and strategies?
Shreyasee- I started preparing for CAT in 2020 but unfortunately, I couldn't score well in CAT 2021 because of exam fear. Initially, when I started the preparation, I didn't think that I would get into one of the 3 B schools in India. I did have a range of colleges in mind that I thought would add value to my profile and would help me grow from my current position at my workplace.
Since I was working, I did not have any fixed number of study hours. My shift started at 12 noon so I used to study in the morning. I didn't get time to study in the evening. I used to give full-length mocks during the weekends and analyze them on weekdays.
Careers360- What do you say are the important topics and books for CAT preparation? (If possible list the topics from every section that cannot be skipped)
Shreyasee- There isn't much syllabus to cover in VARC and DILR. These two sections require a lot of practice. For QA, it's not advisable to skip any chapter but two of the most important chapters are Arithmetic and Algebra. I used Arun Sharma's books and IMS Simcats for practice.
Careers360- Did you join any coaching classes? What other resources did you find most helpful during your CAT preparation? (e.g., books, online platforms, mock tests)
Shreyasee- I joined Mindworkzz classroom coaching. Since I was working, it was difficult for me to attend live classes. I used to watch recorded videos of CAT topics that I felt I needed on my own time.
Simcats had this feature of making you practise different types of questions based on the questions you got wrong. This feature helped me immensely because I got to practise a lot of different types of questions in QA and DILR.
Careers360- What's your take on mock tests? What kind of mock tests did you take, and how helpful were they? When did you start taking mock tests?
Shreyasee- CAT mock tests are the most important aspect of CAT preparation. They prepare you for the intense pressure that CAT is. They helped me manage time and increase my accuracy in such a short amount of time.
Our brain tends to get numb when put under constant high pressure which leads to not being able to solve the questions at the required pace. Mock tests train our brains to work with speed for the entire two hours.
I used to take full-length mocks during the weekends and sectionals on weekdays. I started taking mocks in May but I only took 10-15 mocks because I think analysis of the mocks is more important than the number of mocks I give.
Careers360- What was your exam-taking strategy? How much time did you take to complete a section? Were there any specific topics or sections that you found challenging during the CAT exam? Any tips for managing time in the exam, like how much time to be given to which section?
Shreyasee- VARC was the easiest section for me because I had always been an avid reader. I started reading The Economist and New Yorker every day since their English isn't the easiest to understand. I also practised a lot of philosophy-based RCs because those are the most difficult. In the paper, I had only 1 strategy. Attempt 3 of the easiest RCs and give more time to VA. I wouldn't even try to attempt the 4th RC.
DILR was my weakest section. Not because I couldn't solve the problems but because I used to freeze due to fear. I started practising DILR from previous years' papers, sectionals, and mocks. I used to solve problems that I couldn't solve on my own multiple times so that I remember the approach. In the exam, I had the target of solving 2 out of 4 problems which constituted 10 questions because that was enough to get a good percentile in DILR.
Quants were easy once I went through all the chapters. My only issue was speed. So, I used to practice quants in a time constraint to increase my speed. Arun Sharma Sir said that 10 correct questions in Quants are enough to get a good percentile. I attempted 12 questions in CAT 2022 but as luck would have it, I got 2 TITA questions wrong so I ended up scoring 30.
Careers360- From which all B-Schools did you get calls? Why did you opt for IIM Calcutta?
Shreyasee- I had calls from all the IIMs, SPJIMR, IIFT, MDI, XLRI, SIBM, and SCMHRD. I was able to convert IIM Calcutta, Lucknow, Indore, Kozhikode and Cap, SPJIMR, MDI, SCMHRD, and IIFT Kolkata.
I chose IIM Calcutta because it is the finance campus and I want to explore the field of Finance more. Moreover, it is the oldest IIM and very close to where I live which is an added advantage as I can reach out to my parents in case of emergencies.
Careers360- Can you share your IIMC interview experience?
Shreyasee- My IIMC interview was the shortest among my BLACKI interviews. It lasted for hardly 10 minutes.
The WAT was for 20 minutes and my topic was "Increasing participation of women in male-dominated sports. People are also paying to watch them. Why do you think there is a sudden increase in interest in women in sports?"
I was asked about something not mentioned in my form. I mentioned the volunteering I did in my workplace. I was asked if I would choose a high-paying job or a job that gives me the opportunity to do good for society. Few cross-questions on this. Then I was asked about banking fiascos in the last 3-4 years. As I had mentioned Yes Bank. I was asked in-depth about the Yes Bank crisis. Lastly, I was asked about my weaknesses and how I overcame them.
Careers360- You have given interviews for multiple B-Schools. What was the most enjoyable interview experience among them? Can you share some of the interesting questions asked in that interview?
Shreyasee- I think the most interesting interview was my SPJIMR GI1 interview for Information Management. The entire interview revolved around the high fashion, beauty, and personal care industry. The most interesting question that I was asked was how I would help Deepika Padukone's brand 82°E to grow with technology.
Careers360- How did you prepare for the PI round? Did you engage in mock interviews or practise with a mentor?
Shreyasee- I started by preparing my answers for hygiene questions like Why MBA, tell me about yourself, why this college and short-term and long-term goals.
I used to read The Mint and The Hindu for current affairs. Then I read India Today and Business Today to form my opinion on the news I read. I also gave special emphasis on news that is related to my profile. I worked in a custodian bank so I read news about the economy and the recent banking collapses in the US. I also read about the semiconductor and chip industry and 5G in India because I did my engineering in ECE.
Apart from this, I also read in-depth about the company I worked for, my hobbies, a few undergraduate subjects, and the college I am interviewing for.
Even after covering a wide range of topics, there were many questions that I wasn't able to answer, and it's okay. The panel just wants to see the candidate's temperament. I also revised the questions asked in one interview so that I am prepared if similar questions were asked in my next interviews.
I have taken 2-3 mock interviews with my mentor. My purpose of taking mocks was to boost my confidence and not get scared which I was able to achieve.
Careers360- What were the key areas or topics covered during your PI? How did you showcase your unique qualities, achievements, and experiences during the PI?
Shreyasee- A lot of interviews revolved around State Street because it is a custodian bank which is a specialized financial institution. The panel wanted to know my understanding of a custodian bank, and the role of technology in finance, and eventually, the discussion would shift to Fintech. Another major topic of discussion was software testing because that was my job role.
A few panelists also asked basic ECE questions and tested my business acumen with questions like how I would set up a skincare brand in India. Apart from that, I was asked why
I wanted to do an MBA at this point in life.
The best way to showcase my qualities, achievements, and experiences is to mention those things on the forms provided by these colleges. These forms have a lot of questions that would cover everything about a candidate if answered properly. But it is advisable to leave out one or two things because they often ask to say something that is not mentioned in the form.
Careers360- What differences did you experience in the interviews/selection process of IIMs and Non-IIM B-Schools? Could you share your thoughts on expectations of Non-IIMs vs IIMs when selecting candidates?
Shreyasee- There isn't much difference in the type of questions asked in IIMs and non-IIIMs. The key is to be confident and try to be as cool as possible. Most of the IIMs give a lot of weightage to PI and WAT so it is important that we do well there.
In non-IIMs like MDI, the CAT score is given more importance than PI. In SPJIMR, specialization-specific questions are asked in GI1 while the GI2 interview is totally based on the candidate's opinion on various scenarios they give. Even their WAT topics are abstract.
Careers360- What were the key factors that you believe contributed to your successful conversion to IIM Calcutta? Are there any specific traits or skills one should focus on showcasing during the interview?
Shreyasee- I guess being confident and articulate in my answers has definitely helped. Since IIM Calcutta is known as the Finance Campus and I work in a bank, I gave special emphasis to Finance related topics and news. This has worked in my favor because I was asked questions from the banking sector.
I would suggest being familiar with one's profile and current affairs. Also, IIM Calcutta is known to ask maths problems so I would suggest revising a few of the maths chapters from class 11-12. I was lucky that I wasn't asked any maths problems.
Careers360- Which MBA specialisation are you planning to take up in your PGDM program? Why?
Shreyasee- I am planning to pursue Finance because working in a bank has piqued my interest in Financial Management. Being an engineer, I already possess the technical knowledge and an MBA in Finance would equip me with the necessary domain knowledge which would help me to grow in this field.
Careers360- Many CAT aspirants dream of getting into IIMs for MBA. What advice would you give to them? What thought process should they develop to make themselves IIM-ready apart from CAT preparation?
Shreyasee- I would suggest clearing the basics in 1-2 months and practising as many mocks as possible. A good percentile is needed to get a call from IIMs but it does not guarantee an IIM call. An IIM PI call depends on a lot of factors like past acads, work experience, gender, UG field, etc. In case you don't receive a PI call from your dream college, there is nothing to be sad about. Work hard for the calls you received so that you can convert those.
Also, these interviews are really unpredictable and there's no way of knowing what's going on in the panelists' minds. In case, you are not able to clear your best call, remember it might not be your fault. Also, the top 4-6 B-schools are all the same in the long run. It depends entirely on the candidate and what they make from these 2 years. So, if you make it to the rank 1 B-school doesn't mean that your life is over. Enjoy the process, it will all be good at the end.
Careers360- What are your expectations and goals for the upcoming academic year?
Shreyasee- I am really excited to become a student and attend classes after so many years. I am looking forward to making a lot of friends, learning from some of the best business professors in the country, and last but not least, having fun and making memories!