CAT 2022 Topper Interview: "Hard work always pays off" says Atish Naskar, 99.81 percentile
CAT 2022 Topper Interview Atish Naskar, 99.81 Percentile- What is the secret to ace this CAT exam? Dedication, hard work, efforts, yes everything. But there is more to this. And this is where we introduce you to one of the CAT toppers, Atish Naskar. He scored 99.81 as CAT 2022 percentile in his first attempt. He advises being consistent with CAT exam preparation. Both highs and lows will come but don't you quit. Check out what more Atish has to say about his CAT exam journey and tips for next year aspirants.
Latest Updates for CAT
12 Jan 2023:

IIM Udaipur started CAP 2023 registration process in online mode. Apply now!

27 Dec 2022:

Click here to check out CAT 2022 topper, Adarsh Khandelwal interview who got 99.93 percentile.

23 Dec 2022:

Know major steps to take after the CAT result 2022.
Stay up-to date with CAT News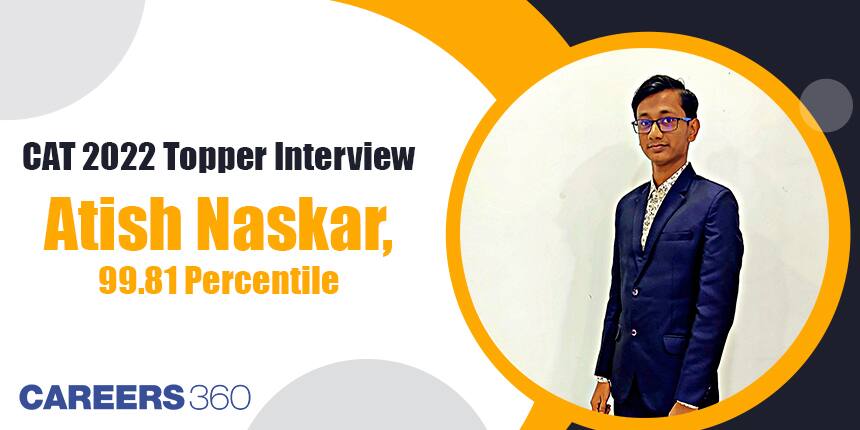 Careers360- What are your overall and sectional percentile and scaled scores?
Atish- My overall CAT percentile is 99.81 with a score of 104.28. CAT sectional percentiles (scaled scores) of VARC, DILR, and Quant are 98.12 (35.42), 99.41 (31.96), and 99.45 (36.89).
Careers360- Tell us something about your background.
Atish- I hail from a small-town Diamond Harbour which is 70 km away from Kolkata. I completed my schooling at a school in my town in a state board school. I am currently studying in my final year of B.Tech in Leather Technology at the Government College of Engineering and Leather Technology.
Careers360- How was your exam day experience? Which slot did you appear in?
Atish- I was in slot 2. My exam day experience was very good. The centre was very good & I got to know from slot 1 students that in VARC OOOs were not coming where Para Completions were coming, I just prepared myself that if I found it easy then will do it otherwise not. And came to know from those slot 1 students that In LRDI 4 sets are coming with 5 questions each which is not the same as CAT 2021 LRDI's 2 sets of 4 questions each and 2 sets of 6 questions each. The rest of the paper is not surprising for me. I delivered what strategy I followed in the CAT mock test.
Careers360- What was your last minute preparation strategy for CAT?
Atish- To be honest I prepared for almost 9-10 months. In the last 2-3 months I only gave mocks and analyzed them. Before D-day, I want to relax as much as I can so I watched movies, and FIFA World Cup matches.
Careers360- What according to you were the toughest and easiest sections?
Atish- I did not find any section toughest but would say QA was very lengthy compared to the last few years & LRDI sets found a little bit easier sides.
Careers360- How did you tackle your strong and weak areas?
Atish- As an engineer, my quant is always a stronger zone for this. I gave much less time in QA in comparison to the other two sections. But I always solved at least 20-30 questions on each topic in QA.
My VARC, on the other hand, is a weaker zone. From the start of my CAT preparation, I found this section very much difficult for me so I gave most of my time to this section. I build reading habits by reading articles, and essays that help me in RCs. For the VA part, I solved daily 20-25 questions that also helped me to get 98+ percentile on D-Day.
Careers360- What was your time management strategy for preparation and exam day?
Atish- I gave almost 40+ mocks of CAT and I tried to find my best time management strategy and I prepared a strategy for myself & implemented that on the exam day successfully.
For VARC, I gave the first 25-30 min for solving 3 RCs and then the rest for the VA part. In LRDI I did DI sets first because that gave me confidence, for me in LRDI confidence is a big factor. For QA my strategy was always to do first easy less time-taking questions then went for the time-taking difficult questions.
Careers360- Did you take coaching? How helpful was your coaching institute for you? Is it possible to succeed through self-study?
Atish- Yes, I joined a coaching Institute which is "iQuanta". I think a coaching institute is very important for CAT preparation. In preparation for exams like CAT, it is very necessary to get your doubt cleared instantly & with proper CAT-like questions. I found these two very effective from iQuanta coaching.
Careers360- What are the factors behind your success?
Atish- I believe in hard work & consistency. I think my consistent hard work is behind this success. Furthermore, the support that I got from my family, friends, and coaching mentors helped me stay motivated throughout my CAT preparation. This is not over yet. Still, a long way to go for GDPI.
Careers360- Have you started preparing for GD/PI/WAT?
Atish- Yes, I have started.
Careers360- Which other MBA entrance exam have you appeared/appearing for?
Atish- I am appearing for XAT too.
Careers360- Which is your dream B-School? From which colleges are you expecting a call?
Atish- Dream B-school I would say IIM Calcutta and FMS. I am expecting a call from IIM Calcutta, FMS, SP JAIN, MDI, IIM Indore, IIM Lucknow.
Careers360- What are your hobbies?
Atish- I love to watch Football & cricket matches.
Careers360- What were the relaxation and recreation methods you followed amidst CAT preparation?
Atish- I used to watch live football matches to relax. Sometimes I go out for a run or walk in the evening too.
Careers360- What is your message for next year's CAT takers?
Atish- Always be consistent in your preparation. Some low times will come and some high times also will come during the preparation so never think of quitting. Always keep in mind that CAT is not the only option, it is one among many. Hard work always pays off so do hard work. All the best to all!
Questions related to CAT
Showing 10431 out of 10431 Questions