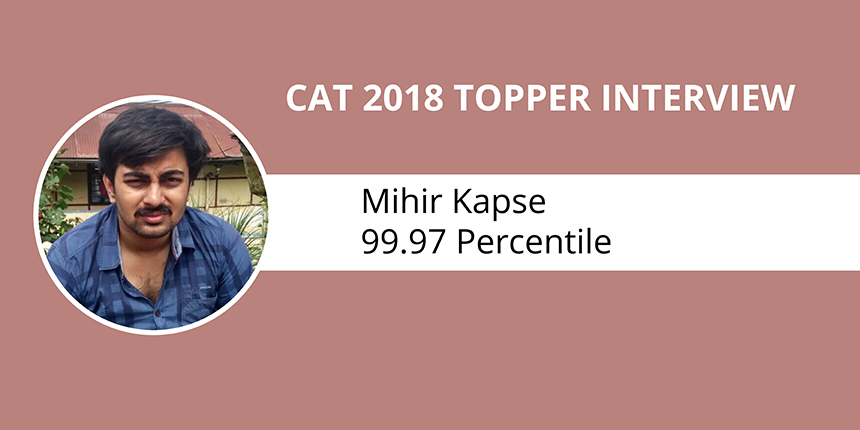 Team Careers360, 05 Jan 2019, #
CAT
CAT 2018 Topper Interview: In the words of Stephen Hawking, "However difficult life may seem, there is always something you can do and succeed at." Mihir Kapse secured a brilliant 99.97 percentile despite suffering from Autism Spectrum Disorder. Son of doctor parents, Mihir was diagnosed with this condition during his second year of engineering leading to difficulty in receiving treatment. An undettered Mihir fought all the odds and went on to complete his engineering from the College of Engineering Pune and is working in a bank. 
MBA/PGDM Admissions Open 2019
IFIM Business School
CAT Pathfinder
Know your call chances for Admissions
Use Now
Thane boy Mihir, who is also an avid reader of fan fiction aims to pursue a career in the Finance sector, ideally in Investment Banking. He also wishes to start his own venture after gaining work experience. Dreaming to take admission in IIM Ahmedabad, he has already started preparing for the Group Discussion, Writing Ability Test and Personal Interview rounds. Read the CAT 2018 topper interview of Mihir Kapse to know his CAT preparation strategy and future plans.
Excerpts from the interview:
Careers360: Congratulations on securing a 99.97 percentile in CAT 2018! Could you tell us what your overall and sectional percentile is? 
Mihir: Thanks a lot! My sectional percentiles are:
Verbal Ability - 99.92
Data Interpretation and Logical Reasoning - 99.94 
Quantitative Ability - 99.38
Careers360: Was the score a surprise for you or you were already aware that you were to get such a good score? 
Mihir: Yes. I was expecting to secure a similar score. After the exam, I expected to get 190 and the score turned out to be 201. 
Careers360: Tell us something about yourself. 
Mihir: Both of my parents are doctors. When I was in the seventh grade, my father got a job in another city and we had to move there. My new school had advised me to undergo a test to check if I was dyslexic or not. We had got the tests done and I was detected with dyslexia. But the diagnosis was wrong. It was during my engineering years that I faced certain symptoms which were not of dyslexia. Upon further consultation with the doctors, it was found that I was autistic instead of dyslexic. During my engineering years, which I pursued from College of Engineering, Pune, I had a major autistic attack. It took me two years to recover from that attack because the first autistic attack is one of the worst ones which one faces. It almost feels like reverting to your childhood phase and from that, we are required to build ourselves all over again. I am working in a financial bank. It is my first job and I have been working here for two years now. 
Careers360: What made you appear for CAT 2018? What is your career objective?
Mihir: I took this test with an aim to establish and further my career in the financial sector. I do not have much hopes of getting jobs in the investment banking sector but it would be a  preferable field. So I intend to get a job in the financial sector for five to ten years and then open a startup. 
Careers360: How was your preparation journey? How did you prepare for CAT 2018 to achieve such a big score?  
Mihir: I started around May/June. I started off with my preparation by attempting mocks. This helped me to assess where I stood and where I needed help the most. I am a working professional so attempting mocks was the most convenient way for me to assess my performance. 
Careers360: How did you prepare for CAT? 
Mihir: I started off with mocks at the beginning of June. By the mid of June, I enrolled myself in IQuanta online classes and took online mocks from Career Launcher. I was more focused on the mock tests and I took around 20-30 of them. In the beginning, I used to take a mock test in every two to three weeks. But a week before the exam, I appeared for one mock test every day.  After taking the mock tests, I would analyse my performance. 
Careers360: What were your strong and weak areas? 
Mihir: My strongest area was the language part followed by the logical part. However, I used to take a lot of time while solving logical questions. I made sure that I solved them quickly. Mathematics was my weakest area since I was not familiar with the types of questions that are asked in the exam. I could solve algebraic questions easily but I had no clue as for how to solve the geometric questions. 
Careers360: How was your exam day experience as a PWD candidate? 
Mihir: It was a bittersweet experience. I was to take my exam in the second slot. But since there were some technical glitches in slot one, the exam was yet not over by the time I reached the exam centre. The exam was meant to get over by 1 pm but it got over around 2.15 pm. So the rooms we were allotted were already booked and we were shuffled a lot. So that phase was frustrating. However, the experience of the actual exam was good. None of the questions was difficult for me. 
Careers360: What according to you were the easiest and toughest questions in the test? 
Mihir: The entire language portion was the easiest one, I must say it was easier than expected. The QA  was unexpectedly lengthy and one had to put in at least two minutes into each question. If one put in those two minutes, one could easily solve those questions. The DI and LR sections were equally tough as QA but the difficulty level was already expected. 
Careers360: What was your time management strategy with respect to preparation as well as exam day? 
Mihir: For VA and RC sections, I did not follow any time management strategy as I could solve the questions from these parts easily in mock tests. For the  DI and LR sections, I went through the questions in 10-15 seconds, decided if I wanted to answer them, skipped them accordingly, and moved on to another set. I followed the same strategy for each set. I did not more than 8 to 10 minutes of analysis of the set so that when it came to solving the questions, it took me only five to ten seconds. In the QA section, I had to invest two minutes in solving each question, so there was no scope to apply any time management strategy. 
Careers360: As someone who studied with the help of online classes, do you think it is possible to succeed through self-study? 
Mihir: The online classes were advantageous for me as a working professional. The mock tests were online and there were online video analyses as well as video commentaries. But these online classes had teachers to solve questions, give commentaries, and provide suggestions. Online classes are more convenient than regular one-on-one classes because if one is not able to complete a class on a particular day, one could take the class on next day as well as it is still available on the portal. And if one has any more doubts, one could post it on the portal and someone would solve it. So online classes conducted by teachers plus self-study will help candidates to succeed in CAT. 
Careers360: Did you file any objections against any question/answer based on the CAT 2018 answer key? 
Mihir: No. I did not have any objections. 
Careers360: How are you preparing for GD/PI/WAT?
Mihir: I am reading newspapers daily and updating myself on the major events in India and worldwide. I am also reading up on the global economy and foreign and economic events. I am focussing on improving my general knowledge because any such kind of questions can be asked in this round. 
Careers360: What all B-schools have you applied for? 
Mihir: I have applied for only IIM Ahmedabad, IIM Bangalore, and IIM Indore. If I clear the GD/PI/WAT rounds, I am sure I would get into IIM Ahmedabad, but IIM Indore is a backup option for me. My only focus is IIM Ahmedabad. 
Careers360: What are your hobbies? 
Mihir: I like to read, especially fan fiction. One would not know about this genre in India. These stories are mainly available online and are written on popular books by their fans. I used to read a lot while preparing for CAT as well.  
Careers360: Do you have any idol who you follow?  
Mihir: Not as such. But my parents did play an inspirational role in my journey. 
Also Read