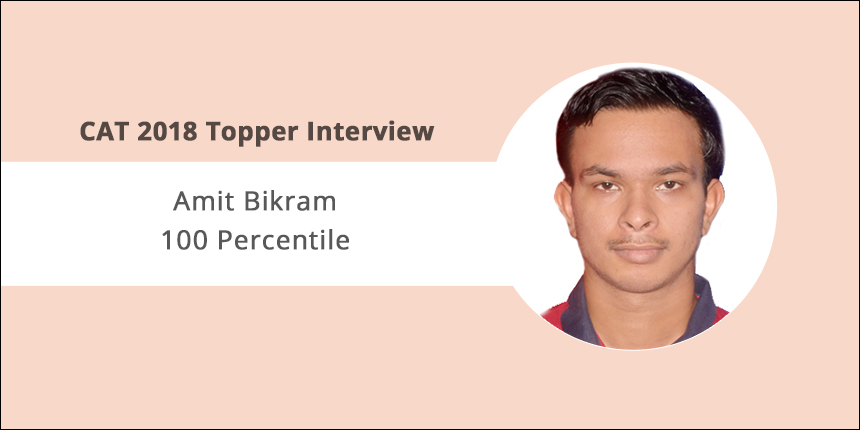 CAT 2018 Topper Interview: Amit Bikram is one of the 11 successful CAT 2018 takers to have secured 100 percentile. An Aerospace Engineer from IIT Kharagpur, Amit opted for self-study and enrolled only for test series. Hailing from Odisha, he started preparing around six months in advance and followed a systematic process which led to securing the highest percentile in CAT.
MBA/PGDM Admissions Open 2019
SOIL School of Inspired leadership
CAT Pathfinder
Know your call chances for Admissions
Use Now
Amit, who idolises Rahul Dravid, plays hockey and football and also loves reading books. Amidst the tough preparation schedule, he used to go out for treks to hills and forts nearby in the Mumbai-Pune region and spend quality time with friends to relax. Amit aims to join one of the premier IIMs, such as IIM Ahmedabad, IIM Bangalore or IIM Calcutta. He also dreams of pursuing a career as an analyst at a top financial consulting firm.
Excerpts from the CAT 2018 topper interview:
Careers360: Congratulations on securing 100 percentile in CAT 2018! Did you expect this?
Amit: Well, I was surprised when I calculated my marks after the declaration of the CAT question paper and answer key. It was indeed a pleasant surprise. But by the time the official result came out, I was kind of expecting a good percentile but securing 100 percentile was definitely icing on the cake.
Careers360: What are your overall and sectional percentile and scaled scores?
Amit: My overall scaled score in CAT-2018 is 235.18 and sectional scores and percentiles are 
Verbal Ability and Reading Comprehension - 79.59 (99.6), Logical Reasoning & Data Interpretation - 60.51 (99.93), Quantitative Ability - 95.07 (100).
Careers360: What are the factors behind your success?
Amit: I would say my focus and desire to work hard in order to secure a good percentile drove me towards this performance. The realisation that there is no replacement for hard work helped me a lot.
Careers360: Tell us something about yourself and family. 
Amit: I have done my graduation from IIT Kharagpur in Aerospace Engineering stream (Dual Degree). I hail from Bhubaneswar, Odisha. My father is a government executive engineer and my mother is a homemaker.
Careers360: How was your exam day experience?
Amit: I was pretty confident on the day of the exam and tried to steer myself away from any anxiety. I love taking competitive exams and no doubt, the positive frame of mind helps.
Careers360: When and how did you prepare for CAT 2018? 
Amit: I started my CAT preparation in May 2018, as I was quite confident of my basics. I focused on intensive practice and solving as many questions as I could during the last five to six months leading up to the exam day. I spent May to June revising my concepts and started taking mocks around July and August, at a rate of one per week and increased it to one every day in the last month.
Careers360: What according to you were the toughest and easiest sections in CAT 2018?
Amit: I felt Quant was tougher than CAT 2017 while VARC section was easier. DILR was slightly easier than last year.
Careers360: How did you tackle your strong and weak areas?
Amit: I was weak in both VARC and DI & LR. For VARC, I employed different tactics in separate mocks, getting to know which sequence I should attempt the questions in. For LRDI, all I did was intensive practice and increase my speed.
Careers360: What was your time management strategy with respect to preparation as well as exam day?
Amit: In VARC, my strategy was to complete all the RCs in one go and give as much time as possible to the TITA questions. In DI & LR section, I targeted solving five sets completely out of the given eight, and with time remaining in hand go for the remaining ones. In the Quant section, I was confident that with the amount of practice I had, I could attempt all the questions.
Careers360: Did you take coaching or prepare through self-study? According to you, how necessary is it to join a coaching institute to ace an exam like CAT?
Amit: I didn't take coaching from any institute and the preparation was self-study and discussion with peer group and mentors. I did take test series of IMS and mocks from Career Launcher. I don't believe that coaching is essential to succeed in CAT, but it might be advisable for some aspirants.
Careers360: Have you started preparing for GD, PI and WAT?
Amit: Yes, a couple of months of hard work remain. GD, PI and WAT are the most vital parts for selection into the top B-schools in the country. 
Careers360: What is your dream B-School? After that, what career do you want to pursue?
Amit: My dream B-School isn't any specific IIM. The top three IIMs - Ahmedabad, Bangalore and Calcutta would be amongst the most desirable for me. I wish to pursue a career as an analyst at a top financial consulting firm.
Careers360: What are your hobbies? What were your relaxation and recreation methods you followed amidst preparation?
Amit: I love playing hockey and football, and while indoors, I am a bibliophile. I would go out on treks to hills and forts nearby in the Mumbai-Pune region with a couple of close friends and sometimes with a bigger group. Hanging out with my friends on the weekends helped me relax and recharge myself mentally.
Careers360: Do you have any idol who you follow?
Amit: I am deeply inspired by Rahul Dravid, former Indian cricketer, for his humble nature, hard work and putting the team needs ahead of personal glory.
Careers360: What is your message for the next year's aspirants?
Amit: My message for the next year's candidates would be to prepare and take the exam in a positive frame of mind and without putting too much pressure on themselves. One has to work out the strategy of what works best for them, rather than trying to implement exactly the same thing that worked for someone else. At last, I would like to wish all the aspirants all the best.