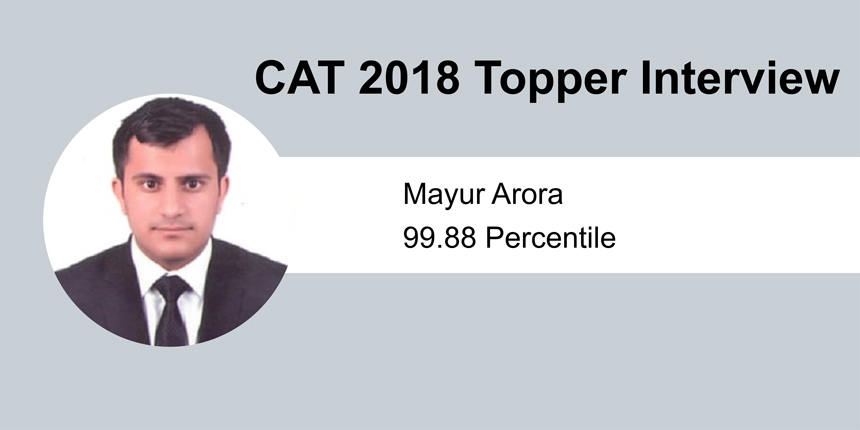 CAT 2018 Topper Interview: Mayur Arora who secured a 99.88 percentile in CAT 2018 shares his experience of the examination. A graduate of B.Tech in CSE from UPES Dehradun, Mayur was an employee at Dell R&D, Bangalore since July 2016. With an aim to become a teacher after his work in the corporate Mayur idolises Bill Gates for his vision and empathy for the poor. In this interview with Careers360, Mayur shares his experience on the exam day along with how he tackled stress. Read more to check Mayur's preparation strategy for CAT and his career choice.
MBA/PGDM Admissions Open 2019
IFIM Business School
CAT Pathfinder
Know your call chances for Admissions
Use Now
Excerpts from the CAT 2018 topper interview of Mayur Arora.
Careers360: What are your overall and sectional percentiles and scaled scores in CAT 2018?
Mayur:   My overall percentile was 99.88. My sectional percentiles are:
Verbal Ability and Reading Comprehension: 97.75 percentile
Data Interpretation and Logical Reasoning: 99.59 percentile
Quantitative Analysis: 99.83 percentile
Careers360: Tell us something about your educational background and career.
Mayur:  I am a software Engineer at Dell R&D, Bangalore since July 2016.  I completed my B.Tech in CSE from UPES Dehradun. My father is a businessman while my mother is a teacher.
Careers360: How was your exam day experience?
Mayur:  My exam was in the second slot at 2:30 PM. I reached the exam centre by 11:30 AM and ate something. I sat nearby in a restaurant with a friend and discussed life other than the exam. The last-minute preparation was to revise all the formulas once.
Careers360: How did you prepare for CAT 2018? 
Mayur: I started my preparation somewhere around July, I think six months are more than enough to study and go through all the concepts and take 15-20 mock tests.  
Careers360: What according to you were the toughest and easiest sections?
Mayur:  The toughest section for me was DI & LR and the easiest was VA & RC.
Careers360: How did you tackle your strong and weak areas?
Mayur:  VARC section is my weak point. I used to practice it a lot from sectional tests online. My strong point would be the QA section as I practised different type of questions.
Careers360: What was your time management strategy with respect to preparation?
Mayur:  I gave more time to VARC and DILR section while preparing.
Careers360: Did you take coaching? How helpful was it? Is it possible to succeed through self-study?
Mayur:  I was not a student per se, but I took test series of IMS and T.I.M.E. Coaching is not necessary but if you are taking CAT for the first time, it is suggested to take coaching as it gives great support for solving doubts and get career counselling sessions.
Careers360: What are the factors behind your success?
Mayur:  Parents' belief, friends' support and help from other aspirants on social networks were really helpful.
Careers360: When do you plan to start preparing for GD/PI/WAT?
Mayur:  I will start preparing for the GD, WAT and PI after January 6, the XAT 2019 day.
Careers360: Which other MBA entrance exam have you appeared for?
Mayur:  Apart from CAT I also appeared for IIFT and XAT.
Careers360: What is your dream B-School? After that, what career do you want to pursue?
Mayur:  IIM Bangalore. I wish to teach after working in the corporate sector for a few years.
Careers360: What are your hobbies?
Mayur:  I have a keen interest in Quizzing, Reading Wikipedia articles and playing Table Tennis and Badminton.
Careers360: What were your relaxation and recreation methods that you followed amidst preparation?
Mayur:  I played badminton for a couple of hours before CAT day. It made me feel relaxed.
Careers360: Do you have any idol who you follow?
Mayur:  I really look up to Bill Gates. His vision and empathy towards poor people, willingness to leave a major chunk of wealth for the welfare of society makes him my idol.
Also Read
CAT 2018 Topper Interview: I practised for 3 hours with minimal breaks, says Kaustubh Vyas, 99.99 percentile