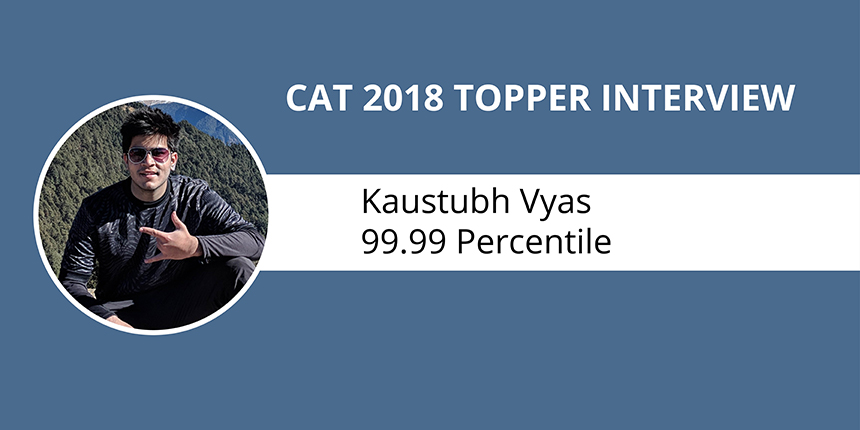 CAT 2018 Topper Interview: Kaustibh Vyas is one of the 21 CAT 2018 takers to secure 99.99 percentile. "I have always been good with numbers thanks to my base in competitive examinations", states CAT 2018 topper Kaustubh Vyas. 21-year-old Kaustubh is a fourth-year B.Tech Electrical Engineering student at IIT Bombay. He was also among the toppers of JEE Advanced (Rank 120) and shares with us his CAT taking experience, motivation and practice routines. A football and waterpolo player, he dreams to join IIM Ahmedabad or IIM Bangalore and pursue a career in Finance or Consulting. 
MBA/PGDM Admissions Open 2019
IFIM Business School
Careers360 brings to you the CAT 2018 Topper Interview series which will contain the strategy taken up by toppers and how they managed to keep themselves away from stress to prepare better for the examination. 
CAT Pathfinder
Know your call chances for Admissions
Use Now
Excerpts from the CAT 2018 topper interview:
Careers360: Congratulations on securing 99.99 percentile in CAT 2018! What was your reaction? Were you expecting this?
Kaustubh: Thank You so much. I was actually expecting a percentile between 99.99 to 100 so the result did not come as a surprise to me. 
Careers360: Tell us something about yourself.
Kaustubh: I am a Final year B.Tech Electrical Engineering student from IIT Bombay. I am from Nagpur. My mother is a Dentist. 
Careers360: How was your exam day experience?
Kaustubh: The examination went down smooth. My centre was in Airoli, Navi Mumbai. I felt that the Quantitative Analysis was the lengthiest section. 
Careers360: How did you prepare for CAT 2018? When did you start preparing? Please share your step by step preparation journey.
Kaustubh: I started preparing for CAT 2018 from the summers after completing my internship. I enrolled in T.I.M.E especially for the test series they provide. Apart from that, I relied on Self Studies mostly. I made it a point to practice as many Mocks as possible. 
Careers360: What according to you were the toughest and easiest sections?
Kaustubh: According to me, Quantitative Analysis was lengthy and tough and the easiest section was Logical Reasoning and Data Analysis. 
Careers360: How did you tackle your strong and weak areas?
Kaustubh: I made it a point to practice and make perfect all my weak sections. 
Careers360: What was your time management strategy with respect to preparation as well as exam day?
Kaustubh: Since my CAT 2018 slot was from 2.00 PM I made sure to practice mock tests at that time to make myself acquainted with the timing. This helped me a lot as it gave me a balance and did not drain me while I attempt the examination. I woke up only around 11 so I would not feel tired or burned out. I practised by sitting for three hours straight and took minimal breaks as possible to make myself comfortable on the day of the examination. 
Careers360: What are the factors behind your success?
Kaustubh: Apart from hard work, I would say focus on studies is one of the key factors to my success. Finding out my weak areas and improving on them helped me a lot with regard to the preparation. Since I have a base in appearing for competitive examinations, it took a lot of stress off my shoulders. 
Careers360: Did you file for objections against any question/answer based on the CAT 2018 answer key?
Kaustubh: I was confident with the answers I had marked for the examination so I did not feel the need to file any objections. 
Careers360: What next? Preparing for GD/PI/WAT?
Kaustubh: I have to prepare for the GD, PI and WAT process which I will start soon.
Careers360: Which other MBA entrance exam have you appeared/appearing for?
Kaustubh: I only took the CAT.
Careers360: What is your dream B-School? After that, what career do you want to pursue?
Kaustubh: I would like to enrol in IIM Ahmedabad or IIM Bangalore. My dream is to pursue a career in either Finance or Consulting domain. 
Careers360: What are your hobbies?
Kaustubh: I play football and I am also a water polo player. 
Careers360: What were your relaxation and recreation methods you followed amidst preparation?
Kaustubh: In order to keep myself calm I would switch off myself from continuous studies and find time to chill out with friends. Also, since placements and exams were going on in college I would divert my attention to preparing for the same. 
Careers360: Do you have any idol who you follow?
Kaustubh: I do not have any idols as such but my mother is my biggest inspiration. She always encouraged and motivated me to aim for the top and be among the rank holders. She raised me single-handedly which means she was always my go-to person. Whenever I felt dejected or stressed regarding preparation and studies I talked to her and she eased me out with the right words. 
Also Read