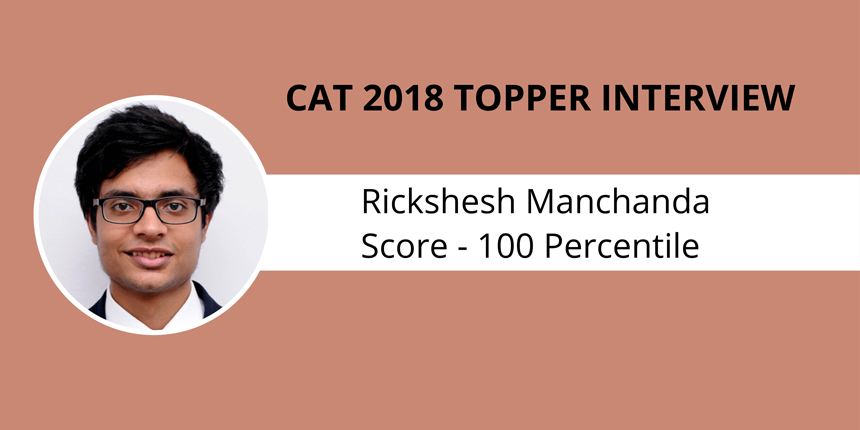 CAT 2018 Topper Interview – Twenty-one-year old Rickshesh Manchanda has emerged as one of the eleven 100 percentile scorers, who is a fresh IIT-Delhi graduate working in a bank. He is a candidate who notched up a 100 percentile without attending any coaching sessions. A determined and headstrong working professional bagged the perfect percentile in his second attempt. His first CAT attempt was no less illustrious as he obtained 99.99 percentile in CAT 2017. Last year's CAT preparation combined with sustained analysis of mocks and practice tests helped him to ace the most coveted entrance examination.
MBA/PGDM Admissions Open 2019
IFIM Business School
A self-reliant and confident individual, Rickshesh completed his schooling from Rohtak and after cracking JEE Main in 2014, took up production and industrial engineering at IIT Delhi. The Manchanda family owns a factory which is run by his mother and his elder sister is a research scholar. A happy-go-lucky Rickshesh loves to listen to music, read books across genres, and chats with friends during his leisure. He aspires to start his own business, precisely a start-up, after completing his management study. He firmly believes that unlike JEE Main exam, CAT is a test-driven examination and one should start preparing by taking some mocks and understand where he/she stands.He firmly believes self-preparation is a better option to opt for when the aspirant has the zeal and right motivation. To learn more about the CAT preparatory books recommended by the topper, and his sectional preparation strategy, one has to read the CAT 2018 topper interview transcribed below - 
CAT Pathfinder
Know your call chances for Admissions
Use Now
Read the excerpts of the CAT 2018 topper interview -
Careers360: What was your CAT 2018 overall and sectional percentile?
Rickshesh: I obtained an overall percentile of 100 in CAT 2018 and the best part is I could maintain a balance in my sectional scores as well. Following are my sectional percentiles-
VARC:  99.44 percentile

DILR:      100 percentile

QA:     99.95 percentile
Careers360: Why did you appear for CAT exam, for the second time?
Rickshesh: Although I secured 99.99 percentile in CAT 2017, I wasn't very confident about the GD/PI/WAT rounds in my first attempt. So, I took a calculative risk and appeared for CAT 2018 once again. But my plan worked by God's grace and I got 100 percentile.


Careers360: Apart from CAT, did you appear for any other entrance examination/s like XAT,CMAT, SNAP, etc.?
Rickshesh: No. I appeared for CAT only as my chosen institutes were those which require the CAT percentile alone to clear their qualifying round. So, wanted to focus all my attention towards CAT examination.


Careers360: What was your CAT 2018 preparation strategy?
Rickshesh: Honestly speaking, due to work pressure I did not have much time to prepare for CAT 2018. As this was my second attempt, I just brushed-up my concepts and took four to five mocks. That's it! I had actually prepared for CAT 2017 where I secured 99.99 percentile. Last year's preparation helped me bag the perfect score! The first step I took for CAT preparation was to take up certain mock tests to understand my potential; my strengths and weaknesses which was followed by revision of concepts where I lacked knowledge and confidence. Unlike JEE examination, one does not have to learn new concepts in CAT, as most of the topics are similar to high school syllabus. The basis of my preparation was on the sectional tests more than full-length mocks as it helped me understand my weaknesses. My target was to get 100 percentile on QA and DI & LR to cover my weak section, i.e. VARC.
Careers360: When did you start preparing for CAT and how did you prepare – Self-study or Coaching? 
Rickshesh: Due to the professional commitment I couldn't prepare much for CAT 2018, however, my last year's preparation worked for me this time. 
I studied all by myself. However, I had purchased several test series to analyse my preparation. I took the mocks and analysed my mistakes intricately. 
Careers360: How did you balance your preparation with studies or job?
Rickshesh: I had a full-time job while preparing for CAT 2018. This made it difficult for me to maintain a regularity in my preparation. My preparation comprised many sectional exams and four to five mocks which I took in the last week before CAT 2018. My primary motive was to maintain the exam temperament more than preparation.
Careers360: How did you manage the time?
Rickshesh: I would be a very wrong person to answer this question, as I could not manage time until the CAT day. Previous year, I solved all the 34 questions in QA section, but this year I solved seven questions in first 30 minutes and then hurriedly completed 21 questions in the last half an hour! This happened with all the sections. The initial 30 mins went slow and then I picked up the required speed. For DI & LR section, I attempted six sets and I attempted 28-30 questions in VARC section.
Careers360: Which were your strongest and weakest sections?
Rickshesh: QA section was always my strength followed by DILR. But VARC stood as a challenge before me. I have coped with the section by taking several sectional tests. Maximum focus was on the Reading Comprehension passages. Luckily, for consecutive two years VARC section of CAT was quite easy!


Careers360: What was your exam day strategy in terms of question selection, time management, accuracy and sectional attempts/cutoffs?
Rickshesh: I had no particular strategy as such. I believe in impromptu strategy. If one has a set strategy in mind for the exam, he/she might falter during the exam as candidates are not sure of the CAT questions. Plans may fail; so it is better to make instant plans after one views the questions.
Careers360: Can you state the difference between CAT 2017 and CAT 2018?
Rickshesh: Surely. The VARC section was quite similar in both the years. It was on the easier side. The DILR section was very difficult in CAT 2017 as compared to CAT 2018. There was a stark difference in the difficulty level of the QA section. In CAT 2017, QA section was very easy as compared to CAT 2018 which proved to be very difficult. I feel this year's CAT was a balanced paper. 
Careers360: Which are the colleges/institutes you are looking forward to? Have you started preparing for GD/PI/WAT?
Rickshesh: I am looking forward to IIM Ahmedabad, IIM Bangalore, IIM Calcutta, IIM Kozhikode, IIM Lucknow, and FMS, Delhi.
I am yet to start my GD/PI?WAT rounds. I just started reading a book called 'The 10-Day MBA' to enrich knowledge of management skills.
Careers360: What are your hobbies?
Rickshesh: I like to listen to music, read books, chat with friends.
Careers360: What is your message for CAT 2018 aspirants?
Rickshesh: Identify your problem and focus on sectional tests. Work on your strengths and follow the graph of effort vs improvement while dealing with your weakness. Finally, try preparing for CAT using varied approaches.
Also Read,
CAT 2018 Topper Interview: Take 2 mocks every week, says 100 percentiler Jagesh Golwala
CAT 2018 Topper Interview: I practised for 3 hours with minimal breaks, says Kaustubh Vyas, 99.99 percentile
CAT 2018 Topper Interview: How Mihir Kapse secured 99.97 percentile while fighting with Autism