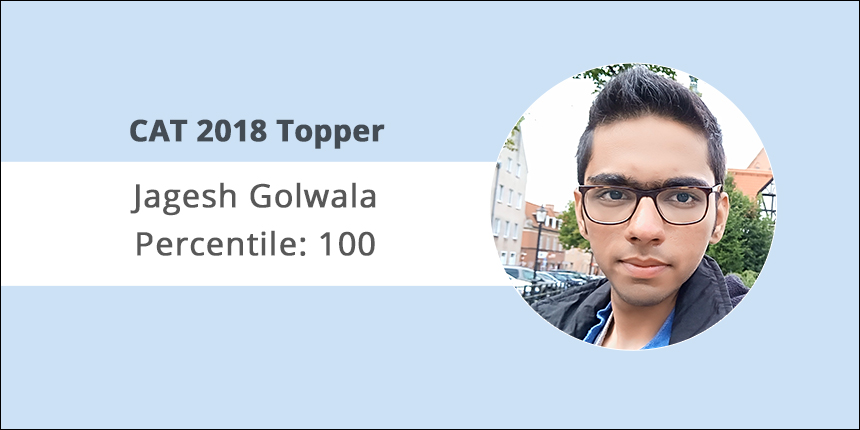 CAT 2018 Topper Interview: CAT There goes a saying "All you need to know is that it's possible" and this fits perfectly for Jagesh Golwala, an ardent traveller and trekker who secured 100 percentile in CAT 2018. Jagesh, who is a final year student at IIT Bombay mentions that he has travelled to many cities in the country and Europe most of which have been solo trips. Travelling along makes you responsible" he states, it teaches you financial management and you learn to interact with people from different places and cultures. 
MBA/PGDM Admissions Open 2019
SOIL School of Business Design
In this interview with Careers360, Jagesh shares with us his CAT 2018 preparation strategies, his love for travelling and his future plans after CAT.
CAT Pathfinder
Know your call chances for Admissions
Use Now
Excerpts from the CAT 2018 topper interview:
Careers360:  Congratulations on securing 100 percentile in CAT 2018! What was your reaction? Were you expecting this?
Jagesh: Thank you so much. Yes, I was expecting close to 99.9 plus percentile.
Careers360:  What are your overall and sectional percentile and scaled scores?
Jagesh: Overall I secured 100 my sectional percentile include:
Verbal Ability & Logical Reasoning (VALR) - 99.23
Data Interpretation & Logical Reasoning (DI & LR) - 99.99
Quantitative Ability (QA)  - 100
Careers360:  Tell us about yourself.
Jagesh: I am a final year dual degree student at IIT Bombay with specialization in Signal Processing. Both my parents are doctors. 
Careers360:  How was your exam day experience?
Jagesh: My exam centre was in Turbe which was very far from my place. I had to go the previous day and put up myself at a hotel to attend the examination. As far as the exam day experience goes, the pre-examination process went on pretty smooth. With regard to the examination, I found the Verbal section fun yet tricky. I tried to attempt as many questions as possible. The Data Interpretation section was lengthy and was a lot of data to process. 
Careers360:  Tell us about your CAT 2018 journey.
Jagesh: I started preparing for CAT by June 2018. I first started by reviewing all the topics, going through the typical questions asked for the examination. All this was done in a month. After this, I loaded myself with writing as many mocks as possible. 
Careers360:  What according to you were the toughest and easiest sections?
Jagesh: For me, the toughest section was DI & LR while the easiest was QA since I am pretty good with numbers and always have an upper hand in it since a young age. 
Careers360:  How did you tackle your strong and weak areas?
Jagesh: Since QA was my strength, I made it a point to practice as many QA questions and mocks as possible. And whenever I went wrong I sat down to understand my mistakes and make sure I understood the process and work. VARC was my weakness and to make sure it did not cause much trouble I practised as many passages as possible. I started by reading newspaper articles and editorials and increase my reading speed. After this was achieved I started solving passage questions. 
Careers360:  What was your time management strategy with respect to preparation as well as exam day?
Jagesh: I divided the time as per the sections and questions. I took close to 45 minutes to complete the Verbal section. For QA I took the first 30 minutes to pick out all the arithmetic questions and solve them, the remaining 20 questions took me close to 35 minutes which was pretty much what I had planned. 
Careers360:  Did you take coaching? How helpful was it? Is it possible to succeed through self-study?
Jagesh: I registered for the test series provided by the coaching institutes. Regarding Self-study, I feel it depends on person to person. For candidates from an engineering background, the QA and logical reasoning sections are sorted since he/she will always have an upper hand in there. When it comes to candidates from non-engineering background these sections might take up time which means coaching will be helpful. 
Careers360:  What are the factors behind your success?
Jagesh: I feel since I have been quite good in Mathematics and calculation this helped me in a better way. I would spend time with faculty members to brush up my Verbal ability skills and this I feel helped me succeed. 
Careers360:  Have you started preparing for the next rounds of the selection process?
Jagesh: I have to start preparing for the GD, PI and WAT now. 
Careers360:  Which other MBA entrance exam have you appeared/appearing for?
Jagesh: I took exams like SNAP 2018, IIFT 2019, XAT 2019 and NMAT by GMAC 2018.
Careers360:  What is your dream B-School? After that, what career do you want to pursue?
Jagesh: I would like to convert to IIM Ahmedabad and the course of my choice is consulting.
Careers360:  What are your hobbies?
Jagesh: I love travelling. I find time to go for Solo trips and treks. Until now I have travelled to most of the cities in India and Europe. 
Careers360:  Which was your best trip and what did you learn from it?
Jagesh: I consider my 10 day trip to Poland as the best. Through these trips, you learn how to be accountable for yourself and your belongings. Solo trips teach you how to be responsible, manage your finance and also interact with a lot of new people. I met a lot of people from other nationalities and we are still in touch which according to me is just great.
Careers360:  What were your relaxation and recreation methods you followed amidst preparation?
Jagesh: I love to listen to music and watch a game of cricket. Although I do not play that well, I enjoy watching a few games. 
Careers360:  Do you have any idol who you follow?
Jagesh: I do not idolise anyone as such but I believe in taking up the good qualities from the people I like. 
Careers360:  What is your message for next year's candidates?
Jagesh: To the next years candidates I would like to emphasise that it is very essential that you attempt at least 20 to 30 mocks and go through the past years CAT question papers thoroughly. And even days before the exam it is important that you go through the question paper so that you can familiarise yourself with the pattern. 
Also Read
CAT 2018 Topper Interview: I practised for 3 hours with minimal breaks, says Kaustubh Vyas, 99.99 percentile
CAT 2018 Topper Interview: How Mihir Kapse secured 99.97 percentile while fighting with Autism