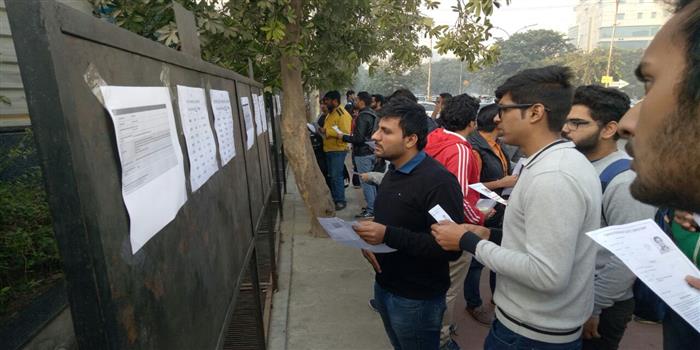 CAT 2017 Student Reactions - CAT 2017 was conducted on November 26, 2017, for admissions to management programmes of 20 IIMs and over B-schools in India. This year the test was conducted by IIM Lucknow in two sessions- morning and afternoon. Around two lakh test takers are appearing for the exam in 142 cities across India. As many as 2,31,067 candidates have applied for CAT this year. Careers360 projects CAT 2017 students' reactions right from the test centres.
CAT Sample Paper
Download Free Sample Paper for CAT
Download Now
The first slot of the CAT 2017 exam began at 9 am and ended at 12 noon. Candidates made their entry at the CAT exam centre as early as 7:30 am in the morning. Careers360 interviewed few candidates to understand their preparation level, exam experience, question analysis, the difficulty level of the exam and their overall performance.
Important Links-

Pre-exam CAT 2017 student reactions-
# Dishant: I have prepared for the CAT 2017 through Career Launcher and have prepared a timetable for self-study. I will appear for the IIFT Examination as well.
# Shreya: I have taken coaching from MBA guru and targeting good schools.
# Arsh: I have no clue about how my CAT exams would go but I am focusing on taking admission in one of the reputed B-schools.
# Mohmmad Faizal: I started preparing for CAT since August 2017 and used to study seven to eight hours on a daily basis. I am looking forward to score 95 percentile and I have not taken any external help in the form of coaching.
# Sakim Miraz: I am expecting to score 90 percentile as I have diligently prepared for eight hours each day since last three months without any coaching.
# Abhishek Gupta: I am a B. Tech in Electronics and Communication and appearing for the CAT exams for the first time. I just want to clear the test.
Post-exam reactions-
The CAT 2017 examination got over at 12 PM. Careers360 gets you the reaction of the examinees and their analysis of the CAT test paper.
# Shreya: I appeared for the second time and the paper was quite easy for me. The Quantitative Ability(QA) section was easy and the verbal questions were good; however the worst part, according to me was Data Interpretation and Logical Reasoning (DILR) section.
# Animesh: The overall difficulty level was moderate. Quantitative Ability section was the easiest, similar to Class 10 level. Topics were from Numbers, Progression, Ratio & Proportion, Profit & Loss etc. Data Interpretation & Logical Reasoning section was the toughest. Verbal Ability and Reading Comprehension was easy to moderate level. There were around five to six non-MCQs in each section.
# Udeshna Sharma: According to me, DILR was the most difficult section while the Quant section was easy to moderate. Verbal section was the easiest amongst all the three sections.
# Shubham Chauhan: Verbal was the easiest section, DILR was moderate in terms of difficulty but the Quantitative section was the most difficult section for me.
# Abhinav: I found the Verbal section to be quite easy, but both the Quantitative and DILR sections were difficult to answer.
# Piyush: Quantitative section was easy to solve, Verbal section had moderate difficulty level but DILR was the most difficult section amongst all.
# Mohit- I just appeared for the CAT examination and expecting score to be on the higher side. My focus is to get into one of the top seven B- schools.
We will bring to you CAT 2017 student reactions for Slot 2 after 5.30 PM.
CAT 2017 Student Reactions - Slot 2
# Dishant: The exam was of easy to moderate difficulty level. I am hoping to clear the cutoff for top B-schools.
#Harshit: Although the overall difficulty level was moderate, I found the DI & LR section to be very tough. I could attempt very few questions and not even sure about the accuracy level.
#Arjun: This is my second CAT attempt. Comparatively, I found this year's test to be of similar level. DI & LR section was tougher than last year. Quant was easier whereas VARC was easy to moderate level, same as last year.
#Sahil: The exam was tougher beyond my expectation. In each section, there were around 10 questions which appeared to be so tough that I could not even think of attempting. However, I have completed the test by attempting as many questions as I could be sure of. Hoping for the best now.
Also Read:
CAT 2017 conducted on November 26 by IIM Lucknow; Live updates from exam centres