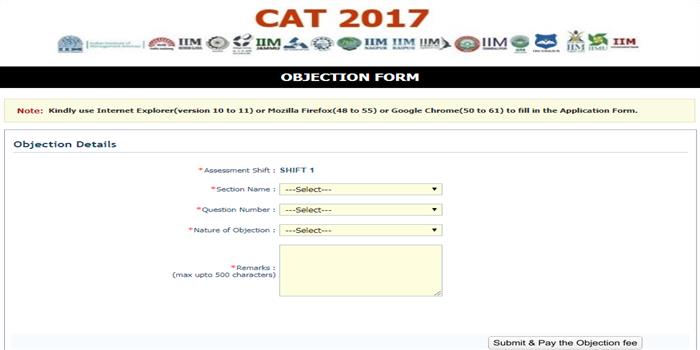 IIM Lucknow has released the CAT 2017 question paper and answer keys for the computer-based test conducted on November 26, 2017. The IIM officials have also invited objections from test takers till 2.00 pm on December 9, 2017.  The official declaration of CAT question paper, answer key and objection form has come for the first time ever since CAT turned into a computer-based exam in 2009.
CAT Sample Paper
Download Free Sample Paper for CAT
Download Now
An official announcement from CAT official read, "CAT 2017 Question Paper and Objection Form is now live. Deadline to submit objection form is 2 pm on December 09, 2017". The officials have put a fee of Rs. 1000 for raising each objection.
CAT was held in online mode for the first time in 2009. In the history of last nine years of online testing, IIM officials never announced question paper and CAT answer key. The objection to the official question and answer option was also not allowed. 
Candidates can download CAT 2017 Question Paper and Answer Key here
CAT 2017 Announcements - Question Paper, Answer Key & Objection Form: Key Highlights
Candidates can download question paper and answer key by entering their CAT user ID and password.

The deadline to submit objections for CAT 2017 Question Paper and Answer Key is 2 pm on December 09, 2017

A candidate will have to pay Rs 1000 for each objection that he raises

In case the objections are found valid by IIM expert panel, remedial measures will be taken by IIMs for all the candidates and not just for those candidates who raised objections to those questions.

Objection fee of Rs. 1000 (excluding transaction fee) will be refunded in case the objections are found valid

Candidates can raise objections against as many questions as they want
CAT 2017 Answer Key objection: Key Steps
Candidates will need to enter the following details for raising an objection to any particular question or answer key:
Section Name (VA-RC, Quant, DI-LR)

Question Number

Name of Objection (None of the options is correct, More than one option is correct, answer key is incorrect)

Additional Remarks regarding the objection (Max upto 500 characters)

Push Submit button and pay Rs 1000 for raising objection
The CAT 2017 exam was appeared by around 2 lakh candidates this year. The total number of candidates registered for CAT 2017 exam was 2,31,067. According to IIM officials, the number of candidates who did not appear for the entrance exam was around 31,368. However, the number of candidates skipping the test is lesser this year.
The CAT 2017 exam was held successfully on November 26, 2017, in 142 cities across India. According to CAT 2017 analysis, the test was of a moderate level of difficulty. Data Interpretation & Logical Reasoning was the toughest section followed by Verbal Ability and Reading Comprehension. Quantitative Ability was the easiest among all. There were no surprises in the exam as it was similar to CAT 2016. In terms of expected cutoff, experts predict that the overall cutoff may be a notch higher than last year.
Careers360 has been raising this issue over last three years and urging IIMs to release Question Paper and Answer keys to bring transparency into the testing system. Read here the Careers360 articles on this.
Also Read
IIMs! Don't use testing partner as shield to evade CAT answer sheet release
SC order strict on release of answer sheet; IIMs remain non-committal on CAT
IIMs must release CAT Question Paper and Keys for transparency, says CAT expert Arks Srinivas
CAT Troubles: Will IIMs address these problem areas bothering CAT takers every year?
Release CAT Answer Key and Question Paper for more transparency, demand non-IIMs