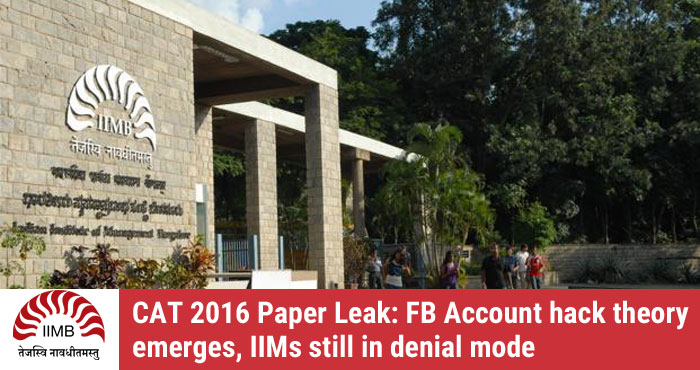 After two days of CAT 2016 paper leak, the candidate who allegedly shared questions on Facebook has said that his social media account was hacked and abused for leaking CAT questions. Meanwhile, the Indian Institutes of Management (IIMs) which conducts the test is still in denial mode with CAT 2016 convenor terming the leak as "one incident of malpractice".
The questions of second session of CAT were leaked on social media platform Facebook while the test was still on. Careers360 has already reported on this. Know how the CAT questions were leaked during CAT test hours by clicking on the link.
Facebook Account hack theory
The Facebook account where questions appeared first belonged to a test taker who was undertaking CAT at a test centre in Bengaluru. However, the same candidate lodged an FIR saying his account was hacked and abused.
Naga Venkata Viabhav Saladi who allegedly posted CAT 2016 questions from second session of the exam on December 4, shared with an education portal that CAT paper leak said allegations against him were completely false. He further said that he also came to know about the leak only after he got a call from CAT convenor. According to the candidate, he lodged an FIR soon after failing to access his Facebook account.
IIMs still in denial mode; experts say test conducted unprofessionally
Despite the social media timelines making it evident that CAT 2016 questions were indeed leaked, IIMs have chosen to remain in denial mode. Ironically, they are also claiming that "The CAT 2016 Exam concluded successfully on December 4."
The exam officials suggested that the leak was an isolated case and "nobody's rightful expectation of doing well in the examination has been harmed."No candidate has been put to any disadvantage because of this particular incident," CAT 2016 Convenor Prof R K Bandi told Careers360.
Experts, however, believe that the leak of questions reflects the poor management of IIM-Bangalore which was entrusted with conducting CAT on behalf of all IIMs. "I am told by my students that there were lapses on security checks at many centres and conduct of invigilators was unprofessional," said Arks Srinivas, CEO, VistaMind.
Many experts also believed that the leak of questions during the test might have helped one or a group of candidates to cheat in the exam. They also contradicted the claim of IIMs that "the integrity of the Test has not been compromised in any manner."
"Of course, the answers could come into the exam hall through the same route that the questions went out," believed experts from T.I.M.E. coaching institute.
CAT 2016 Background:
CAT 2016 was taken by about 1.95 lakh candidates out of 2,32,434 applicants over two sessions on December 4, 2016. The overall difficulty level was the test was moderate to tough. DI & LR was the toughest section followed by Quantitative Ability. Verbal and Reading Comprehension was the easiest section. Compared to last year, the number of non-MCQs have reduced in CAT 2016. While the total non-MCQs in 2015 was 32, this year it was 25. 


Also Read
CAT 2016 question paper leaked; questions appear on Facebook
CAT 2016 paper leak: This is how questions were leaked
CAT 2016 Review – Marred with question leak controversies and glitches, IIM Bangalore delivers moderate to tough test
CAT 2016 Analysis Slot 2 – Moderate to tough test with tricky DI & LR and QA
CAT 2016 Analysis Slot 1 - Tough DI & LR, tricky Quant and moderate VARC
Stay tuned to bschool.careers360.com for more news and updates on CAT 2016.
CAT Sample Paper
Download Free Sample Paper for CAT
Download Now