Careers360 Live Chat: Q&A session with Dr. Sameer Sudhakar Pingle, Admission Committee Coordinator, IMNU Ahmedabad


Dr. Sameer Sudhakar Pingle, Coordinator, Admission committee at IMNU Nirma Ahmedabad answers queries from MBA aspirants on different aspects related to admissions and course structure of Institute of Management, Nirma University, Ahmedabad. Careers360 lists all the relevant Q&A from the live chat related to campus, programmes, admission, placement and others topics with the Admission Coordinator of IMNU Nirma University, Ahmedabad.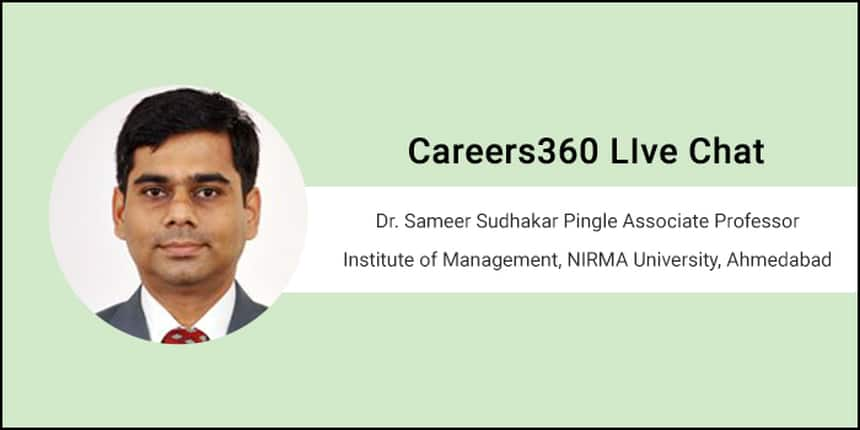 Excerpts from the Careers360 Live Chat.
Dr. Sameer Pingle: Hi, I am Dr. Sameer Pingle, from IMNU Nirma University. Do you have any queries related to our institute?
Abhishek: Do you have any other campus? Do you provide hostel facility? If yes, are the hostel rooms on sharing basis or single occupancy?
Dr. Sameer Pingle: We do not have any other campus and are located in Ahmedabad only. Our programme is completely residential and it is a mandate to stay in 'sharing basis' hostel for the entire study tenure.
Nishant: How are your tie-ups with universities in the USA, Germany beneficial for students?
Dr. Sameer Pingle: Our students have visited these universities as part of industry visit abroad. We encourage students to interact with other foreign universities to explore the possibilities related to their programme.
Deepa: Every institute has a speciality with respect to subjects offered. Which stream is IMNU famous for? Operations(Ops), Marketing or Finance domain? I am a bit inclined towards Operations domain though!
Dr. Sameer Pingle: We offer specialisation in all areas and the batch selects the specialisation at the end of the first year. Operations is a niche domain but our current batch has Operations as Major.
Mention must be made of MBA (Family Business and Entrepreneurship); last year we conducted own test for admission followed by the interview. We will start the admission process for the same in a month's time. You may visit institute website for updates.
Ruma: I have completed my 12th boards and am interested in pursuing the Integrated BBA-MBA programme. What would be the required steps to get admission in the same? Is your university administered by Government?
Dr. Sameer Pingle: We do offer BBA-MBA Integrated programme. But in order to get admission, you should clear the UGAT Exam(Under Graduate Aptitude Test is a standardised test being administered by AIMA annually to screen the candidates for various undergraduate programs such as Integrated MBA (IMBA), BBA, BCA, BHM, B.Com, etc.) Also note that we provide placement opportunity in the 5th year of the programme to all students.
Ruma: Why I should choose your college for the Integrated BBA-MBA programme?
Dr. Sameer Pingle: Following are the pointers:-
1. Residential Programme
2. Faculty
3. The Rigorous approach to Learning
4. Discipline
5. Infrastructure
6. Student Diversity
7. Campus life
Udit: What is the minimum percentage requirement in graduation for getting admission in your institute? Do you offer Part-Time MBA course?
Dr. Sameer Pingle: While computing the score of the Academic Performance, the marks obtained in SSC, HSC and Graduation shall be taken into account with 15 percent weightage for SSC marks, 25 percent weightage for HSC marks, 40 percent weightage for graduation marks (only the aggregate marks obtained in the examinations upto pre-final year will be considered for computing the merit, for example in case of a 3 year degree programme first and second year examinations' marks will be counted and in case a four year degree programme first, second and third year examinations' marks will be counted) and 20 percent weightage for overall academic consistency. Udit, we do not offer any Part Time programme to our students.
Tarun: I have completed my B.Com and thinking of pursuing the five-year integrated BBA-MBA course at Nirma University. What do you suggest?
Dr. Sameer Pingle: The admission to the five-year integrated course is through UGAT which is conducted after HSC. However, as you have already completed your B.Com, I would advise you to clear the CAT Examination and get admission to the MBA-Full Time at our institute. That would be conducive to you.
Pooja: Do you offer Executive Courses at IMNU Nirma University? I am working in MNC from past 5.5 years and interested in taking up Full Time MBA programme.
Dr. Sameer Pingle: We have Executive Diploma in Management for working executives. If you want to take up Full Time course, you need to sit for CAT exams and score no less than 80 percentile. Last year, our CAT cut off percentile was 80. This year we expect it to be the same or might increase the percentile cut off as well. Remember, we accept CAT score only.
Rohan: I do not have any work experience and according to my research, there are more students with work experience and they get into cream companies during the placement programme. Is there a chance for me to get placed with zero work experience after I complete MBA?
Dr. Sameer Pingle: This is not true. Though we have a good mix of students with work experience from diverse areas we do have a good number of freshers as well. You have good chance to get admitted with high CAT score. Your performance in PI(Personal Interview) and TDP (Theme Development and Presentation) will also matter. So, just go for it. Good luck!
Priyanka: I want to get a particular figure of the placement statistics of IMNU.
Dr. Sameer Pingle: Our average placement statistics: About 80% of the batch gets placed.
Highest Compensation Package offered is Rs. 15 Lakh Per Annum (LPA).
Median Compensation Package offered is Rs. 8 LPA
Average Compensation Package offered is Rs. 8.10 LPA.
Nirma University, Ahmedabad Updates and Articles
Questions related to Nirma University, Ahmedabad
Showing 717 out of 717 Questions