Careers360 Live Chat: Q&A with Ishita Kundu, Head- Marketing and Admissions at Institute of Management Technology Ghaziabad
Ishita Kundu, Head- Marketing and Admissions at Institute of Management Technology, Ghaziabad addresses queries from prospective management aspirants on different aspects related to admissions and course of IMT Ghaziabad. Careers360 formulated all the Q&A from the live chat with the Head- Marketing and Admissions at IMT Ghaziabad.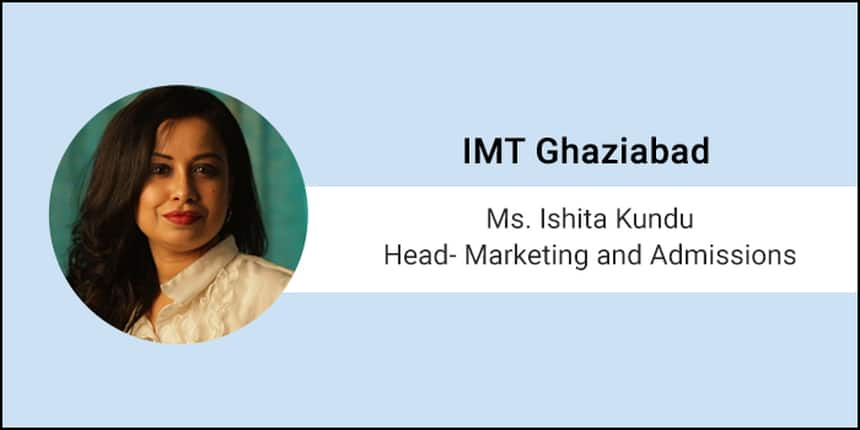 Excerpts from the Live Chat with Ishita Kundu of IMT Ghaziabad.
Parul: I have completed my B.Tech with 74 percent in 2012. Currently working with TCS as Sr. System Analyst. What are the basic requirements to get admission in a full-time PGDM programme at IMT Ghaziabad? What are the specialisations you offer? Do you have a weightage for Academics?
Ms. Ishita Kundu: You need to score 90 percentile and above in CAT/XAT or GMAT to be considered for the further interview process. We do not have sectional cutoffs, it is just the total percentile that we require for admissions. Moreover, we consider the composite score which takes in academics, work experience, and performance in our interview process. Yes, we do have a weightage for Academics.
All the specialisations are offered at our institute, namely Finance, HR, Marketing and Sales, Operations, Analytics.
Akshaya: My son, Abhishek has appeared for CAT. What is the cutoff scores for your all the three locations of IMT? And besides CAT, which all exams you accept for admission? What is the total fee structure for two years' programme?
Ms. Ishita Kundu: CAT cutoff scores-  IMT Ghaziabad-    90 percentile
                                                                 IMT  Nagpur-        70 percentile
                                                                 IMT Hyderabad-   70 percentile
Apart from the CAT score, we accept XAT and GMAT score as well. Last year, the total cost of the course was Rs. 16.5 for two years. The fee is subject to change.
Kamle Vivekananda: How intensive would the MBA programme be for two years? Do you have Business Communications in your programme?
Ishita Kundu: It is an intensive program and we do not encourage students to pursue any other programme parallelly as you will have credits for attendance and exams. We do have a course for Business Communications and it is compulsory for all the students.
Kamle Vivekananda: How many seats are allotted for PGDM (Finance) course? Do you suggest or encourage students to take-up additional certification courses / participate in any competitions? Do I need to have my personal laptop?
Ishita Kundu: The number of seats allotted for PGDM Finance is 120. During the study tenure, we have a lot of B-School competitions and we do encourage our students to participate in them to explore their talents. Regarding personal laptop, it is not mandated as we have a computer laboratory which is open 24*7.
Arun: Do you offer any one year MBA programme? What is the MAT percentile required to get admission at IMT Ghaziabad?
Ishita Kundu: No. We only offer 2 year PGDM programme and 15 months' Executive MBA for working professionals. We do not consider MAT score. You have to appear for CAT/ XAT or GMAT.
Pratibha: What are the expected dates for the interview and is it scheduled on a single date or multiple dates? Does IMT Ghaziabad have reservations?
Ms Ishita Kundu: It is scheduled on multiple dates and we would be intimating the same in January 2018. You would be required to select a day of your convenience. All the rounds would be completed within a day's time. Please note that we do not have any kinds of reservation.
Puneet: What are requirements and scope of MBA from IMT Dubai campus? What are the advantages of choosing a campus outside India over three indigenous campuses?
Ms. Ishita Kundu: For IMT Dubai MBA admission, you need to secure 50 percent or above in graduation; Moreover and you need to appear for a test followed by an interview process for final selection. Well, as Dubai is an international city and a major hub for trade and business, it has definite advantages in terms of opportunities. So, if a candidate wants to get through and through international exposure and placement, they might opt for IMT Dubai.
Shankar: What is the overall course fee including hostel charges at IMT Hyderabad?
Ishita Kundu: The overall fee structure at IMT Hyderabad is Rs. 12 lakhs (including hostel charges) for 2 years. The fee structure is subject to change.
Lohith: I am interested in pursuing MBA Operations. But need to know whether you encourage international placement? Do you offer scholarships to students?
Ishita Kundu: We offer a PGDM in Operations. Most of the companies participating in placement programme are based in India but there are students who were sent abroad for assignments on behalf of their companies. As of now, we are not providing any scholarship to students.
Vivek: I'm Vivek and working for Wipro for last three years as a technical team supporter. Am I eligible to pursue Executive MBA? Do you provide placement across India?
Ishita Kundu: This is to inform you that our executive programme is for candidates with more than five years of work experience. I suggest you pursue the full-time PGDM programme which would help in your future career growth and development. Yes, we have placements across India in all locations.
IMT Ghaziabad Updates and Articles
Questions related to IMT Ghaziabad
Showing 115 out of 115 Questions