Campus Life Experience: Nimisha Varshney tells "how is life at IMT Ghaziabad"
Campus Life at IMT Ghaziabad - Getting into a top management school takes a lot of hard work but one question that many MBA aspirants are interested in knowing is how is life at the campus after getting admission. Nimisha Varshney, a student of PGP Finance at IMT Ghaziabad, tells us how life goes up & down and the positives of studying management at one of the premier B-schools in the country.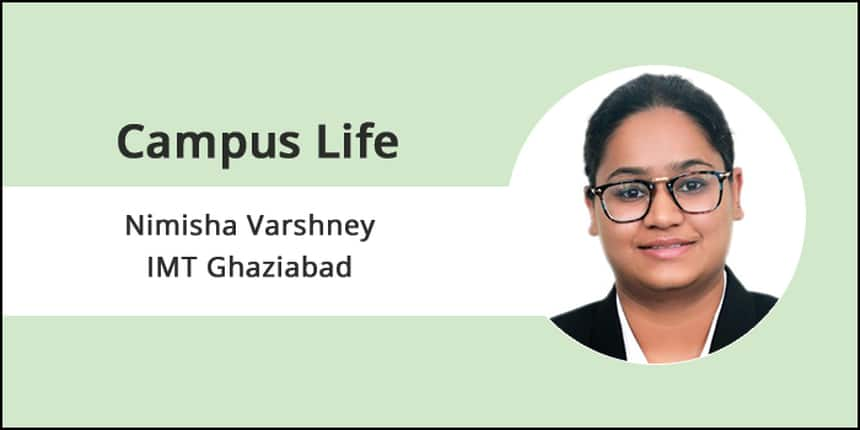 Read the interview here:
Careers360: How is the campus life at IMT Ghaziabad? What's the daily routine? Is it all packed up in a routine or equally divided between fun and study?
Nimisha: Life at IMT Ghaziabad is extremely Busy. Every day you have classes, every day you have parties, and every day there are memories made. Interestingly, it is equally divided between fun and study! The one thing that IMT believes in is that IMT never sleeps and that's very true.
Careers360: Does your college organise corporate trips or casual college trips? If yes, share the experience.
Nimisha: Yes. We went for OLL at the beginning of the session. It was a great learning experience. We all made friends and got to know each other! The best part of the trips is that you get to interact with each other which is probably the most important thing in order to develop a real-life confidence.


Careers360: Is there any club or committees at the campus? Are you a part of any club or committee? Share some of the activities and experience.
Nimisha: Yes, there are 20 committees on the campus. I am a part of the admissions committee. We conduct the admissions process at various locations as well as conduct an event for the undergraduates to give them a glimpse of the MBA life at IMT!
Careers360: Tell us something about your college's cultural fests, business/sports competitions or other activities.
Nimisha: IMT has various competitions running throughout the year. Our flagship event is Chakravyuh, which is our sports fest. We also have Passion, the cultural fest. Plus, many other case study, business challenges go on throughout the year.
Careers360: There are always normal hangouts and few special hangouts like boys' secret corridors or the secret corner. What are some such special spots at the campus?
Nimisha: The Nescafe, amphi and the bbc are the most happening spots on the campus. Usually, all the friendly discussions over coffee and food happen at these places.
Careers360: Tell us something about the hostel life? What makes it special from other hostels?
Nimisha: You will find people around the hostel even at 4 am in the morning! It's like there is always someone available and as I said earlier, ITM never sleeps!
Careers360: Tell us about the placement process/experience?
Nimisha: It is obviously gruelling but a learning experience with such a big batch as ours! You get to learn how to face recruiters. And placements are not just about getting a job, it tells a lot more about your personality, confidence level and how ready you are for life after college.


Careers360: How was your interview experience?
Nimisha: Yeah I faced few interviews during my SIP process. Facing an interview becomes so easy if you are confident and you know what you are going to do. It's just a professional conversation where you have to be YOU and spontaneous. Every interview made me better and I was finally able to ace the internship!


Careers360: The new batch will join soon while you will be graduating. What would be your message to the juniors?
Nimisha: Always be up for some knowledge and fun! Make a lot of friends and obviously memories!
IMT Ghaziabad Updates and Articles
Questions related to IMT Ghaziabad
Showing 115 out of 115 Questions