University B-schools support interdisciplinary learning, says Prof. PS Tripathi, Director, IMS BHU
In this interview with Careers360, Prof. PS Tripathi, Director (In-charge), Dean & Head of Institute of Management Studies, Banaras Hindu University talks about some of the pertinent issues concerning the management education across B-schools. He also talks about the need to ensure diversity in classrooms and making students job ready from the first day.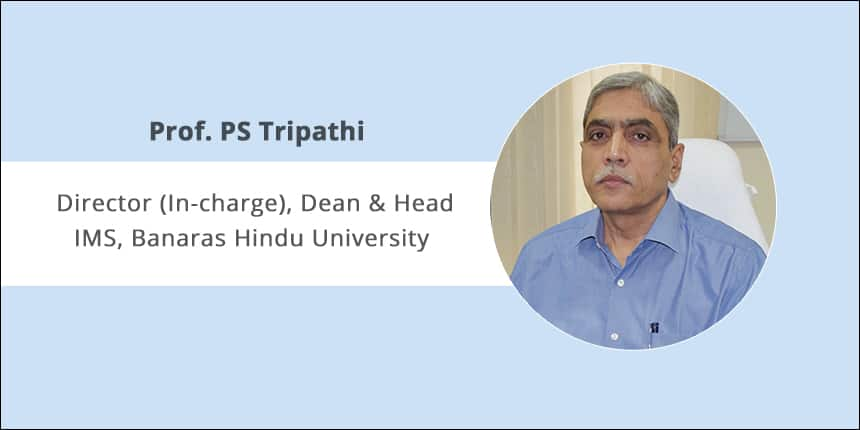 Prof. Tripathi specialises in the areas of Entrepreneurship and Finance. He has received the AICTE Career Award in Management. Prior to joining academia, he was the Assistant Manager (Finance) at Rajasthan Financial Corporation. 
Excerpts of the interview with Prof. PS Tripathi of IMS, Banaras Hindu University.
Careers360: What is the best way to bridge the curriculum-industry gap? 
Prof. Tripathi: The ever changing pace of market forces creates a situation, where some parts of the curriculum may be outdated before a student completes his/her education. In certain cases, the system is so rigid and cumbersome that makes it hard to revise the curriculum continuously. The new product development process keeps the customer at the centre stage. The same philosophy needs to be adopted by management institutions. The industry as the customer must be an integral part of the curriculum development process. Besides the domain skills, the industry also looks at soft skills, team building, values and attitude of an individual at the time of hiring. These elements need to be part and parcel of management curriculum. Furthermore, there are a number of quirky industry relevant online courses available which can be merged with the syllabus to give students more insights about the industry. 
Careers360: There is a need for diversity in classrooms. What is the best way to go about this? 
Prof. Tripathi: Diversity encompasses the differences present in human beings. Many different elements of diversity present in classrooms. These include race, socioeconomic status, gender, ethnicity, religious beliefs, work experiences, educational backgrounds, etc. Our institute enjoys diversity in classrooms nationally as well as internationally. The privilege of central university ensures the pan India catchment area for the class. Managing diversity in classrooms requires proper fostering of an inclusive environment. The creation of an inclusive environment is being facilitated with diversity in faculty composition. That is why diversity in totality in management institutes is a boon for student's development. 
Careers360: How to make students job-ready from Day-1? 
Prof. Tripathi: Even though placement is the end result of the cumulative process of management education, job readiness of management students is desired at every stage of education. Increasing corporate exposure by campus engagement is actually making a structured roadmap to make students job ready. Campus engagement programmes include live projects, industrial visits, invited talks by corporate leaders and executives and campus-to-corporate programs for personality development and grooming. I really feel happy in sharing the facts of our institute where we have full-fledged campus engagement programme with the provisions of live projects in the second and fourth semester as part of curriculum besides the scope of case discussions and expert talks throughout the programme. 
Careers360: What are the major problem areas in management education? 
Prof. Tripathi: In the post LPG era, the business education in India has resulted in a rapid growth of Business Schools offering the programmes both at postgraduate and undergraduate levels. It led to mushrooming of management education institutes. Somehow, the commercialisation of management education created a situation of not only oversupply of budding managers but also lack of appropriate and adequate skill set to meet the challenges of Indian business. 
Indian B-schools are trying to create almost a replica of US Business education in terms of pedagogy, curricula, industry interface and academic research models, however, many of these Indian B-schools are failing miserably or struggling hard to introduce several adaptations. One of the major reasons for the mismatch is linked with differences in the socio-cultural milieu in India and USA. 
Further, the Indian management education faces the challenge of dynamism in terms of the upsurge in society and ever-changing requirements of organisations. It requires continuous upgrading in the course curriculum. Actually, institutions are either lacking in doing so or even if it is happening, the orientation of courses are geared towards grooming of students for becoming a corporate-managers rather cope up with an unstructured or semi-structured environment of start-ups or create one's own enterprise. 
Last but not least, owing to the mushrooming of a large number of B-schools resulted into shortages of qualified faculty, which in turn, diluted the faculty selection parameters. Moreover, there is a dearth of effective institutions to develop and train the faculty for teaching management courses with an applied orientation. 
Careers360: What are your suggestions to enhance the quality of B-schools? 
Prof. Tripathi: Solution lies in the identification of real problems plaguing the management education. By and large, management education system has three components – Input, Process, and Output in terms of domain knowledge enrichment and placements. Corrective actions are needed for all three components. As I already mentioned the challenges of Indian management education, some of the suggested remedial measures could be: 
Continuous review of course curriculum with emphasis on inputs from industry. 

Evolving teaching pedagogy for relatively large batch sizes for better grooming of each participant. 

Proper networking with corporates for inputs and processes to have quality output. 

Harness the transformational benefits of cloud, mobile and digital technologies to enrich teaching and learning, and improve the student's experience. 

Improve the quality of faculty through better hiring practices, adequate compensations and career growth opportunities, indulgence in faculty training and development and promoting the culture of application-oriented research. 

Proper grooming of a student not only in management skills but also in an ethical framework, making him a balanced human being.
Fortunately, being a pioneer management institute under university set up in India, we successfully overcame many of these management education challenges, for example, hiring a faculty is very methodical and objective under central university setup. The adequate level of compensation and conducive academic environment with the opportunity to explore for professional developments through research and consultancies ensure the highest percentage of faculty retention. A management institute under a university setup has its own privileges for supporting the interdisciplinary learning of students for developing and enriching the life skills, which may not be the case with stand-alone management institutes. 
Careers360: What role can accreditation play in this? 
Prof. Tripathi: A poor-quality accreditation is a root cause for many problems in management education. The present accreditation system in India is based on objective parameters based on quantitative data-sets prepared and presented ornamentally. The accreditation has to be fair, transparent and independent so as to catch quantitative and qualitative factors of the management institutes. Corporate governance has to be made an element of accreditations. Faculty development, as well as faculty involvement in the administration, needs to be a part of the Corporate Governance agenda. Issues like the qualifications of faculty members, size of libraries, & other academics well as infrastructural facilities must also become a part of governance. International accreditation may also be encouraged for management institutions. 
Institute of Management Studies, Banaras Hindu University, Varanasi Updates and Articles
Questions related to Institute of Management Studies, Banaras Hindu University, Varanasi
Showing 28 out of 28 Questions