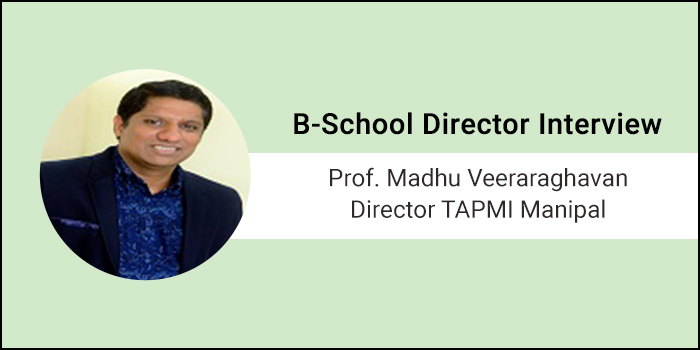 Prof. Madhu Veeraraghvan, Director of T.A. Pai Management Institute (TAPMI), Manipal, speaks to Careers360 about management education and what lies ahead. He speaks about the new initiatives planned for the B-School, which is launching PGDM-HR programme. In the interview Prof Veeraraghavan also spoke about research at B-schools.
Compare Colleges
College Comparison based on Courses, Placement, Rank, Fee
Compare Now
According to Prof. Veeraraghavan, who took over the role of Director in April 2017, it is the quality of students that matter and not the quantity. Hence he is not too keen on increasing the intake. He also aims to see TAPMI as one of the top B-schools in India. Read the complete interview with Prof. Madhu Veeraraghvan below.
Interview:
Careers360: B-school environment has always been dictated by how well the economy is doing, and currently a slowdown is on the cards. Is India's management education equipped to tackle this?
Prof. Veeraraghavan: We have around 4,500 B-Schools in India. In my view, schools that are below top 50 will always have a problem placing their students no matter what; whether the economy is in a boom or it is in recession. Such schools will always have problems while placing their students. I feel that the top 20 or 50 schools will not have any issues.
No matter in what condition the economy is in, the quality of students coming out from top B-Schools is extremely high. Top B-Schools produce industry ready-graduates. Schools below 50 will have a problem during this time. They have difficulty placing their students during normal times; a slowdown will make it even more difficult for them in placing their students. Even if the students do get placed, the package will not be more than three to four lakhs rupees. AICTE should probably have a look at schools not being able to fill their seats. They should either be asked to close down or come together as one entity to remain in the competition.
Careers360: All B-Schools appear to be catering to the corporate sector…
Prof. Veeraraghavan: Recruiters for most business schools are corporate entities. As most of these graduates have taken a loan for their MBA programme which they need to repay, they take the corporate's offer. Many of these graduates don't even think on the lines of working for an NGO or a government entity. I would love my students to work for the Karnataka Police or at the DC's office. The amount of grassroots work, which they will end up doing, is mind-boggling. Management experience should percolate all the way to the common man and not just remain in the corporate corridors.
Careers360: What about research at B-Schools? Is there a research ecosystem in India?
Prof. Veeraraghavan: The fundamental problem I see is the lack of PhD training. For a lot of people, they are not able to publish as they are not trained very well in India and that is where the root of the problem lies. What I am trying to do is get some of the faculty from leading IIMs and IITs for mentorship purpose. There is some amazing faculty from IIMs. I would say that research ecosystem has just started in India because now I am seeing many schools talking openly about research. It wasn't the case four years ago.
Careers360: What makes TAPMI stand out from rest of the schools?
Prof. Veeraraghavan: One of the finest things about TAPMI is the kind of quality of students we have. It is wonderful working with them. Before I took over as a director in April, I was the RPC Chairman and I had been pushing our faculty to publish research in top journals. We list each of our journals on our website and you will find that TAPMI is easily ranked top five or six in the country in terms of publications in top journals. In the West it is given that a professor must publish otherwise he/she will not get tenure. What we are trying to do in TAPMI is to have a clear picture of what kind of faculty we need. So now we are looking specifically for those who have got a Ph.D., and the potential for publications in top journals. This will put us ahead of many schools in the country.
Careers360: Any new initiative around the corner?
Prof. Veeraraghavan: Firstly, we are looking into engaging the alumni. TAPMI has about five-and-a-half-thousand alumni, but in the past, we haven't really engaged with them. This year onwards we have a very clear engagement plan of connecting with the alumni and open up more placement opportunities. Secondly, we are trying to launch the PGDM-HR programme. We eventually want to get 60 seats for the programme, but initially, we are looking at 25-30 seats, so that we can really work with them and create a fantastic brand.
Careers360: Why the push for HR?
Prof. Veeraraghavan: There are two reasons for this; one is I have been looking for schools that have a strong HR, so what comes to mind is XLRI and IIM Indore. There are six to eight schools, which have a good HR programme. TAPMI has been a very generalist so far and at least in my tenure, I want it to branch out and do specialist things. For example, we have BKFS, which caters to banking and capital markets. I wanted to do something for HR, which could be a strong HR programme. What we have done is that we have linked with SHRM (Society for Human Resource Management). So we are mapping the programme with them. Secondly, the students will be taking the SHRM exams, as they will be competitive enough. We will set a programme, which will be one of the top HR programmes in the country.
Careers360: Do you have enough faculties to run this programme?
Prof. Veeraraghavan: We already have six faculty members and we are in the process of hiring more. In the second year of the programme, we will be looking for senior participants from the industry to come and teach. I feel it is not a good idea for the faculty to teach all subjects. Students must get the faculty, but they should also get senior industry people to teach them, as they have a sense of what happens in the real world. We won't be requiring core faculty all the time, as we will have senior players from the industry teaching our students.
Careers360: What is your vision for TAPMI?
Prof. Veeraraghavan: Currently, we are ranked 15th in the country according to the recent rankings. My goal would be to see us in the top 10 very soon and then in the next five years I would like to see us in the top five in terms of quality of research publications. Secondly, I am not too keen on increasing the number of students, I actually want to bring the number of students down, but place them in high and better profiles. We don't want all the seats to be filled; we want a small and a focused programme, getting industry experts and foreign professors to teach. The students should feel that they made the right move by going for this programme. That's the kind of feel they need to have. This is my vision for TAPMI - to become the top B- School in the country.  
Also Read
More like TA Pai Management Institute, Manipal
Questions related to TA Pai Management Institute, Manipal