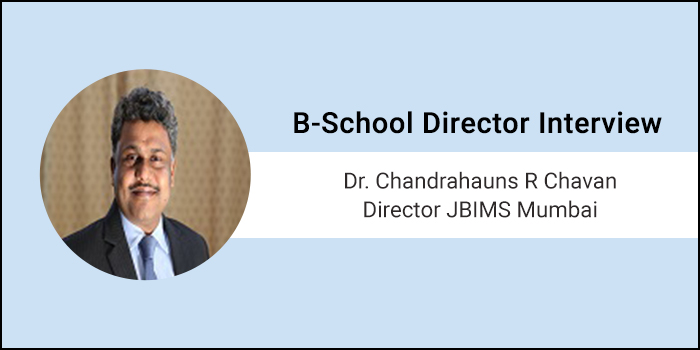 Dr. Chandrahauns R Chavan, Director of Jamnalal Bajaj Institute of Management Studies (JBIMS) Mumbai believes that there is a need for a new wave of management institution focusing on entrepreneurship, leadership and innovation and industry-specific curriculum. In this interview with Careers360, Dr. Chavan shares his thoughts on the current scenario in management education, its challenges and how to cope with them. 
Dr. Chavan also speaks in detail about JBIMS Mumbai admission process including MAH CET cutoff, JBIMS placement details and message for aspirants planning to join the institute.
Compare Colleges
College Comparison based on Courses, Placement, Rank, Fee
Compare Now
Excerpts of the interview.
Careers360: As the admission process of 2018-20 is underway, what are the initiatives you plan to introduce this year?
Dr. Chavan: We are planning to introduce innovative courses. We are revising the syllabus of our six postgraduates programmes (MMS, M.Sc, MMM, MFM, MIM, MHRDM) under Choice based Credit and Grading system (CBCGS). We also aim to increase and strengthening more industry interface.
Careers360: Please share the intake and fee structure of your flagship programme?
Dr. Chavan: The seat intake for PG level management programs for 2018 would be same as that of 2017's process. Admission process of 2017 made an intake of 137 students.
Also, the fee structure as of now remains the same. The fee structure for 2017 is as follows:
Total Fees for Open candidates – Rs. 3,00,000 per annum

Total fees for candidates from Reserved Category – Rs. 1,07,420 per annum.
Careers360: What is the MAH CET cut-off for your institute? What are the other admission criteria? Are you introducing any change in admission process this year?
Dr. Chavan: MAH CET cut-off for JBIMS are stated in the below table:
Category

Marks

(out of 200)

Rank

(State Rank)

OPEN

125

48

SC

107

569

ST

84

3204

VJ

102

875

NT1

105

693

NT2

106

617

NT3

111

391

OBC

116

190
Toppers of various other exams such as MAT, CMAT, and CAT can also opt for the admission in this institution. Additional 15 percent over and above 120 seats i.e. 18 seats are allocated under FS/CIO/PIO quota on the basis of state merit list under this category.  The admission process this year would be the same as that of last year's.
Careers360: How is the current industry-academia sync at your institute?
Dr. Chavan: Since the institute is situated at a very nerve of the financial capital of the country, it has a great industry exposure. The institution is blessed with the notable alumni who have always been a support in enhancing the industry exposure to the students.
Moreover, we have got great faculties who have themselves been the industry veterans of their respective field. Their lessons act as insights to the students for the practical implementation of their knowledge.
Careers360: How do you prepare your students for the placement process?
Dr. Chavan: We are focused on training our students more into the practical application of the knowledge they learn in the classes. We encourage them to participate in various competitions held nation-wide which would give them a flavour of the other premium B-schools and their competencies.
Also, students are focused on improving the personality skills to suit the competing industry requirements. Students are made aware of the specialisation from the very start and are focused on the industry knowledge.
Careers360: How has been the placement at your institute this year?
Dr. Chavan: As many as 69 companies recruited our students for BFSI & IB, Consulting, FMCG, Healthcare, Manufacturing, Pharmaceutical, Retail, Telecom and Technology sectors. While the average salary offered is Rs. 18.91 lakh per annum and the highest salary is Rs. 30 lakh per annum. BFSI is the highest recruiting sector. Top recruiters are Abbott, Aditya Birla Group, Capgemini, Citibank, Goldman Sachs, HSBC, HUL, ICICI Bank, JPMorgan Chase & Co., JSW, McKinsey & Company etc.
Careers360: How has the management education evolved over the last decade?
Dr. Chavan: Management education in India has seen phenomenal growth in the last one decade and also left with tremendous opportunities and challenges for management professionals. In the last one decade with the number of the institution providing undergraduate and post-graduate Diplomas and Degrees rising.
This has been possible largely due to the entrepreneurial initiative of promoters, taking advantage of the demand for management graduates. Unfortunately, this has also led to an exploitative and commercial environment with quality being compromised.
In India Management institutions vary widely in term of their set up, of the faculty, quality of curriculum and infrastructure and placement records. Over the period the multiple regulatory frameworks and compliance focus more on physical infrastructure and very less on research, qualified faculty, of course, and curriculum created a mismatch between demand and employable graduates.
Careers360: What are the key challenges that management education face today?
Dr. Chavan: The immediate challenge for management education is to enhance academic standards for upgrading the quality education; non-availability of adequate proficient faculty is a major constraint for sustainable growth. Active involvement of the regulatory authority in research, faculty training, industry engagement and industry base live projects, curriculum for niche areas is important need of the day.
Careers360: How do you plan to meet those challenges?
Dr. Chavan: Faculty enthusiasm and motivation towards learning, teaching and research needs to be compensating with security, prescribed salary and perks. There is a need for a new wave of management institution, which should focus on entrepreneurship, leadership and innovation and curriculum without the legacy associated with operating in a protected environment.
There is a challenge of enhancing ethical, interpersonal, intercultural sensitivity with a sense of social responsibility among management students. It is part of management educator's responsibility! It includes holding an organisation accountable to a multiplicity of key stakeholders, not simply for wealth creation through fair means, but also for long-term preservation of harmony with the environment.
There is need to sensitise management education to our unique socio-cultural situation by including India specific case studies in the curriculum, reflecting our diversity and incorporate traditional wisdom.   
Careers360: What is your message for MBA aspirants who wish to join JBIMS?
Dr. Chavan: MBA is about understanding each and every aspect of business and its dynamic and competitive environment and hence it is recommended that every MBA aspirants should be proactive in learning the various management subjects and its application part.
Also one should have an adaptable, dedicated, integrated and ethical approach towards working environment where ever they are. Building a Professional network, learning and sharpening new skills and improving career prospects should always be their motivation. This is transition stage where they will land up in the corporate world and hence this is a great platform to test and improve skills.
Questions related to JBIMS