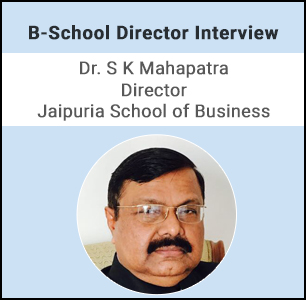 Jaipuria School of Business Director Interview: Dr. S K Mahapatra, Director of Jaipuria School of Business Ghaziabad believes in empowering students by inculcating the managerial skills and values which are in sync with the current industrial trends. In this interview with Careers360, Dr. Mahapatra talks on the PGDM programme at Jaipuria School of Business, academic and placement trends and the challenges of the management education at large.
Compare Colleges
College Comparison based on Courses, Placement, Rank, Fee
Compare Now
Dr. Mahapatra has been associated with Jaipuria School of Business Ghaziabad since 2016. Prior to this, he was a lecturer in Political Science at his alma mater SCS College, Puri and has taught Human Resources Management at Xavier Institute of Management, Bhubaneswar as Assistant Professor. He led various leadership and HR roles in big corporate including Bajaj Power Group, Jindal Steel & Power, POSCO India Pvt. Ltd, and Tata Metaliks Ltd. In 2016, he was felicitated at the 25th World HRD Congress as one of the 'Most Influential HR Leaders' in India.
Excerpts from the interview:
Careers360: How is the PGDM programme offered by Jaipuria School of Business different from that of other B-schools of similar stature?
Dr. Mahapatra: Empower, Enthuse and Excel, are the three core values of Jaipuria School of Business. We empower students by providing them opportunity to learn and practice managerial skills while in campus, inculcate the spirit of enthusiasm in each student by providing a learning environment that allows students to learn with fun. Lastly, we have designed our curriculum and pedagogy in a unique manner to help each and every student get a head start and excel in career
Careers360: What are the unique academic initiatives you planned to integrate in the next couple of years?
Dr. Mahapatra: We firmly believe that "Practice" is the strength behind "Theory" and for upcoming years we try to create as much opportunities as we can for students to interact with practitioners through our CXO Talk program in campus, conferences and conclaves we organise for such exposures, and by sending our students for Industry Visits, and Live Internship Projects of short duration, conducting Immersion workshops on cutting-age technology (know-how and do-how). Going ahead, we are preparing our students for Industry 4.0 by adopting Education 4.0 in our curriculum for 2018-20. Horses are made for courses.
Careers360: What is the seat intake for PGDM programmes you plan for the admission year 2018? What is the fee structure for the coming admission season and how has it changed from last year?
Dr. Mahapatra: We have 120 seats intake for PGDM session 2018-20. The fee for the 2-year program is Rs.5.9 lakhs. Scholarship for meritorious students is available up to Rs.1.5 lakhs for wards of Ex-Servicemen and Rs.1.5 lakhs for others. 
Careers360: What is the admission criteria of Jaipuria School of Business?
Dr. Mahapatra:  We accept the scores of CAT, MAT, XAT and CMAT or entrance test recognised as equivalent. After shortlisting candidates based on cut-off announced, we conduct group discussion and interview in Campus as well as at four different locations for facilitating easy access to north, west, east and north-east candidates. We conduct two rounds of selection to give equal opportunity to candidates appearing in MAT examination in February and in May. The first round of selection is already over after publication of February MAT, CAT and XAT results, and we have filled 80 percent seats giving firm admission and kept enough candidates in waiting list to fill the remaining seats. As a fair principle for admission, we are conducting second round of GD PI after announcement of May-MAT results, and thereafter we will fill all the 120 seats on merit, giving fair opportunity to all aspirants for admission in the PGDM programme of Jaipuria School of Business. 
Careers360: Do you have an international immersion programme or foreign exchange programme? Which universities have you tied up with?
Dr. Mahapatra: Yes, we have signed an MOU with UCMO, Missouri in 2017 for student exchange. A. The program is likely to commence in August - September, with UCMO, Missouri. The details are being worked out at both ends.
Careers360: What according to you are the advantages of the foreign exchange programmes?
Dr. Mahapatra: Studying abroad not only has an overall positive impact on the development of a student but also provides a wide range of job skills, expands career possibilities, and has a long-term impact on career progression and promotion. According to the research conducted at IIE Summit on Generation Study Abroad in Washington, DC one of the big outcomes of the research is that these short-term programmes help to develop teamwork skills more effectively and knowing how to be sensitive to other cultures.
At JSB, We have sent our top five students at Dubai for international engagement and strengthening the partnerships through global industrial tour programme. This was introduced in order to provide students a truly global exposure by giving them an opportunity to interact university faculty, exchange of thoughts, ideas and aspirations thereby enabling the students to become global leaders.
Careers360: How is industry-academia sync at your institute?
Dr. Mahapatra: We have a reputation for working closely with the Industry right from curriculum design up to students' final placement from campus. Our Board of Governors, our Academic Advisory Council and our Area Academic Advisors are drawn in equal number from Corporate and Academy. We conduct large number of events in and outside campus with corporate sponsorship and active participation. We send our students for live internship projects to different sectors of Industry to gain hands-on experience and correlate theory with practice. Corporate Leaders address our students in campus almost every fortnight and conduct at least one immersion workshop in our Campus to impart cutting-edge knowledge or skill. We are continuously expanding our corporate relations network. In coming years we have planned to give opportunity to students to join our consultancy projects as assistants.
Careers360: How has been the placement trend of the 2018 batch in terms of recruiting sectors?
Dr. Mahapatra: JSB Ghaziabad has completed the final placement process for its PGDM batch (2016-18) with offers from 40 recruiters across sectors like FMCG, Analytics, IT Consulting, BFSI, Consumer Durables, Logistics and Media.  Maximum offers were made by the FMCG sector. In terms of function, Sales & Marketing was the highest recruiting domain.
The top recruiters included Barclays, Axis Bank, ICICI Securities, Tata Captial, Bajaj Allianz, Indigo, Coffee Day Beverages, Modi Naturals, India Bulls to name a few. The average salary in current batch is Rs.4.63 lakh per annum and the highest salary is Rs.7 lakh per annum.
Careers360: How do you train students for the placement process?
Dr. Mahapatra: Right from the Day-1 of PGDM programme, we focus on developing five Competencies – Communication, Creativity, Courage/Confidence, Compassion, Character besides knowledge in various domains of management. We build up these skills by creating numerous in-campus and off-campus programs and opportunities for students to practice. The pedagogy is designed for well-rounded grooming and honing of managerial skills in specific areas of interest and specialisation.
The Training & Placement department (T&P) at Jaipuria School of Business, Indirapuram gives utmost importance to assist its students in getting suitable placement after successful completion of their studies. T&P ensures that every student gets the right skill and domain knowledge so that he is easily acceptable to the industry. The department organises activities and workshops that enable students to be effective team leaders as well as team players. This department is operated with twin-fold focus, i.e. augmenting internal competencies by fostering contemporary grooming of students and by enabling industry to identify and absorb intellectuals with requisite technical and managerial skills.
Careers360: How do you prepare them for the challenges of the job market?
Dr. Mahapatra: The institute places special emphasis on inculcating corporate values and skills required for complex decision-making, besides developing superior expertise on functional domains and garnering business knowledge. The T&P plays a very important role throughout by conducting industry expert talk, skill development workshops, industrial projects, operational workouts and trainings. The institute has also developed a pool of highly experienced and qualified industry and academic professionals who regularly guide us in improving the teaching methodology, course content development as per industry requirement to ensure updated and required academic delivery.
Careers360: How do you support students who wish to start up? Does Jaipuria School of Business have an incubation cell? Please share how it works.
Dr. Mahapatra: The eco system for start-ups in India is in a nascent (learning) phase. We are cautious and observant before we plunge into setting up our incubation center. We are studying the success stories as well as other experiences in the start-up market market and developing our plan. However, entrepreneurship development strategies and basic knowledge imparting is already part of our curriculum for many years. A few of our students have already acquired a name for their successful entrepreneurial ventures. They have already shared their inspiring success stories in our last two annual alumni meets.
Careers360: What are your thoughts on the key challenges that MBA/PGDM education face today?
Dr. Mahapatra: In Business the golden rule is, "Quality sells, quality prevails, and quality reigns". Quality of B-School education comes from both content and pedagogy – what we teach and how we train. A business school that follows this rule, and keep looking for continuous improvement in quality of education, has no issues about coping up with challenges as it will be always on the top of the challenges, ahead of time. At Jaipuria School of Business we try always to keep ahead of time. 
Careers360: What is your message for MBA aspirants who wish to enter your B-School the coming academic year?
Dr. Mahapatra: To earn lot of money, you can take any path but to earn fame, there is only one way I.e., to become a leader and find a new path for others to walk.
Questions related to Jaipuria School of Business, Ghaziabad