'The corporate world look out for people comfortable with volatility,' says Dr. (Fr.) Alexius Ekka, Director, XISS Ranchi
Dr. (Fr.) Alexius Ekka, Director, XISS Ranchi, speaks to Careers360 on how the corporate world is changing, and the steps taken to make students industry-ready. In the interview Dr. (Fr.) Alexius Ekka also shares how the institute maintains sync between industry and academia. Read the complete interview with Dr. (Fr.) Alexius Ekka below.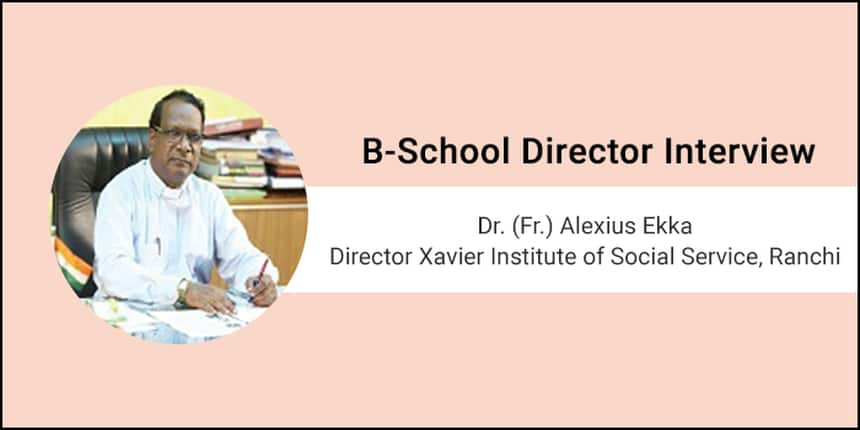 For the aspirants of XISS Ranchi, Dr. Ekka mentions the admission process and placement data of 2017 batch. While sharing the initiatives planned for the upcoming years, he talks about the emphasis laid on areas like  analytics, machine learning, AI and live projects.
Excerpts of the interview:
Careers360: With top recruiters being cautious in hiring, how are you preparing your students for the emerging challenges in the job market?
Dr. (Fr.) Alexius: Definitely, the world market is undergoing major changes with automation, artificial intelligence (AI) and government decisions making organisations hire with caution. We understand this and we have already started to make students more prepared for the changing requirements. Jobs are there but it needs different kind and level of skills as well as full commitment to deliver. We feel that analysing the industry trends and their requirements are the key for preparing students for the future need of various organizations. We are ensuring active involvement and participation of students in various activities and preparing them as per the "job descriptions" of last year's job offers, collecting and analysing feedback of students placed during campus placement processes.
Careers360: How has been the placement of the 2017 batch?
Dr. (Fr.) Alexius: Our 291 students received 247 offers from 93 participating companies. There were 32 companies, which were first-time recruiters. Average salary offered was Rs. 6.12 lakh per annum (LPA) whereas the lowest salary was Rs. 3.8 LPA. The highest salary package was Rs. 15.5 LPA. BFSI was the highest recruiting sector and the profiles for which maximum offers were made included Business Development and Sales & Marketing.
Careers360: Which companies made the highest number of offers to students?
Dr. (Fr.) Alexius: ITC made the highest offer. Other top recruiters included General Electric (GE), ITC, BPCL, Vedanta, CISCO, HUL, Quess Corp, Ujjivan Financial Services, Exide, Godrej & Boyce, Atria Convergence Technologies, Hero Moto Corp, Maruti Suzuki, etc.
Careers360: Any unique academic initiatives you are planning to launch in the upcoming academic years?
Dr. (Fr.) Alexius: We understand the importance of analytics, machine learning, AI. Thus, greater emphasis will be on these areas. We are also encouraging the students for live projects.
Careers360: Please share details of admission cut-off and other admission criteria?
Dr. (Fr.) Alexius: XISS invites applications through CAT, XAT as well as CMAT. For the department of Human Resource management, the cut-off marks were 60, 60 and 65 (percentile) for CAT, XAT and CMAT respectively. Similarly, for the departments of Marketing and Finance, it was 50, 50 and 55 (percentile). Departments of Rural Management and Information Technology required a cut-off of 40, 40 and 45 (percentile). The cut-off marks are most likely to remain the same.  
Careers360: How is industry-academia sync at your institute?
Dr. (Fr.) Alexius: The institute ensures that every student has some opportunity or the other to visit and interact with industry professionals, mainly in cities like Mumbai, Bangalore, Delhi and Kolkata. Live projects and assignments from the corporate world are entertained and students are assigned time-bound tasks. Moreover, stalwarts from the corporate world frequently visit XISS and address the students where the explain their growth path and the realities of corporate life.
Also Read
Xavier Institute of Social Service, Ranchi Updates and Articles
Questions related to Xavier Institute of Social Service, Ranchi
Showing 75 out of 75 Questions