Alliance School of Business - Interview with Dr. Ray Titus, Dean
Alliance School of Business is ranked 39 by NIRF Indian Rankings 2020 for Management and is accredited by the International Assembly for Collegiate Business Education (IACBE), USA. Careers360 interacted with Dr. Ray Titus, Dean on Admission, Alliance School of Business to know in detail about the college, its mission, courses offered, admission process and more. Read the full interview with Dr. Ray Titus of Alliance School of Business below.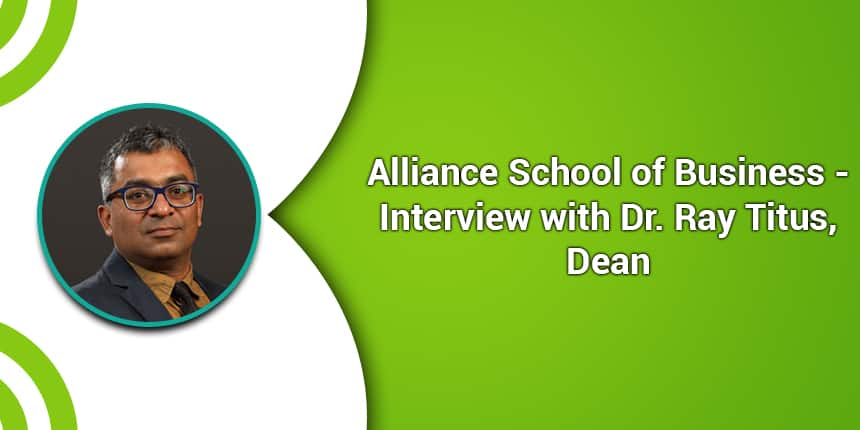 Careers360: Tell us about Alliance School of Business, its mission and legacy.
Dr. Ray Titus:Alliance University is a Private University established in Karnataka State by Act No.34 of year 2010 and is recognized by the University Grants Commission (UGC), New Delhi. We were originally a stand-alone business school and were called 'The Alliance Business school'. Our existence goes back to the late 90's and from there we remained stand-alone for decades. The sponsoring body of Alliance Business School sponsored the creation of 'The Alliance University. The bill for this called 'The Alliance University Act of 2010' was passed in the assembly and that's how the University came into existence. Today we are proud to say that we are the first private university in the state of Karnataka. There are three academic units at the University- School of Business, the College of Engineering and Design and the School of Law.
Careers360: Throw some lights on the programmes and specializations offered at the University.
Dr. Ray Titus: We have a range of specializations, however, students preferences lie around 4 or 5 courses like, Sales and Marketing management, Applied Human Resource Management, Investment Banking, Logistics & Supply Chain Management, Operations, International Business to name a few. Data and Technology cuts across all the verticals.
Careers360: Tell us something about the Accreditation and Ranking.
Dr. Ray Titus: We are already internationally accredited by IACBE. Also, we are the first Business School to be Accredited by IACBE. We are looking for the AACSB accreditation and hopefully within the few years of time we will be getting it. Also, I would like to highlight that we rank second amongst the top Bschools in Bengaluru.



Watch the full interview of Dr. Ray Titus below
Careers360: Tell us about the admissions process, cutoffs.
Dr. Ray Titus: We have a designated committee to review all applications. Shortlisting is at70 percent cutoff in any nationalized test. In addition, candidates are evaluated based on their performance in Alliance entrance exam. We consider a compiled composite score that includes candidates' scores in 10 grade, 10+2, graduation level along with work experience, academic performance through school and college and their involvement in extracurricular activities.
Careers360: How diversified is the culture of Alliance Business School?
Dr. Ray Titus: Diversity is the key to great ideas and innovations and Alliance School of Business is extremely diverse when it comes to gender, religion and streams. Infact, I can say that Alliance School of Business campus is a 'mini India'. We get students from across the states and different streams. Gender ratio wise, we have a healthy mix, almost in the ratio of 50-50.
Careers360: What is the placement procedure and what percent of students are placed every year?
Dr. Ray Titus: We have a record of 100 percent placements. Annually more than 350 enterprises hire students from various programs of Alliance University. With close to 6000 opportunities in varied functions, Alliance University provides a very wide gamut of career choices for students. Now the question is, has the pandemic impacted placements? The answer is a No. It is just that the mode of selecting the students has completely moved online.
Careers360: Throw some lights on hostel facilities and extracurricular activities.
Dr. Ray Titus: We are spread in more than 60 acres. We have an amazing infrastructure for students to not only just come and learn but to stay and evolve as a human being.
Careers360: Do you provide internship opportunities as well?
Dr. Ray Titus: Yes, we have 3 kinds of internship models - one where students go for full-time internship with companies, second is when students collaborate with company executives to do independent projects (on consulting bases) and lastly, we have a hybrid model where students do internships with companies in order to pursue independent projects. We have seen that the outcome of all these are amazing.
Careers360 How important is the location of college or the University?
Dr. Ray Titus: Location is extremely important. The institution doesn't exist in isolation; it's part of the larger ecosystem. I think we are in the best ecosystem because for me Bengaluru provides the best surroundings to inspire young minds. This because the ecosystem is entrepreneurial, it's almost a mirror to the ecosystem of Bay, i.e. San Francisco.
Careers360: Tell us something about your international Immersion.
Dr. Ray Titus: Of the numerous opportunities available at Alliance University, international programmes are amongst the most exciting and career enhancing. We have both short and long term international programmes. It could be a Semester Exchange Programme, International Summer School Programme, Internship opportunity or Dual Degree Programmes; we have a range of options.
Careers360: What is the process followed to make students' future ready?
Dr. Ray Titus: We have a programme in place that mirrors the requirements of industry of today and tomorrow. Every course or programme is aligned to a skilled outcome. Our students graduate with contemporary skills along with the desired knowledge.
Careers360: How does Alliance ensure that students become Socially Conscious Managers?
Dr. Ray Titus: We try to make students understand things outside the bubble that is prevailing in the society. We do this by exposing them to the outside world through programmatic activities. With the help of projects,we help students face realities which otherwise they may not encounter.
Careers360: What kind of students should choose your institution?
Dr. Ray Titus: We prefer intentional learners (a mind with growth and curiosity), who believe that learning is not just inside the classroom but outside too. Also, students should prefer us because our focus is assuring them great learning experiences.
Alliance School of Business, Bangalore Updates and Articles
Questions related to Alliance School of Business, Bangalore
Showing 55 out of 55 Questions