Agent for change: Smart campus of IIM Sambalpur
IIM Sambalpur is aiming for innovation, integrity and inclusion. Here is a look at how IIM Sambalpur is making management education smart…


If there is one Indian Institute of Management (IIM) campus that could find a synergy in the classroom between manufacturing in state-of-the-art assembly line and a simple handloom under a thatched house, it is in Sambalpur.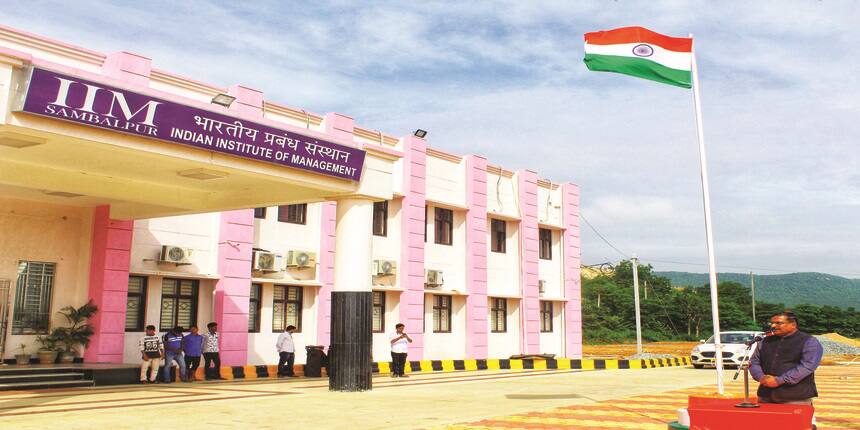 Launched three years ago, IIM-Sambalpur is located in the ideal surroundings of one of India's biggest manufacturing centres. On the one hand is multinational corporations in steel and power spattered around the Sambalpur town in western Odisha, on the other is the country's biggest home-based handloom sector in Sambalpur and Bargarh districts of Odisha. For IIM-Sambalpur students, it is a mix of learning and contributing--learning from the global industrial giants, which are modern, and contributing to the bare minimum looms that are traditional.


"It is an educational and industrial hub," explains IIM-Sambalpur Director Prof. Mahadeo Jaiswal about the institute's advantage of having a campus near major industrial centres like Rourkela, Talcher and Jharsuguda. "As many as 14 major industries are located around Sambalpur. There are Vedanta, Tata and Jindal groups. They regularly give projects for our students and teachers to discuss in classrooms," adds Prof. Jaiswal, a specialist in digital strategies and former Dean of MDI, Gurgaon.
Local to global
Mentored by IIM-Raipur, which is only a three-and-a-half-hours drive away, the institute runs the 2-year Post Graduate Programme (PGP) and will introduce the Fellow Programme in Management (FPM) from July next year. Functioning from the Sambalpur University campus, the IIM, which has 160 students in two PGP batches, is planning an MBA programme for working professionals soon. Land for a new campus has already been allotted at Basantpur. There are currently seven full-time faculty members while guest faculty arrive regularly from IIM Ahmedabad, Calcutta, Bangalore and Indore, besides Indian Institutes of Technology, XLRI in Jamshedpur and MDI, Gurgaon.
"Given the dynamics of the region, the PGP focus is on bringing in elements of new technology to integrate within the curriculum," says Diptiranjan Mohapatra, a faculty member and an expert in public policy and strategy. The institute is also preparing for adding further courses on Artificial Intelligence and big data, and on ethics and corporate governance in the curriculum of the MBA programme to reflect on the huge strength of the region in natural resources. The institute is also the first IIM to have flipped classrooms using Stanford University software. "In the flipped classroom, we do projects and problem-solving in real time. It is experiential learning," says Prof. Jaiswal, a senior Fulbright Fellow from Carnegie Mellon University.
Focus on research
The IIM Sambalpur campus is slowly turning into a pioneering centre for research in traditional knowledge and production. The Smart Village Project, launched by the institute, aims to transform the ailing handloom sector of Odisha into a powerhouse of traditional production. The focus is on preparing the weaving community to be self-sustainable and become entrepreneurs. "We are trying to find out a business model to connect weavers, consumers and designers," says the Director.
"The socio-economic condition of the community is very poor. We wanted to study the working challenges they are facing," says Ratri Parida, Assistant Professor at IIM-Sambalpur. There are various factors that have contributed to the condition of the weavers, such as high labour cost and poor facilities. "The weavers work in dark rooms with little lighting. They also have to sit continuously for 12 hours every day to weave," says Dr. Parida.
A three-member core IIM-Sambalpur team, comprising Prof. Jaiswal, Dr Parida and another faculty member Sumita Sindhi, is leading the Smart Village Project. A digitally-enabled handloom sector will be the outcome of the project. The institute is also collaborating with another project, Mission Shakti, an Odisha government campaign for women self-help groups in the handicraft sector. "We want to improve the social and economic status of the villagers using their unique knowledge and skills so that they are able to sustain in this new challenging and disruptive market," adds Dr Parida.
Student-led clubs
The campus encourages the start-up culture. "There is no difference between older IIMs and us," says final year PGP student P Hari Ram Vignesh, senior coordinator of the Campus Placement Committee and vice-president of Marketing Club. "The placement committee maintains close contacts with major corporates as well as summer internship and final placement," adds Vignesh, an electronics and communication engineer from Chennai.
The students-led Marketing Club organises workshops, like a marketing analytics workshop later this year, and brings in guest lecturers, such as Nissan Motor India Managing Director Arun Malhotra last year. "The Nissan India head talked to us about his company's strategy when it entered the Indian market," says Vignesh. "These are rare insights than reading a book," he adds. The Operations Club recently collaborated with KPMG for the Six Sigma certificate course for ensuring quality with 25 students participating in it. The institute holds a 100 percent placement record, with the highest salary last year at Rs. 63 lakhs and average salary at Rs. 11 lakhs. Two newly-constructed WiFi-enabled student hostels are a two-minute walk from the campus.
In the coming years, research programmes are going to help the institute empower the region's handloom weavers better. With e-commerce giants like Amazon knocking on the door for tying up with the weaving community, the IIM Sambalpur's faculty and students might just find the right platform ecosystem for the purpose soon.


IIM Sambalpur Updates and Articles
Questions related to IIM Sambalpur
Showing 9 out of 9 Questions