Accreditation plays an important role in quality assurance: AACSB Asia Chief
The AACSB Asia chief, on Monday, said that accreditation of Indian business schools allows the schools to provide quality assurance by measuring them against international standards rather than being judged on rankings and placements.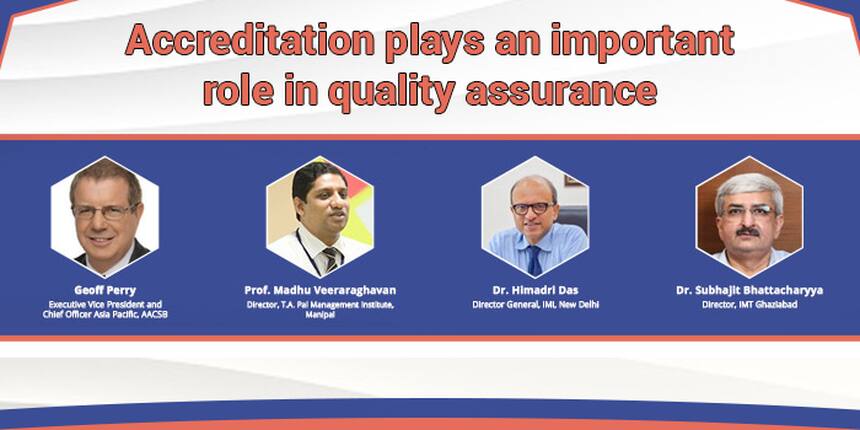 The Association to Advance Collegiate Schools of Business (AACSB) is an international accreditation body.
Geoff Perry, executive vice president and chief officer of AACSB Asia Pacific, was speaking at a webinar organized by Careers360.
Perry said that accreditation demands quality assurance by forcing schools to open up to external scrutiny and international standards.
"Although rankings and placements are clearly important. An aspect that needs to be accounted for is the role of accreditation as a signal of quality. Once a business school goes into accreditation, they open themselves to external validation and international benchmarks verified by an international panel. So schools will have to have the confidence to open up to external scrutiny and to recognise the need to improve, " said Perry.
Relevant courses and industry connect
Business school heads said that they keep in constant contact with industry heads to find out the direction in which management pedagogy should lean.
"Courses should be relevant to the business world. We engage with corporate executives to find out the current demands. Thanks to fast paced changes in tech the requirements there in corporate are changing everyday," said Himadri Das, director general at International Management Institute (IMI), New Delhi.
B-schools have said that connecting with on-campus recruiters is a major way of bringing the industry academia gap.
"We also take feedback from the campus recruiters on where our students are strong and where they are weak. The recognition of our weaknesses helps us improve. We recently got into analytics in a big way because recruiters told us" Das said.
Placement and advisory bodies
Some B-schools have set up advisory boards consisting of industry experts to guide them.
"We have an advisory board consisting of senior alumni and industry heads which helps us connect practice to knowledge. Placement is a centrepoint for good business schools so we also have a student satisfaction survey covering learning experience on what went well and what did not," said Madhu Veeraraghavan, director of TAPMI, Manipal.
"The business world is changing and so are the roles. By interacting with these professionals We also get to know what they are doing in different parts of the world and in which direction the future of management education is moving. We use the inputs to review programmes every year," explained Subhajit Bhattacharyya, director at IMT Ghaziabad