30 days to CMAT 2016 - Strategies to ace the exam


There are approximately 30 days left for CMAT 2016, scheduled on January 17. If you have applied for the test, it is time to brush up the sectional and overall preparation. If you have appeared for the other MBA entrance exams like CAT 2015, IIFT 2015, NMAT by GMAC 2016 and IBSAT 2015 and have performed satisfactorily, then half of your task is already over. All you need to do is to get acquainted with the exam specific traits and practice as much as possible. This article of Careers360 brings to you the preparation strategy to follow for 1 month to CMAT.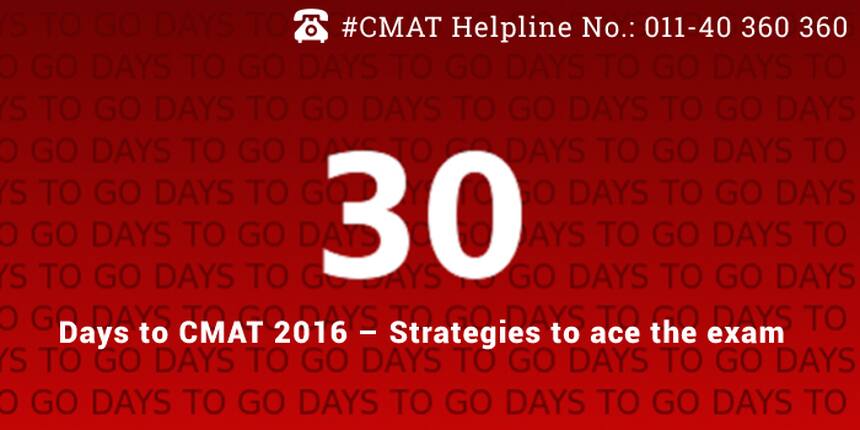 [Click Here to Enroll CMAT Online Test Series to get admission in Top B-schools or call 011-40360360 to talk expert counsellors]
Although CMAT has observed major operational changes in terms of the number of times of conduct and window of the test, the exam pattern has remained the same. Hence, your preparation need not change. CMAT 2016 will be held in computer based mode in a single day and slot. Unlike last year the exam will be held once a year, in January. The following table will share with you the exam pattern of CMAT.
| | | |
| --- | --- | --- |
| Sections | Number of Questions | Marks Allotted |
| Quantitative Techniques & Data Interpretation | 25 | 100 |
| Logical Reasoning | 25 | 100 |
| Language Comprehension | 25 | 100 |
| General Awareness | 25 | 100 |
| Overall | 100 | 400 |
Each question carries 4 marks and for each wrong answer, there will be negative marking of 1 mark. The duration of the exam will be 3 hours. The questions will be of multiple choice objective type, with 4 choices.


Now we will share with you the section wise strategy for CMAT 2016 by sharing the important topics and areas which you must prepare.



Quantitative Techniques & Data Interpretation
The difficulty level in this section ranges from moderate to tough. Arithmetic area has the maximum weight in this section. Some questions from higher mathematics like Permutation & Combination, Geometry and Algebra are also common. Data Interpretation is the sub section including set based questions on Bar Graph and tables. Data Sufficiency questions are not asked. In the last CMAT held in February 2015, some of the questions were calculation intensive and tricky, hence the section can be considered to be time consuming as well.


Logical Reasoning
Majority of the questions are from the Data Arrangement, Linear Arrangements, Blood Relations, Visual Reasoning and Coding Decoding. The other topics included grouping and conditionality. The section includes sitter questions as well. Hence, the test takers need to read the questions carefully before attempting. The difficulty level of this section ranges from moderate to tough.


Language Comprehension
This section is a combination of Reading Comprehension and English Usage/Verbal Ability. There are 5 Reading Comprehension passages with 3 questions from each passage. The Verbal Ability area may include Verbal Reasoning questions as well. The topics from English Usage area include Grammar, Para Jumble, Fact Inference Judgment, Vocabulary and Fill in the Blanks. In order to get a good score in this section, you need to have analytical and vocabulary skills. The difficulty level ranges from easy to moderate.


General Awareness
This section is easier compared to the other sections. The questions are asked from the topics of banking, sports, arts and culture, geography, history, politics, business etc.  Cracking the section won't have been difficult for those who are in touch with current affairs.
Preparation strategy for CMAT 2016
The CMAT toppers and experts suggest the Dos and Don'ts to follow in these 30 days in order to ace the exam.


Revision of basics – According to the toppers and experts, if your basics are clear, then no matter how tough or tricky the question is, you will be able to solve the questions. Arks Srinivas, CEO, VistaMind Education and Director, Vanguard Business School says, "The difficulty level of the CMAT exam mostly ranges from easy to moderate. Hence having the basics brushed up will help you in solving majority of the questions." Supreet Gupta, Rank 4, CMAT February 2015 shares, "In CMAT you get 3 hours for 100 questions and with this sufficient time you can solve all the questions if you are good at your basics."


Take mock tests – Taking mock tests is one of the best methods to prepare for an exam. Now that the trial test has been released by AICTE, you must go through the test to check the navigation system and types of questions. "Ideally you can take two mock tests in a week. Once you take a mock test, analyze your performance thoroughly and avoid the mistakes in the next mock test and more importantly on the exam day," suggests Gautam Puri, Vice Chairman, Career Launcher. Mrigank Dubey, another CMAT topper with 99.98 percentile shares, "I appeared for many mock tests. Mock tests really help as they give you an insight into what you can expect in the actual exam. The idea is to find the correct and fastest way to solve a problem."


Decide your test taking strategy – As mentioned before, one of the objectives to take mock tests is to find out the most suitable test taking strategy which ensures both time management as well as accuracy. Sharing his plan, Amitrajit Chakrabarti, CMAT topper with 99.99 percentile says, "I started with the GK section first, which was easy for me to attempt and does not take much time to complete. This tactic helped me save time for QT &DI as they take time to solve. Later, I shifted to the Language section and in the last I solved the QT & DI section."
Don't leave the important areas in a section - Do not leave out the main areas and topics which are of utmost importance and bear high weightage in the exam. Missing out on the important topics will lead to losing marks either through negative marking or due to lack of attempt. "I spent 2 hours every day on mock tests. It gave me an idea on the type of questions that I had not attempted before. I tried to find loopholes in my preparation to find the correct method to solve the problems in hand," says Mrigank.
Tackle your strengths and weaknesses – It is high time that you manage your strong and weak areas properly. Now that you still have about 30 days left, you may be able to strengthen your weaknesses. Dedicate maximum preparation time to those areas. Go through the basics in order to bring conceptual clarity. Practice questions of every type in order to be prepared to face any challenge. However, do not leave out your strength areas fully. Practice questions from your strong areas as well so that you can attempt any and every question from those topics.  


Make reading a habit to ace Language and GK sections – As per the toppers, reading is the best way to crack the Language Comprehension and GK sections. Reading newspapers and magazines will not only help you be updated with the current affairs, but will also improve your language skills and vocabulary. "It is very important to focus on GK. Read newspapers and try to keep a tap on the latest happenings around," says Amitrajit Chakrabarti.


Also Read
Top B-schools Accepting CMAT Scores

Stay tuned to bschool.careers360.com for more news and updates on CMAT 2016.
Questions related to CMAT
Showing 2853 out of 2853 Questions